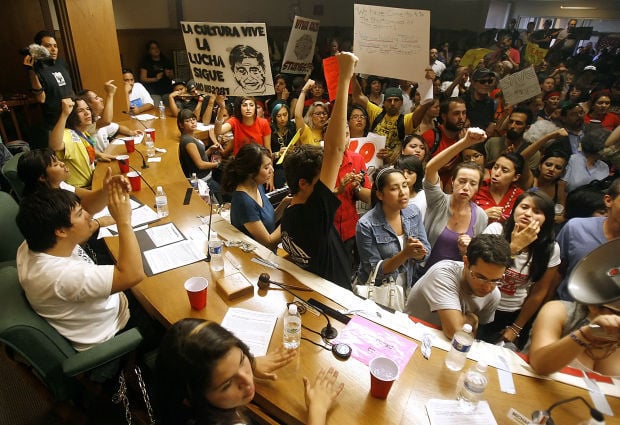 The legal battle over an ethnic-studies program at Tucson's largest school district resumed in court Monday, seven years after an Arizona law went into effect, leading to its demise.
U.S. Circuit Judge A. Wallace Tashima is overseeing the bench trial in Tucson at the U.S. District Court in Arizona.
At issue is whether state officials had discriminatory intent in enacting and enforcing the 2010 law that bans ethnic-studies programs that promote the overthrow of the federal government, resentment toward a race or class of people, advocate for ethnic solidarity and are designed primarily for pupils of a particular ethnic group.
The legal challenge to have the law thrown out was originally brought by a group of independent Tucson Unified School District educators and students who argued that the law violated their constitutional rights.
Tashima dismissed the claims in 2013 before the case was remanded by a federal appeals court in 2015.
TUSD's Mexican American Studies program was found by the Arizona Department of Education — then run by Superintendent John Huppenthal — to have violated the law and shut down. Books were physically removed from classrooms in January 2011.
In opening statements at the trial, plaintiffs' attorneys argued Tom Horne, a former state schools chief who was later elected state attorney general in 2010, and Huppenthal, a former state senator who was instrumental in crafting the law and succeeded Horne as superintendent, used the issue for political gain and wrongfully targeted a successful cultural program that boosted Latino students' achievement.
Both politicians had specifically taken issue with the TUSD program and have been vocal about their concerns.
"It is essentially undisputed that Mexican American Studies was specifically targeted by the state of Arizona for elimination," Jim Quinn, an attorney for the plaintiffs, said.
Rob Ellman, the defendants' attorney, said TUSD's program demonstrated "ethnic chauvinism" and taught students to hate Caucasians.
He described it as "politicized, biased and propagandist" and pointed out that many of the instructional materials used in the program depicted Latinos as victims. The pedagogical concerns were valid, he added.
Ellman told the judge the defense would bring forward Horne's and Huppenthal's colleagues, who can testify that both men are not racist.
Huppenthal previously received national attention after he was found to have posted anonymous comments on blogs calling welfare recipients "lazy pigs" and saying that in America, English should be spoken exclusively.
Ellman defended that by saying, "It's a pedagogical view."
Questioning of witnesses from both the plaintiffs' and defendants' attorneys included explorations of everything from an outside audit of the program that showed no violations of the law to Shakespearean allegory to rap rhymes composed by a Tucson High teacher to Benjamin Franklin's philosophy on race and slavery.
Huppenthal appeared in court Monday to testify and said it isn't helpful for students to believe they are oppressed: "There's odds against everybody." He frequently pointed to his former senior staffers as having known more about the process of investigating TUSD's compliance with the ethnic-studies law.
Curtis Acosta, a Tucson High Magnet School teacher who taught Latino literature classes and whose class Huppenthal visited, and Maya Arce, a Tucson High graduate and daughter of one of the founders of the Mexican American Studies program, also testified.
Acosta told the court that he wanted to include material that reflected students' or their families' lives so they could be more engaged.
When students are more engaged, they perform better in school and results were showing that, he added.
Ellman, the defense attorney, repeatedly questioned him on the instructional material Acosta used in his classes, which included a speech by Che Guevara, an Argentine Marxist revolutionary; "The Devil's Highway," a tale detailing the journey of 26 men who crossed the U.S.-Mexico border to Arizona; and the Shakespearean classic, "The Tempest."
He questioned whether those reading materials used in class led the students to believe they were oppressed by white people and built resentment toward them.
Huppenthal will continue his testimony Tuesday morning. The first portion of the trial continues until Friday, and a second week of trial is scheduled to take place in mid-July.