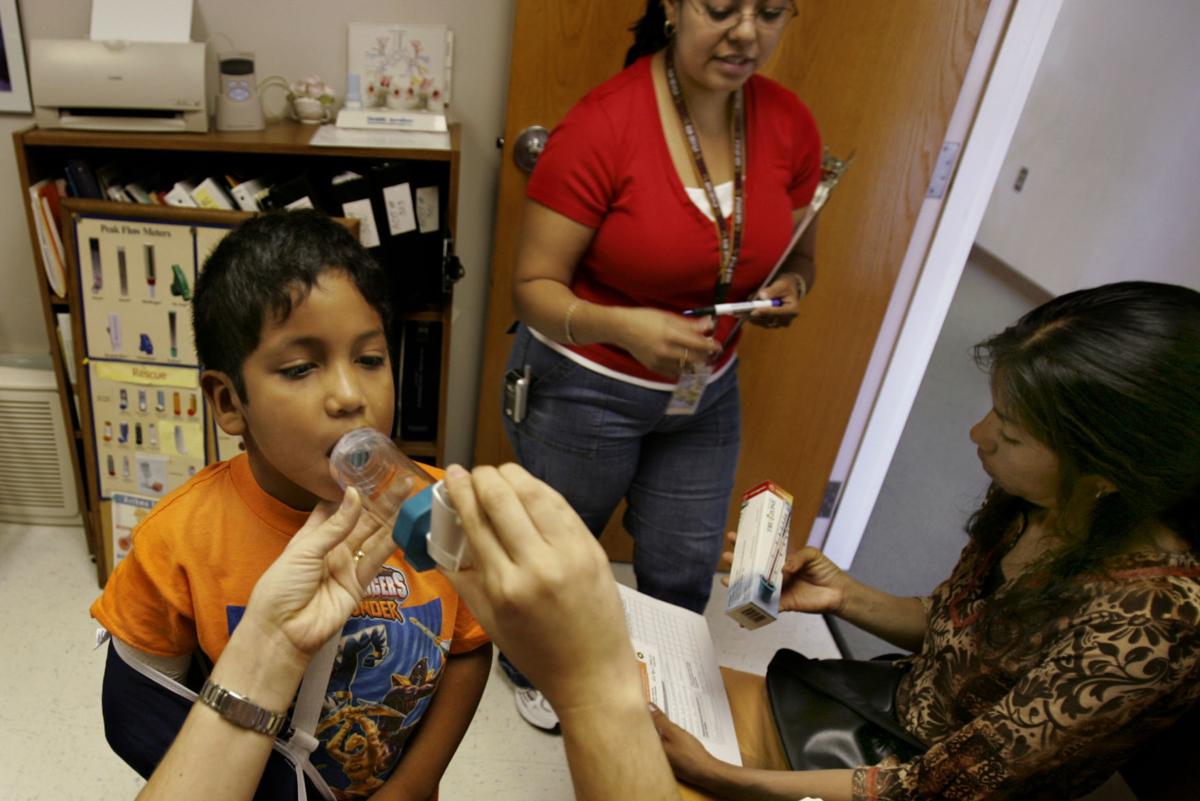 Parents of children with asthma can breathe easier thanks to a bill recently signed by Gov. Doug Ducey allowing Arizona schools to stock and administer asthma medication to children experiencing respiratory distress.
Before the new legislation, if a child didn't have an inhaler, schools had to either call a parent to bring one or call an ambulance.
The program will start in the fall at all Pima County schools — district, private and charter.
In Arizona, more than 174,000 children — 11 percent of the youth population — have asthma. But 80 to 90 percent of children with asthma have no quick-relief medication at school because they forgot it, they can't afford it, they ran out, or the medication expired, according to Lynn Gerald, a professor of public health at the University of Arizona,.
So Gerald worked with Tucson's two largest school districts, Sunnyside and Tucson Unified, as well as the Diocese of Tucson's Catholic schools, to implement a school-based stock albuterol program for students with asthma.
The results were a 20 percent decrease in 911 phone calls and a 40 percent drop in ambulance transports.
"Clearly what we want to do is not only allow safety of these children, but if there's an inhaler they can go to the health office and take a couple puffs on the inhaler and only miss 10 minutes of class instead of missing a day or a couple days because they don't have the inhaler with them," Gerald said.
Each of Sunnyside's 21 schools are stocked with one to two inhalers with the opportunity to order more as needed, said Eugenia Favela, the assistant superintendent for student services at Sunnyside.
The schools are also stocked with spacers so the child's mouth is not touching the inhalers, making it possible for more than one child to use it.
School nurses, health clerks and non-medical personnel are trained on how to administer the medication, through an online program created by the University of Arizona.
The medication has no side effects and wouldn't be harmful if a student who is having a respiratory problem mistaken for asthma was given the medicine, Gerald said.
"Our physicians like to say the only way a child would be harmed would be if they swallowed the inhaler," Gerald said.
Arizona is the 11th state to pass a law that allows schools to keep a supply of emergency asthma medication on hand.
"It will help tremendously, these kids who come to school and not only get sick but who aren't that sick and have to go to emergency rooms or go home," said Conrad Clemens, a professor of pediatrics at the University of Arizona.
While the program was being piloted, Sunnyside paid for its own inhalers with money from the health services budget, Favela said.
"Anything considered a supply comes out of that budget," Favela said. "If we have to have it, we find it (the money). ... We're happy we can provide another service for students to help them stay in school and keep them from having to miss. ... Bottom line is, it's what's good for kids."
Next school Banner-University Medical Center is donating $8,000 to $10,000 to cover the cost of at least one inhaler for every Pima County school.
Be the first to know
Get local news delivered to your inbox!