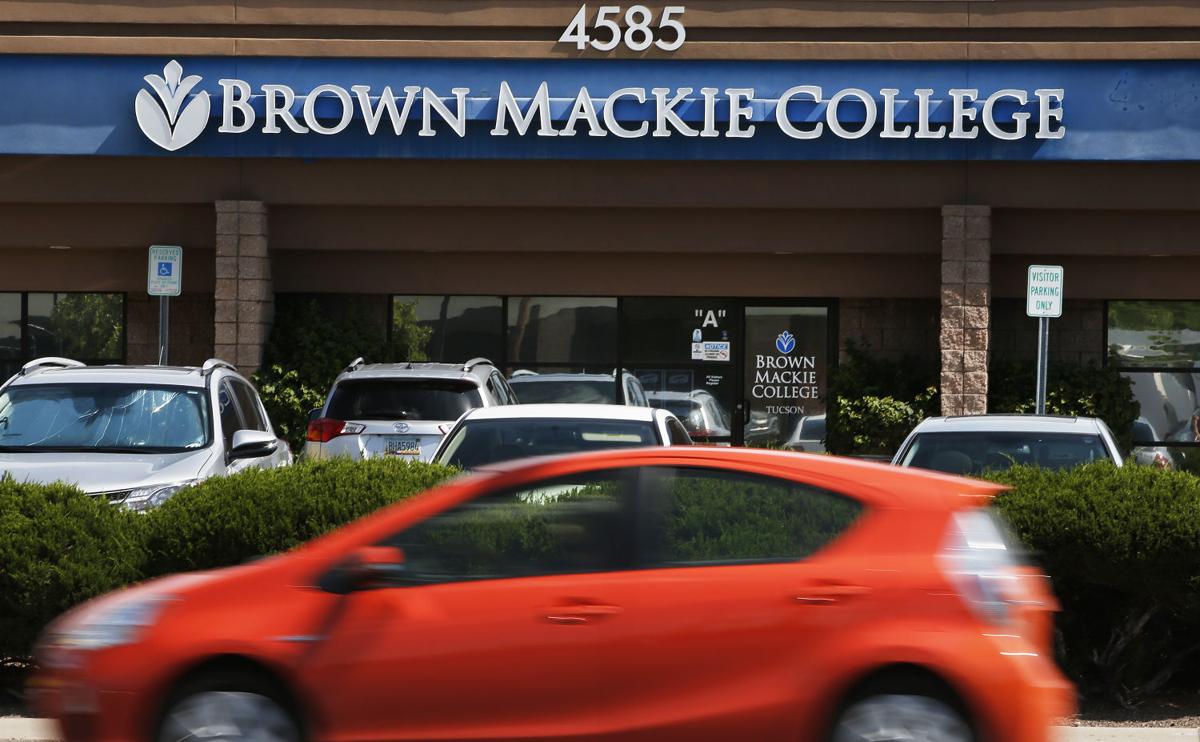 Student nurse Jeff Nguyen gained something he didn't expect from his schooling: firsthand experience in what it feels like to suffer from depression.
"I've never been depressed in my life. Now I'm on lorazepam and Xanax," said the 42-year-old father of two, who owes $20,000 in student loans after a local for-profit college gave him training so flawed the state has put a hold on his ability to graduate.
He's one of about 40 student nurses in limbo after attending Brown Mackie College in Tucson, a school that hired unqualified instructors and used veterinary supplies to train nursing students. Anxiety is so high among those affected that some students recently were referred to a suicide hotline.
Brown Mackie's parent firm is facing fraud-related allegations from coast to coast, the Arizona Daily Star has learned.
In Tucson, problems were so serious that the state nursing board investigated and ordered students to undergo independent competency testing. Those deemed deficient must be retrained at Brown Mackie's expense before they can graduate and take the licensing test to work as practical nurses.
"I feel cheated and used," said Shaylene Muckle, 33, a single mother of three whose student loans top $30,000. She said she can't eat or sleep from the chronic stress of worrying what will become of her family.
"I trusted them, and they failed me. I sacrificed so much to go back to school, and now I'm worse off than before."
Retired Air Force medic Rebecca Porter, 42, who used the last of her GI Bill benefits to enroll in the school's nursing program, said she recently suffered a minor stroke, which she attributes to the chaos.
SUICIDE HOTLINE
When independent testing began a few weeks ago at Pima Community College, the Brown Mackie students were so distraught that testers "became concerned about the students' mental well-being," PCC spokeswoman Libby Howell said.
"The students had become deeply upset by their lack of preparedness for the contents of the exam. Students were crying nonstop and having trouble proceeding," Howell said
The college summoned a mental-health counselor to help them cope, she said. Students told the Star some were given information on suicide prevention and a hotline number to call if they needed help.
"The people at Pima were so kind to us," said Muckle, the mother of three. "If it wasn't for their kindness I don't think I could have stayed and finished the test."
Howell said the college sent the test results to the state nursing board Aug. 4 and has no further role in the matter.
Students say they have yet to learn how they fared, or how much remedial training they might need.
An instructor with a law degree taught the anatomy and physiology class at Brown Mackie, they said. Training in common nursing tasks — such as spiking a bag of intravenous fluid — often was overlooked in class, they said, so they formed study groups on their own and watched YouTube videos to figure out what to do.
The Accrediting Council of Independent Colleges and Schools, which accredits Brown Mackie Tucson and many other for-profits, is "deeply concerned" about the Arizona nursing board's findings and the plight of affected students, said spokesman Anthony Bieda.
The accreditor told Brown Mackie to make things right for those affected, and the school has pledged to do so, he said. Bieda said accreditation standards "explicitly require" schools to comply at all times with state and federal laws.
"If that standard is not met, the college is subject to withdrawal of accreditation," he said. Without accredited status, schools can't offer federal student loans.
Bieda said the accrediting council will "decide an appropriate action in the near future."
CLOSE TO COLLAPSE
While local students struggle with debt and medical problems, top executives at Brown Mackie's publicly traded parent firm have been taking home multimillion-dollar paychecks, corporate records show.
A disclosure statement on the website of the U.S. Securities and Exchange Commission shows Education Management Corp. CEO Edward H. West received a total compensation of $6 million in fiscal 2013, the most recent year on file. The firm announced Friday that West was resigning after three years "to pursue other interests."
Chief finance officer Mick J. Beekhuizen took home $3.5 million, and three others received between $1.2 million and $1.6 million, the records show.
The Pittsburgh-based parent firm runs two career schools in Tucson, the Brown Mackie location on East Speedway and the Art Institute of Tucson on East Grant Road. Two other chains the company operates, Argosy University and South University, do not have sites in the city.
Experts who study the for-profit college industry say Education Management, which lost $2.3 billion between 2012 and 2014, is perilously close to collapse without a major retooling of its business model.
Chris Hardman, a spokesman for the firm, said improvements are in the works and the company "has been working to ensure our students have the best possible outcomes."
Many of the Tucson nursing students work in health care in lower-level positions such as patient care technicians or certified nursing assistants. Though Brown Mackie's tuition is more than double that of public schools, students said they chose the school largely for its convenient class hours, which allowed them to keep working full-time days while attending school full time at night.
In the wake of the Arizona nursing board findings, Brown Mackie Tucson has agreed to stop enrolling nursing students for two years.
LEGAL TROUBLES
Brown Mackie parent firm Education Management Corp. is fighting fraud-related lawsuits from 11 states, the federal government and scores of former students, and by shareholders who accuse the firm's executives of misrepresentation and chronic mismanagement, public records show.
As well, at least 14 state attorneys general — Arizona's is not listed among them — have been investigating the company's business practices.
The company's latest annual report contains three pages of text outlining its legal and regulatory conflicts. Among the disclosures:
Since 2007, the parent company has been fighting a federal lawsuit filed under the the False Claims Act, which makes corporations and individuals liable for defrauding taxpayers. Plaintiffs include the U.S. government and the states of California, Florida, Illinois, Indiana, Massachusetts, Minnesota, Montana, New Jersey, New Mexico, New York and Tennessee. Plaintiffs claim the company was illegally paying its admissions representatives based on how many students they brought in. Though the firm said the case is without merit, it is willing to settle out of court "if a settlement can be negotiated in an amount that the company believes is reasonable," corporate records say.
In March 2012, another false claims case was filed alleging the company broke federal rules that prohibit institutions "from making substantial misrepresentations to prospective students." In that case, the parties "have reached an agreement in principle regarding the financial terms of a potential settlement," though the records don't provide specifics.
In a pair of lawsuits filed in 2013 in Seattle, 29 former students in the clinical psychology program at Education Management-owned Argosy University said they were defrauded when the school failed to obtain accreditation for the program from the American Psychological Association. The company said it "believes the claims in the lawsuits to be without merit and intends to vigorously defend itself."
In early 2014, the parent firm received investigative inquiries from 14 state attorneys general. "The inquiries focus on the company's practices relating to the recruitment of students, graduate placement statistics, graduate certification and licensing results and student lending activities, among other matters." The company says it is cooperating with the states involved, and has "engaged in preliminary discussions designed to lead to a settlement."
In September 2014, a shareholder group filed a class action case against the company and some of its officers, claiming Education Management Corp. "made materially false and misleading statements" in news releases and other documents. Two other shareholder lawsuits launched in 2012 allege, among other things, that the firm jeopardized shareholders by engaging in improper recruiting tactics and financial aid practices and improperly recording job placement rates for its graduates. The company says the shareholder claims are without merit.
FINANCIAL WOES
Education Management Corp.'s fortunes have waxed and waned over the past decade and now are in steep decline. Stock that once traded on the NASDAQ at $23 a share in 2009 and $15 in 2013 now trades over the counter for 10 cents a share. The firm voluntarily delisted its stock from the exchange in November.
The parent firm's most recent annual report, filed with the SEC less than nine months ago, showed net revenue of nearly $2.3   billion last fiscal year — most of it from U.S. taxpayers who provided grants, loans and GI Bill benefits to students in Tucson and elsewhere where its schools operate.
Even so, the company posted a net loss of $664 million last year, and total losses of $2.34 billion between fiscal 2012 and 2014.
Experts say things stand to get worse for Education Management because of a new federal rule that took effect July 1, though the firm says it is taking steps to blunt the potential impact.
The "gainful employment" rule — which the for-profit college industry battled for years in court — aims to put a stop to cases where students rack up large federal loans they can't repay. Under the change, graduates of for-profits must be able to find work that pays enough so their student loan repayments don't consume more than 8 percent of their total earnings or 20 percent of discretionary income.
Schools that chronically graduate students with high debt and low earnings will become ineligible for federal aid — which now accounts for around 90 percent of the for-profit industry's total income.
Kevin Kinser, an associate professor at the State University of New York at Albany who has written books on the industry, said Education Management Corp. is on thin ice as it enters the new regulatory era.
The firm's problems are fairly common in the for-profit sector, he said, but the company is "at greater risk for closure than most other large for-profits" because of its high tuition rates and program offerings that often lead to jobs at the lower end of the pay scale.
"I don't know whether closure is impending, but they have certainly been in the conversation among those worried about the next Corinthian," Kinser said, a reference to the for-profit Corinthian College chain that recently shut down, leaving taxpayers on the hook for hundreds of millions of dollars in unpaid student loans.
Hardman, Education Management's spokesman, said the firm has implemented tuition freezes and increased the amount of scholarships and grant aid it offers. "We are focused on making sure every program we offer provides the right career opportunities for our students," he said.
TRUTH IN ADVERTISING?
Marketing spending accounts for about 20 percent of all spending by Brown Mackie's parent firm, a 2010 Senate study of the industry said.
Television commercials that air regularly in Tucson urge potential students to "become a better you" by enrolling in Brown Mackie programs.
Neither the ads nor the corporate website hint that anything is amiss. The home page of Brown Mackie's parent firm, for example, features a prominent statement on "compliance and ethics."
"Education Management Corporation is built on strong values: student success, integrity, innovation and excellence," it reads. "We share a deep commitment to doing things right — right by our students, regulatory bodies and our own internal standards."
Porter, the local Air Force retiree recovering from a stroke, gasped when she heard that statement.
"Oh my God. There are no words," she said of the corporate claims. Moments later, she reconsidered.
"There is one word I can think of," she said. "Only one word. And that word is 'bullshit.' "
Be the first to know
Get local news delivered to your inbox!