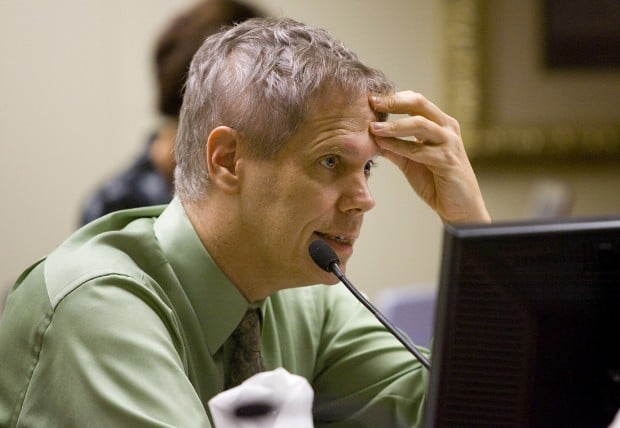 Having served on the TUSD Governing Board for three years, Mark Stegeman has grown accustomed to criticism from the public.
But over the last several months, Stegeman has found himself criticized by fellow board members, and on Tuesday night, for the second time in as many months, the Tucson Unified School District Governing Board will consider removing him from the president's seat.
Though Stegeman hopes to retain his position for the remainder of his term, which expires in December, he says he likely won't fight for it.
At question is Stegeman's ability to manage meetings after a number of controversial incidents in which the board has lost control and audience members have taken over - making inappropriate comments, shouting and disrupting meetings. The outbursts have primarily been from supporters and opponents of the district's Mexican American Studies program.
Stegeman has acknowledged his mistakes, but says he has worked to correct them and has a better understanding of how to handle situations in the future.
"I think the board realizes that I realize that I have to be stronger about keeping the meetings under control," Stegeman said. "That was a defect, and if I am still president, I will take stronger measures."
One such mistake was the handling of the May 3 meeting when Stegeman was set to present a proposal that would alter the Mexican American Studies program.
Seven Mexican American Studies supporters were arrested at the direction of Stegeman and TUSD Superintendent John Pedicone for disrupting the meeting and refusing to comply with numerous warnings to sit down.
"We had a plan in place before the meeting that seemed to make sense - give a warning, if they don't respond to the warning, have them removed," Stegeman said. "But it didn't lead to a good outcome, and I share responsibility for that. If I had been smart at the time, I would have figured out earlier that it wasn't working well, and we could have changed course after one or two of those outbursts.
"Instead, I followed the procedure we agreed on. I didn't adapt to the situation as well as I should have."
Board member Adelita Grijalva also questioned Stegeman's ability to adapt, saying he needs to be willing to read what is happening in the room before taking action, but he is not quite there yet.
"What I'd like is for the conduct of the board to not be a headline," Grijalva said. "I'd rather the focus be on the issues in front of us and the accomplishments of the district, but what's been going on in the meetings is detracting from that."
The first time Stegeman's leadership was questioned in June, he didn't object to having the discussion, saying, "the board is always entitled to chose its own leadership."
Nothing came of the item, despite board Clerk Judy Burns' motion to oust Stegeman and replace him with board member Miguel Cuevas. She failed to get a second, and the motion died.
At the time, Cuevas said he didn't think a change in board leadership was in the best interest of the district and felt that Stegeman was doing the best he could under extreme circumstances. Board member Michael Hicks echoed a similar sentiment.
Grijalva didn't second Burns' motion because she wanted to give Stegeman a chance to learn how to better conduct the meetings, she said.
Two months later, Grijalva continues to have concerns about Stegeman, specifically how he runs the call to the audience and his judgment on what is appropriate speech and what is not.
Grijalva referred to an incident during the Aug. 3 meeting when a man spoke critically of the Mexican American Studies program, saying "Chicanos want to have war," that there would be bloodshed and that "when the blood flows, there are no timeouts."
Though Grijalva said the content was not appropriate for a school district governing board meeting, she did not speak up until the man began making comments about her father, U.S. Rep. Raúl Grijalva.
Grijalva asked that the man no longer be allowed to speak. Stegeman overrode that request and elected to give the man a warning not to make such comments again - a practice he has implemented in similar situations.
Despite her concerns, Grijalva said she has no interest in serving as president this year. She believes that Burns has done a good job in the past and that Cuevas could do a good job if given the chance.
Unlike the first time around when board leadership was considered, Stegeman is not supportive of even having the discussion.
"I think it's generally bad practice to bring an item back repeatedly," he said. "I would not have supported putting this back on the agenda two months later, regardless of who was in leadership."
Stegeman said he wouldn't expend a lot of effort to hold on to his seat because he feels it's rather inconsequential relative to the other issues TUSD is facing.
"I'm not going to make a speech on my behalf," Stegeman said. "Trying to cling on to the job, especially for four months, would be another distracter from the serious business of the district. In the end, all this does is increase the sense of dysfunctionality of the board, the sense of division of the board, and the idea that we focus on the wrong things."