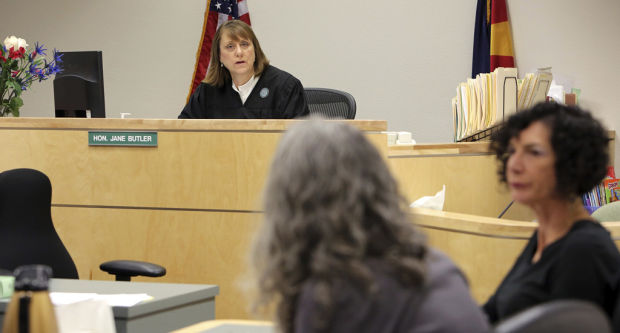 On top of whatever problems made them wards of the state, kids placed in foster care are twice as likely to drop out of school or be held back a grade as their peers.
Seventy-five percent underperform scholastically.
But Pima County Juvenile Court is ready to implement a program designed to improve the educational outcomes of children in the foster care system in Southern Arizona.
The court will be the third in the country to take part in FosterEd, a program that works with juvenile courts, schools, caseworkers and guardians or parents to help kids in the foster-care systems be successful in the classroom.
"The educational outcomes of foster kids are abysmal," said former state lawmaker Pete Hershberger, manager of FosterEd in Tucson.
He points to national statistics compiled by Oakland, Calif.-based FosterEd on kids in foster care systems quantifying their high rate of dropping out or underperforming.
"Foster kids fall through the cracks," Hershberger said.
About 4,000 kids in Pima County are in the foster-care system, with nearly 14,000 children in foster care statewide.
Working through Child Protective Services, potential participants in the program will be identified as they enter foster care. A support team to assist and monitor a child would be put in place, including an "educational champion."
The court-appointed educational champion could be a caseworker, counselor, foster parent or biological parent. Ideally, the champion would be a person the child already knows well.
That person would be the one most involved with the child's life and education, helping to keep him on track with schoolwork, communicating with teachers and generally taking charge of the foster child's education.
"I think this has the potential to focus people on the kids' future," said Judge Jane Butler of Pima County Juvenile Court.
Butler said she often tells children and parents she sees in her courtroom the value of education while noting national statistics estimate that only 3 percent of kids in foster care go on to some form of higher education.
"Education is the one thing people can't take away from you," she said.
If the parent is appointed the child's champion, a series of modules have been compiled to help guide him.
The modules were designed for parents who might have had legal or substance-abuse issues in the past or who might never have learned quality parenting techniques.
"A lot of the parents didn't have that role model from their own parents," said Cathleen Fitzgerald, educational programs coordinator with Pima County Juvenile Court. "The parent would be given the support and resources they need."
These modules would provide instructions on how to talk with the child about school and strategies to keep the child on track with school.
Data sharing will be key to the success of the program.
Information like grades, transcripts, student progress, standardized testing results, special education needs, attendance and discipline records would be available.
While transferring a student's information might seem simple, Hershberger said it often poses logistical problems that cause some foster children to miss weeks or months of school.
Many times, foster children change schools because CPS services has removed them from an abusive situation. Other times, children are placed in new temporary living situations.
That can add problems to an already difficult situation, Butler said, because for many foster children school is the one consistent thing in their lives.
"There's an average loss of educational progress of six months to a year every time a foster child is moved," Butler said.
The local office of FosterEd has hired a data manager to facilitate data collections from participating school districts.
Because of the data collection, FosterEd's success will be measurable.
Hershberger said FosterEd will work with a research group to track its progress.
Fitzgerald said FosterEd will provide a more systematic approach for meeting the educational needs of children in the foster system.
"We've always worked at trying to keep kids in school," Fitzgerald said. "I look at FosterEd as a huge jump forward."
The first five years of the Arizona effort will be funded through private grants totaling $1.25 million. If the project is a success, Hershberger hopes the DES or another state agency will incorporate the program into its budget.
The pilot program of FosterEd is scheduled to start in October and be fully operational by January.
Hershberger said he plans to have partnerships with six major school districts in the region, including the Tucson Unified, Amphitheater, Flowing Wells, Vail and Sunnyside districts.
"The educational outcomes of foster kids are abysmal."
Pete Hershberger, manager of FosterEd in Tucson