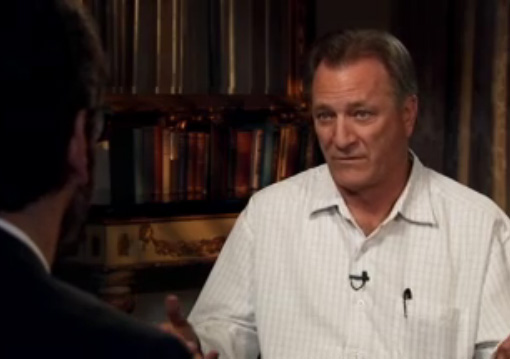 TUSD Governing Board member Michael Hicks is taking heat following his appearance on Comedy Central's "The Daily Show With Jon Stewart" on Monday night.
Hicks was featured in a segment on the show, discussing the Tucson Unified School District's Mexican American Studies program, which was dismantled in January amid a threat of losing millions in state aid.
The clip, which was 5 minutes, 25 seconds long, features The Daily Show's Al Madrigal interviewing Hicks and Mexican American Studies educator Curtis Acosta.
"My concern was a lot of the radical ideas that they were teaching in these classes," Hicks told Madrigal. "Telling these kids that this is their land, the whites took it over and the only way to get out from beneath the gringo — which is the white man — is by bloodshed."
It was Hicks' comments that followed on the nationally broadcast show that drew the most criticism as he told Madrigal that he chose not to attend any of the classes and that he based his thoughts on "hearsay from others."
Acosta defended the now defunct courses, saying that students were not taught to hate white people. Rather, he said that the courses encouraged critical thinking.
Hicks, an adjunct faculty member at Pima Community College, went on to say that every week the teachers would "go out and buy burritos and feed these kids ... what that does is it builds more of a bond between the teacher and the students."
Madrigal followed up with Acosta on that statement, saying "When the program goes away, the burritos go away. That's why these kids are upset. No mas burritos."
Acosta responded, "That's pretty offensive."
Perhaps one of Hicks' largest gaffes came when he spoke about slavery and how other courses like African American Studies would not be impacted by the state law in place.
"The African American Studies program is still there," Hicks said. "It's not teaching the resentment of a race or class of people.
"We now have a black man as a president. You know, Rosa Clark did not take a gun and go onto a bus and hold up everybody," referring to civil rights activist Rosa Parks.
Hicks could not be reached for comment Tuesday, but said in a Facebook posting that he now knows that "The Daily Show" is a satirical news show that does not always represent the true remarks their guests make.
"What I believed to be would be a true interview ended up being nothing of the sort," Hicks wrote on Facebook. "It is unfortunate that The Daily Show opted to amuse rather then inform."
Hicks also said that he did visit a Mexican American Studies class and that his comments were spliced.
To see the video on your Android phone or Kindle Fire, go to mobile extras. Flash is not supported on iPhones and iPads.