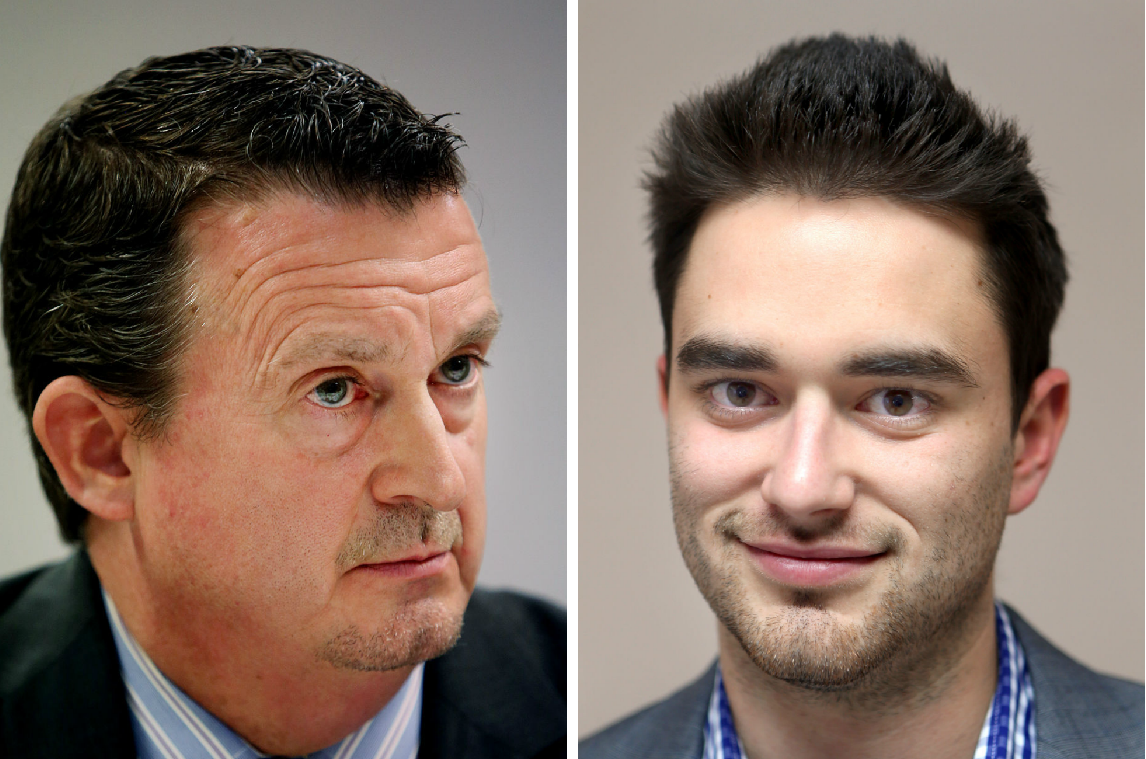 Proposition 123 asks voters to approve a K-12 education funding proposal as a settlement to a years-long legal battle between the state and school districts and education groups.
The lawsuit was filed in 2010 after the state failed to adjust the base level per-pupil funding according to inflation as required by a 2000 voter-approved proposition.
The plan, if approved, would put $3.5 billion into Arizona schools over the next 10 years, $300 million of which would be paid out immediately without stipulations on how districts should use it.
It would also put in $50 million annually over the next five years and $75 million annually for five years after that.
The Star asked Andrew Morrill, president of the Arizona Education Association, which is one of the plaintiffs in the lawsuit and supports the measure, and Morgan Abraham, a Tucson Realtor and chairman of the Vote No on Prop 123 committee, to answer questions about the measure.
Why should people vote "yes" or "no" on Prop. 123?
Morrill: People should vote "yes" because it creates stable funding closest to where it most needs to be: around our students, in classrooms and for the educators who teach our students. We have critical funding needs in our schools across the state, and while Prop. 123 doesn't settle all those, it does settle this lawsuit, and it is the critical first step in addressing the education funding.
Abraham: Prop. 123 funds education with money that already belongs to our students by using the land trust. We're using a higher distribution rate from the land trust, which drastically reduces future funding, which creates a big problem for the next generation of Arizona students.
Land Trust
Prop. 123 would increase the distribution rate from the state's land trust to K-12 education from 2.5 percent to 6.9 percent for the next 10 years. K-12 is the largest of 13 beneficiaries of the land trust, and accounts for 87 percent of state trust land.
Morrill: The use of the land endowment money is a balance of the immediate needs of students in our classroom right now. It's a short, 10-year period of drawing more from the trust land endowment. The state lacks other funding sources, but the needs are very real.
It allows the plaintiffs and the state to reach the settlement using a combination of general fund money and land endowment money. This was a set of terms that would put money into our schools and that both sides could live with.
Abraham: It's pretty simple math. Prop. 123 changes the distribution rate from 2.5 to 6.9 percent. When you add 3 percent inflation, that means the purchasing power of the fund would decrease by 10 percent every year. You have the Joint Legislative Budget Committee projecting that the return of our fund would be 6.33 percent. So 10 percent, which is how much our fund is decreasing by, minus 6.33 percent equals 3.67 percent, which basically means our fund is decreasing by 3.67 percent every year.
We're using money that was already belonging to education and we're spending it faster than it replenishes itself, which would have long-term consequences.
Triggers
Part of the proposal is the presence of "triggers" that would suspend inflation funding. The triggers are: 1) Education's funding distribution reaches 49 percent of the general fund; 2) Economic recession; and 3) The state land trust's balance is lower than the prior year's.
Inflation rate would accrue even in years inflation funding is suspended, and would resume at the accrued rate when a triggering event is over.
Morrill: The agreement of those triggers was part of reaching a settlement that both sides would agree to. If voters approve this on May 17, money begins to flow back into our schools. The education side needs guaranteed stability. The Legislature needs a mechanism to ease financial struggle during recession. At least we know for sure that inflation funding would be restored after we come out of recession.
Abraham: Prop. 123 would allow the Legislature to avoid any increased funding for education if K-12 funding becomes 49 percent of the general fund. To put that in perspective, we're now at 42. We know that the governor is planning to lower corporate taxes and eliminate income taxes in Arizona. Almost every budget expert that I talked to said that would mean decline in revenue, which would trigger the 49 percent. We look at these triggers as a really clever way that politicians that came up with for our students to pay for these tax cuts.
What is your opponent getting wrong?
Morrill: There is a lack of understanding of the political reality of the state right now. There isn't a lot of money to direct toward education for a variety of reasons — recession, tax cuts. This is the best chance for schools to receive a significant amount of money. It does not involve a tax increase, which made it agreeable to the legislative leadership. We have to look at the political reality of this state. To pretend that there is some better option out there is really fantasy at this point.
Abraham: I don't think (the politicians) are getting anything wrong. I'm pretty confident that they know how bad Prop. 123 is, but they don't care because they won't be in office in 10 years and won't have to deal with the consequences of this. (As for the education community), when you wave money in front of any teacher, they would want that money now. It's not their fault. But the policians that agreed to this are shortsighted and really putting us in a tough spot in 10 years.
What if the measure succeeds, fails?
Morrill: If it succeeds, there's immediate funding available to all public schools in Arizona.There is a certainty built into inflation funding year after year. There would be more money available for salaries, class-size management, structural support. It's an immediate chance at relief. It's not 100 percent relief, but it's better than any other proposal that's out there.
If it fails, we will be providing nothing but more confusion and more uncertainty for our students, our teachers and our schools. We will have lost an opportunity for $3.5 billion into our schools.
Abraham: If this fails, the lawsuit would still be there. It would still be valid. We, along with most Arizonans, think that the lawsuit should be settled with $300 million from the state's surplus funds. With the surplus, it seems that the state is planning corporate tax cuts. We feel that that money belongs to the students and the education community.
The surplus is not a one-time deal. It's an excess per budget year. The rainy day fund would be a one-time deal. Assuming that they don't cut more taxes, we're going to be running a surplus for the foreseeable future, and that money should be going to education.
Contact reporter Yoohyun Jung at 520-573-4243 or yjung@tucson.com. On Twitter: @yoohyun_jung