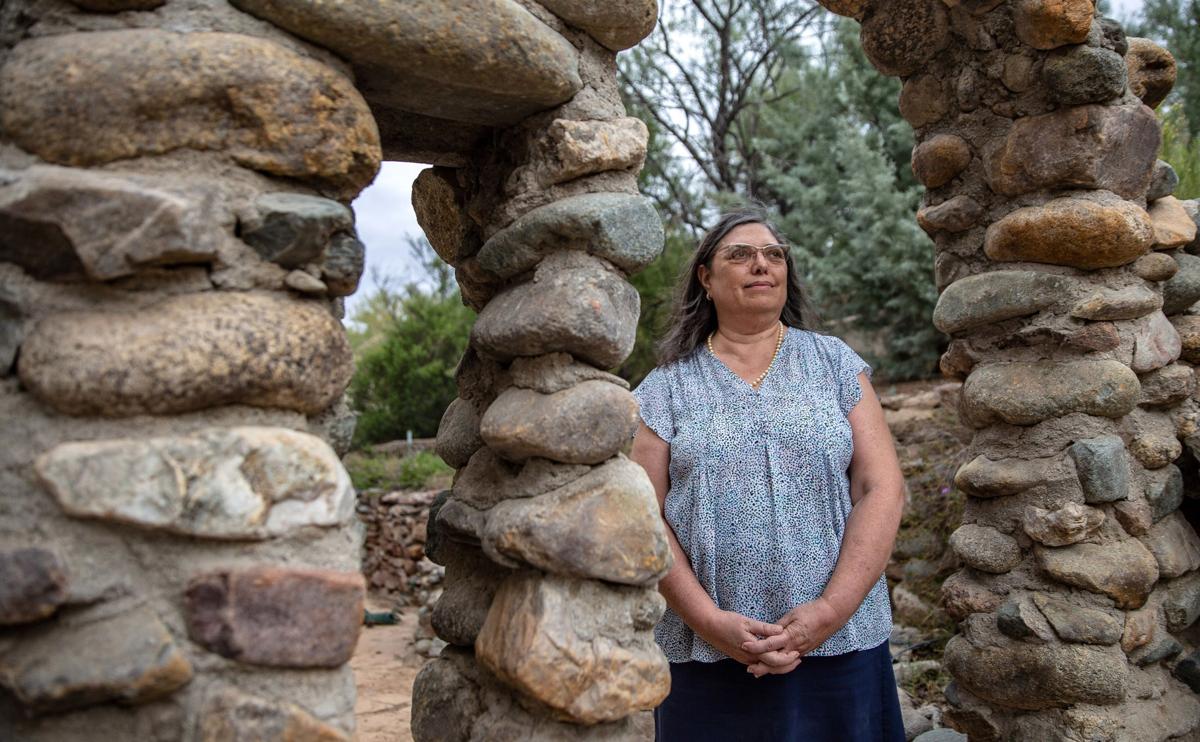 There are two conflicting demands fueling the loss of both students and educators in the Tucson Unified School District during the COVID-19 pandemic.
"Teachers and parents want exclusively an online option, and they want an exclusive in-person option," Superintendent Gabriel Trujillo told the governing board Tuesday, Nov. 17. "They want a dual model that works. This hybrid stuff, it's not designed to work long term. It's not working in any Southern Arizona district."
Of Tucson's nine major school districts, all but TUSD are offering a hybrid learning option, allowing students to attend partially online and partially in-person, though Sunnyside is returning to remote only after Thanksgiving.
TUSD, Tucson's largest school district, has opted to continue to offer remote instruction only, months into the school year.
Trujillo says the two main requests from parents and teachers — fully remote and fully in-person — will drive the district's planning for next school year.
The district plans to do hybrid this school year, if and when COVID-19 numbers in the region allow, but they will also work to develop a two-option model that features full-time remote learning and a five-day week, full-day, in-person learning for the 2021-22 school year, Trujillo said.
"Parents want a five-day week, full school day with lunch, with electives — they want to return to normalcy," Trujillo said. "And that is not something that any district right now is giving. That's the hard pill right now to swallow. And that is why it is contingent upon us right now to start pivoting very quickly to what reopening our schools looks like, either later on this spring or in the upcoming school year."
LOSING STUDENTS
TUSD has seen its largest enrollment drop to date, at nearly 2,800 less students than last year or a 6% enrollment decline. They also had more teachers and staff file for a leave of absence this month than any other month in at least two years.
Though TUSD is the only local major school district not offering in-person instruction, it is not alone in seeing an enrollment decline.
Across Tucson, school districts have seen thousands of students leave. The districts are saying that students either left for charter or private schools that are offering in-person learning, switched to home schooling, moved out of the city to live with family due to economic hardship or aren't in school at all.
Amphitheater School District saw the largest enrollment drop at nearly 11%, followed by Sahuarita School District, which had about a 9% enrollment drop, according to preliminary enrollment data filed with the state. Even Vail and Catalina Foothills, which typically see enrollment growth, experienced losses of about 1% and 2%, respectively.
Statewide, enrollment numbers across public schools is only down about 1% or about 10,000 students, across the board. But some categories statewide did see large enrollment drops, such as in kindergarten and special education.
Across the state, students withdrawing from public school to do home schooling is nearly five times higher than last year at nearly 7,400 students, according to an enrollment presentation at the Arizona Board of Education's Nov. 16 meeting. There is also an increase statewide of students who are unaccounted for.
LOSING TEACHERS
After the TUSD governing board approved starting in-person learning on a split vote at the Oct. 27 board meeting, the district saw a large number of teachers and staff either retire, resign or take a leave of absence. Less than two weeks later, Trujillo delayed the opening, citing the worsening coronavirus pandemic.
Since that Oct. 27 vote to open schools, 51 employees filed for a leave of absence, including 20 teachers and classroom staff — far more than during any other month in at least the last two years, which the Star reviewed. Since the August board meeting, at the beginning of this school year, 81 employees have taken a leave of absence, compared to 29 in the same time period last year.
Thirty-seven certified staff also either retired or resigned this month, almost entirely teachers, which is a larger number than usual, but not unheard of.
Teacher Kimberlyn Gimblett made the decision to resign after the board's October vote.
The 20-year employee of TUSD says due to her husband being in a high-risk category with COVID-19, going back to school before there is a vaccine is not an option for her. She decided not to rescind her resignation despite the delay to schools opening because the district hasn't created an option that would allow teachers with high-risk factors to work remotely once schools do open.
On the contrary, even some teachers with documented medical conditions that allowed them remote work accommodations through the Americans Disabilities Act received letters from the district telling them they would need to return once students return to the classroom.
"At any point the board could vote for us to go back in hybrid and my students would be left without a teacher," Gimblett said. "I have decided to resign so that my students have a chance of getting a teacher for the second semester that will be able to serve them better than I am able."
Not all leaves and separations from the district were because of COVID-19. The Star talked to a couple of employees who said they had already been planning on retiring.
The Star talked to numerous teachers prior to TUSD's decision to remain remote until at least January who did not feel safe returning to the classroom. Some teachers were planning to hold a "sick out," calling in sick the first two to four days of schools being open.
Other teachers did not know whether they would leave the district rather than return to the classroom, including longtime TUSD teacher Marea Jenness.
Jenness has remote work accommodations through the Americans Disabilities Act.
TUSD sent her a letter at the end of September, along with 10 other ADA-approved teachers, telling them they should plan to return to the classroom.
She says they gave her three options: come in person, take an unpaid leave of absence or resign.
"The main thing for me is just being put in this impossible position of come in, risk your life or leave," Jenness says. "This is the last time TUSD gets to break my heart. I am unlikely to sign a contract for next year if I can find an online teaching position."
Photos: Back-to-school in Tucson during the pandemic
"Mustang Stampede"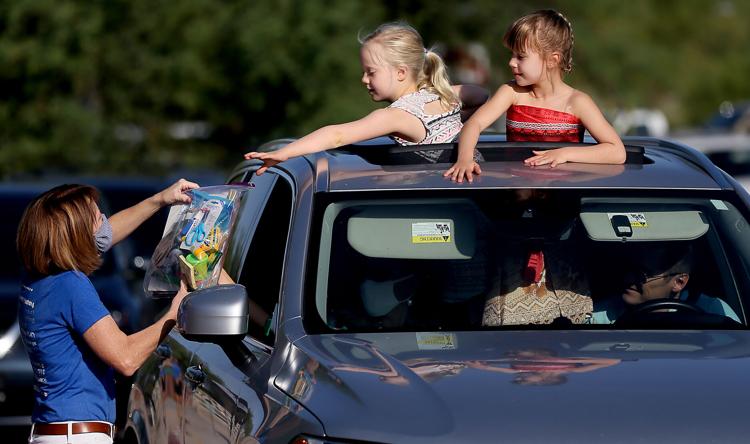 First Day of School, John B. Wright Elementary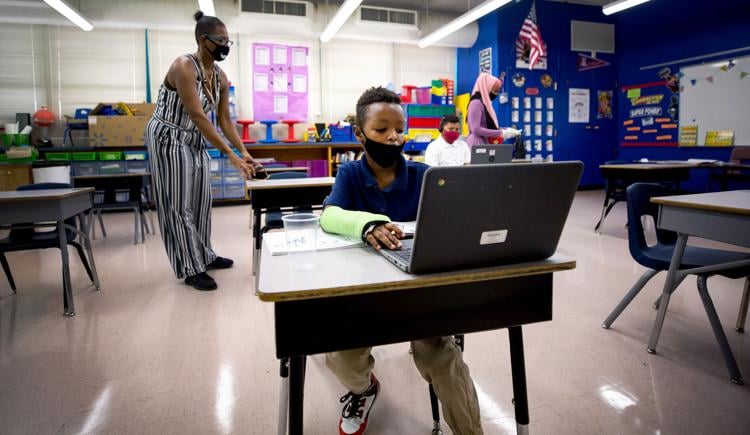 "Mustang Stampede"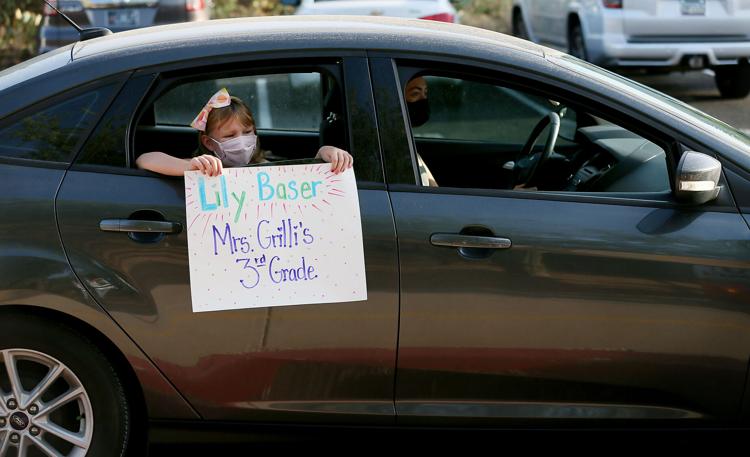 "Mustang Stampede"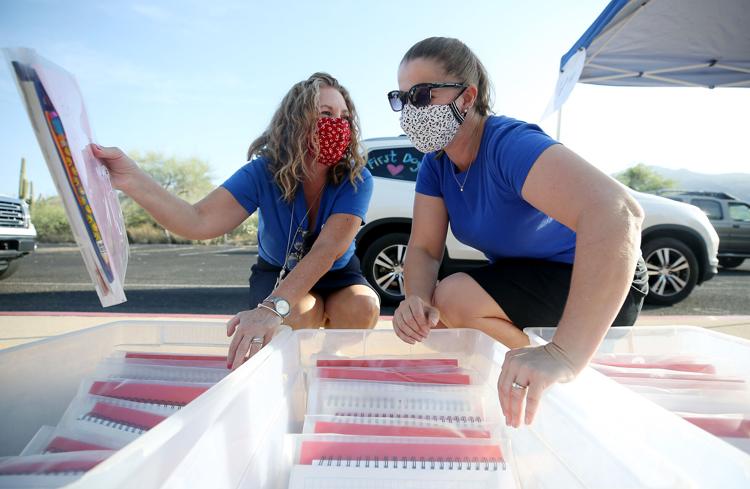 "Mustang Stampede"
"Mustang Stampede"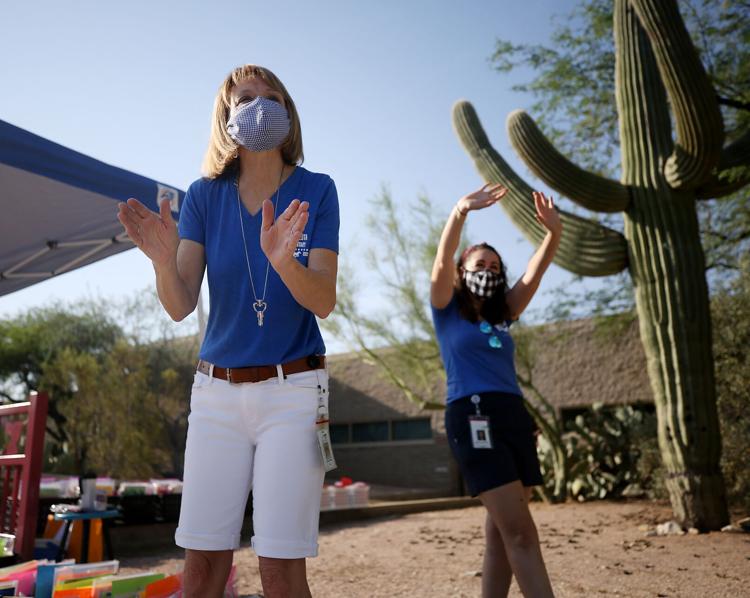 "Mustang Stampede"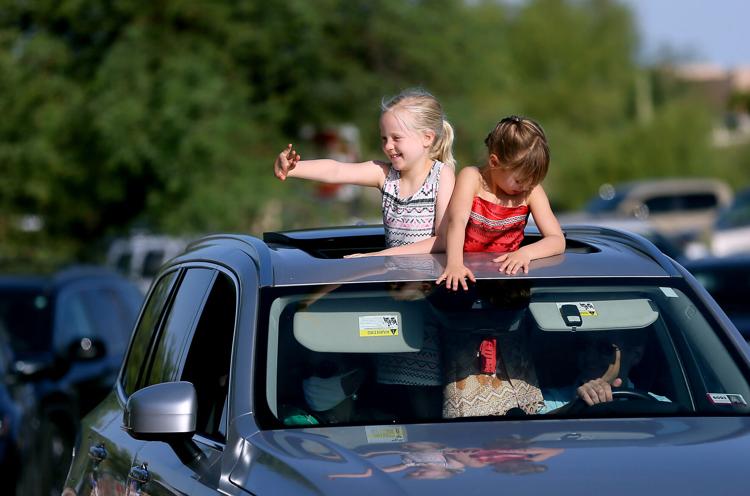 "Mustang Stampede"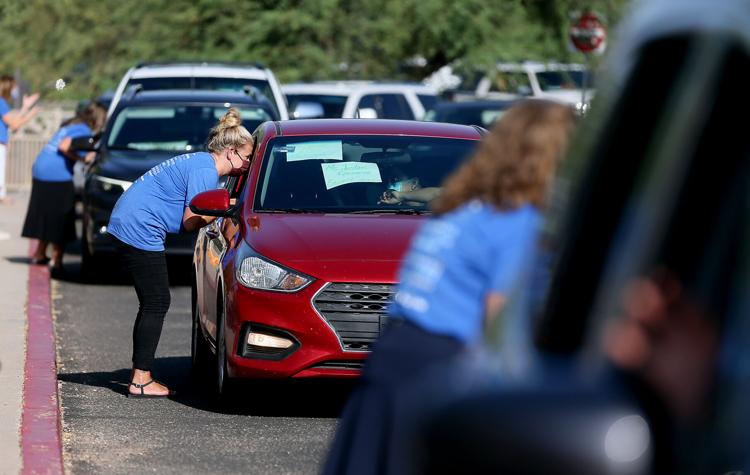 "Mustang Stampede"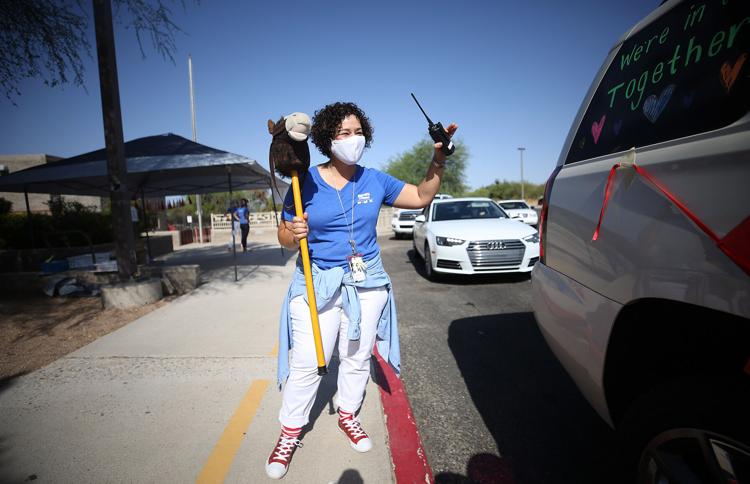 First Day of School, John B. Wright Elementary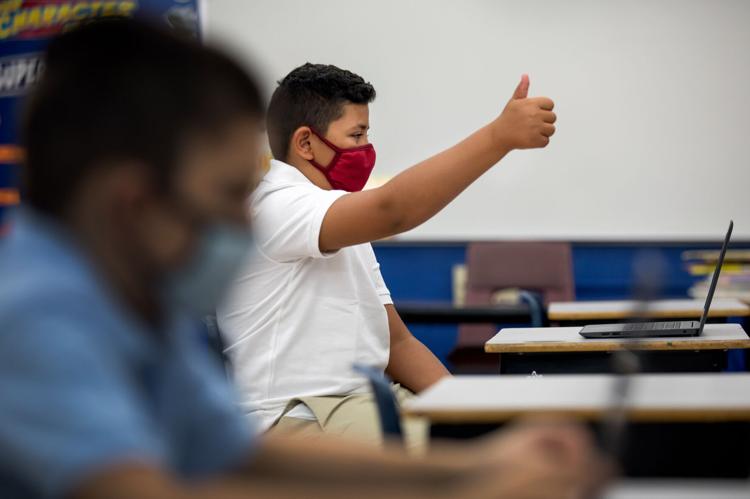 First Day of School, John B. Wright Elementary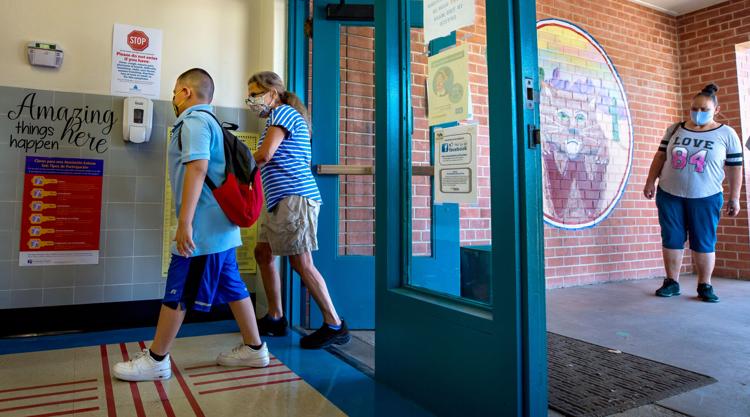 First Day of School, John B. Wright Elementary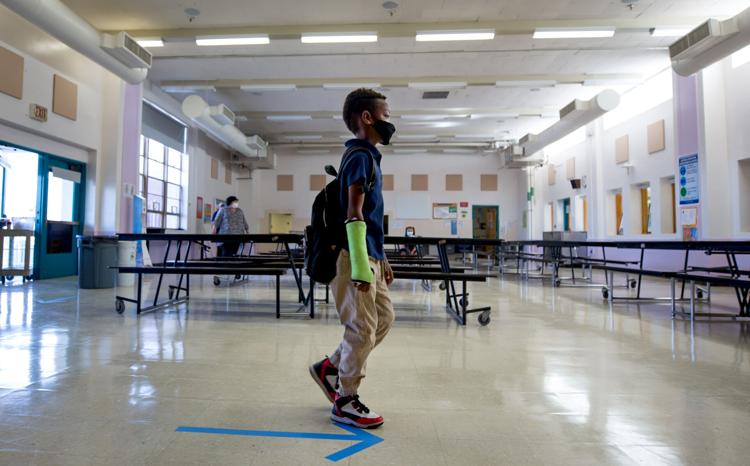 Contact reporter Danyelle Khmara at dkhmara@tucson.com or 573-4223. On Twitter: @DanyelleKhmara