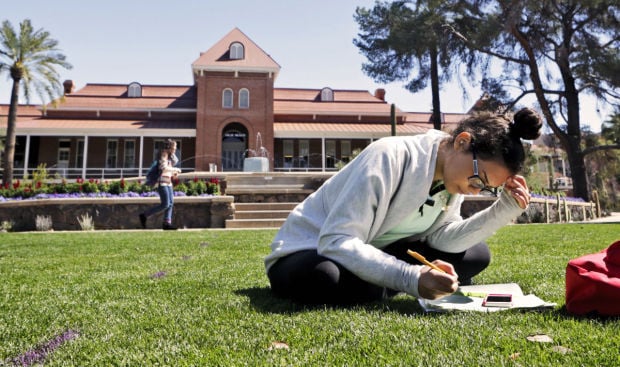 The University of Arizona is aiming for a future with 50 percent more Wildcats and a 75 percent graduation rate.
Those are some of the school's newly assigned goals under a plan to measure the progress of Arizona's three public universities over the next decade.
The performance targets for 2025 were approved Thursday by the Arizona Board of Regents, which oversees the university system.
The board session continues Friday morning, Nov. 20, at the UA Student Union.
By 2025, the UA hopes to:
Increase total enrollment from the current 43,088 to 64,250. About 20 percent of the newcomers are expected to be online students.
Improve the graduation rate from 61 percent to 75 percent.
Increase the freshman retention rate from 80 percent to 91 percent.
Increase the number of degrees in high-demand fields by 18 percent, from 4,346 to 5,131.
Increase research and development activity by 25 percent, from about $602 million to $757 million.
The state's other two public schools, Arizona State and Northern Arizona universities, also received new performance goals.
Regents began work on the new measures last fall with input from the universities.
Board officials said the changes will boost Arizona's economy by creating a more-educated workforce that attracts well-paying employers.
"These targets recognize the direct relationship between higher education and state competitiveness," said Regents President Eileen Klein.
Strategies for achieving the new targets are still being worked out, but UA President Ann Weaver Hart said the Tucson school intends to maintain "a laser focus on student success."
"We are inventing the 21st century as we go forward," she said.
UA Provost Andrew Comrie said the school isn't interesting in puffing up its numbers but in giving students the tools they need for success.
The goal is to produce critical thinkers who can work well with others and adapt their education to the real world, he said.
Board Chairman Jay Heiler said the universities are mindful that a classroom "is not the same as a factory floor.
"These are not widgets," he said.
"We are turning out human beings."
UA's new goals
University of Arizona has new performance targets in several key areas.
| Category | 2015 | 2025 |
| --- | --- | --- |
| Total enrollment | 43,088 | 64,250 |
| Freshman retention | 80.4% | 91% |
| 6-yr Grad rate | 61% | 75% |
| Bachelor's degrees | 6,978 | 11,665 |
| Graduate degrees | 3,046 | 3,796 |
| Research $ | $602 million | $757 million |
Be the first to know
Get local news delivered to your inbox!