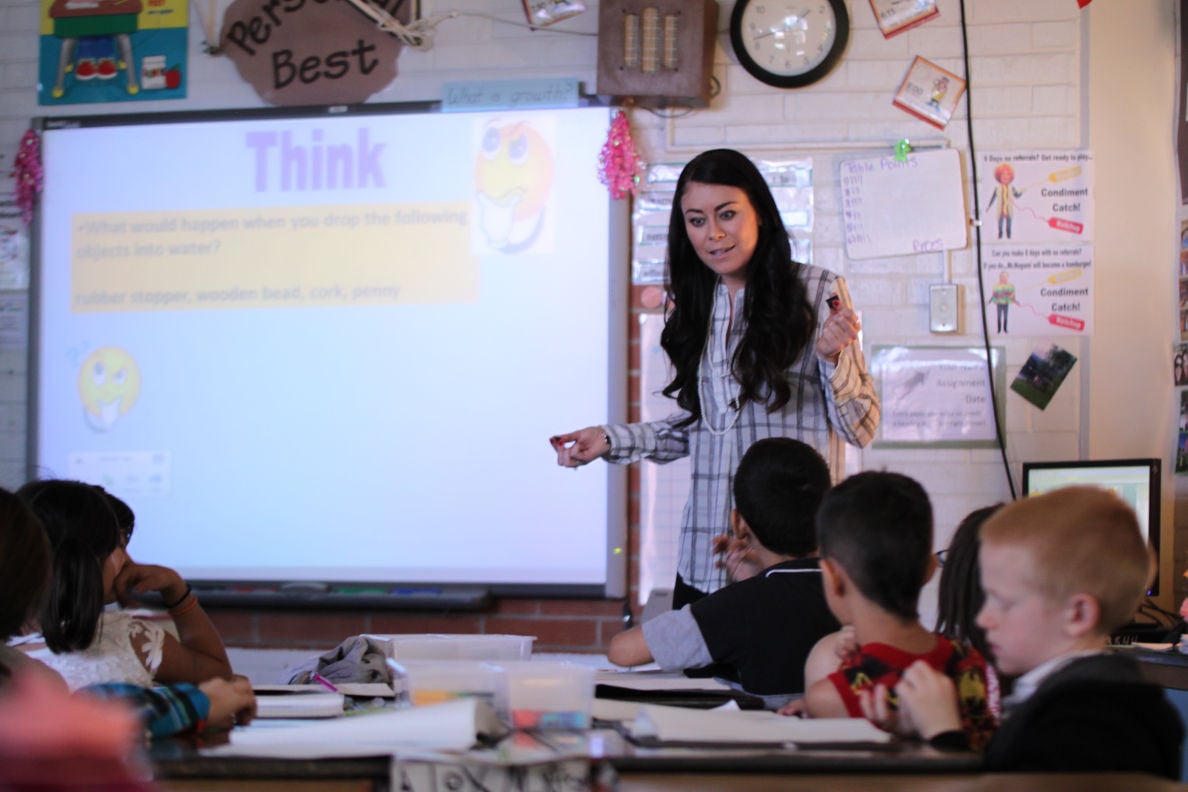 At 18, Brie Barber had her life figured out.
A student at the University of Arizona, Barber would major in anthropology, minor in French and move to Africa to change the world.
Now 29, Barber did go on a journey — one that would land her in a Flowing Wells classroom rather than across the globe — but her mission remains the same.
"I know it's kind of cheesy, but I feel it's my small way of changing the world by working with these kiddos," said Barber, who has been teaching at Walter Douglas Elementary School for six years.
For six hours a day, five days a week, Barber takes her students to a place that is safe, consistent and engaging, all without stepping outside of their impoverished north side community.
Her students repay her with high academic achievement, something Barber is now being recognized for as a Rodel Exemplary Teacher.
Barber attributes her success to her ability to form relationships with her students.
"I know from my experience, the teachers I appreciated most were the ones who cared about me," Barber said. "When they cared about me, I wanted to do better for them so that's what I try to do for my students as well."
Barber's efforts are evident to Walter Douglas Principal Tamara McAllister.
"Each time I walk into Miss Barber's classroom she is teaching her heart out, and her students are working to their utmost potential," McAllister said. "Miss Barber is passionately committed to educating children and preparing them for the future."
Connecting with students is what lured Barber into the teaching profession in the first place.
Still an anthropology student, Barber helped develop a club that brought awareness to modern-day racism.
The club went out to high schools across Tucson where Barber spoke with students about prejudice and their experiences with racism.
"These were pretty heavy issues, and I remember thinking about how amazing these kids were, being so young and the potential they had," she said. "I just loved it so much."
The Rodel Exemplary Teacher honor comes with $2,500 and an opportunity to mentor promising student teachers, something Barber is very familiar with.
Barber was a Rodel promising student teacher herself and was mentored by Rodel Exemplary Teacher Lucy Popson.
Today, Barber serves as an instructional coach, a new teacher mentor and grade level chair.
Although her colleagues view Barber as a leader, she views herself as an equal who has no reservations about leaning on others for help.
"No one comes into this profession having all of the answers, and I don't think anyone leaves the profession having all of the answers," Barber said. "There are too many variables happening within the classroom constantly."