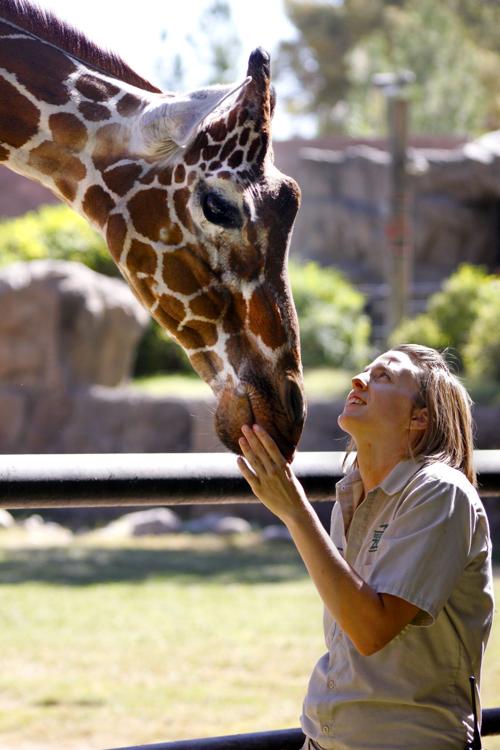 Elinor the giraffe died from a rare and aggressive form of cancer, officials at the Reid Park Zoo announced Monday.
The 20-year-old reticulated giraffe died at the Tucson zoo on Sept. 2. A necropsy by the University of Arizona Veterinary Diagnostic Laboratory showed Elinor was killed by a rapidly progressing form of lymphoma that is "extremely rare" in giraffes, said Alexis Roth, the zoo's chief veterinarian.
Elinor came to Reid Park in 2010 from a zoo in Knoxville, Tennessee. She shared an enclosure with Jasiri, an 8-year-old male, and Denver, a 30-year-old female who ranks as the second oldest giraffe at the more than 230 facilities accredited by the Association of Zoos and Aquariums. The median life expectancy for a captive female giraffe is 19 years, according to the AZA.
"Elinor was loved so much by staff and guests," said Sue Tygielski, director of zoo operations, in a press release. "She had her own special fan club. While some guests marveled at Jasiri's tall height, and others at Denver's bold nature, Elinor was often the sweet favorite."
According to the release, Jasiri and Denver had the opportunity to see Elinor after she died, and the two remaining giraffes spent an unusual amount of time together in the days following her death.
Contact reporter Henry Brean at hbrean@tucson.com or 520-573 4283. On Twitter: @RefriedBrean
Get local news delivered to your inbox!
Subscribe to our Daily Headlines newsletter.