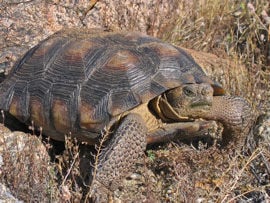 Conservation groups filed a federal lawsuit in Tucson Thursday seeking endangered species protection for the Sonoran Desert tortoise.
WildEarth Guardians and Western Watersheds Project, represented by the Western Environmental Law Center, are challenging a 2015 decision by the U.S. Fish and Wildlife Service not to list the species, whose range spans most of Arizona, including Tucson.
In their lawsuit, the groups accused the service of ignoring the best available science when assessing threats to the tortoise.
"The law doesn't allow the agency to assume the species is doing fine based on an absence of data," said Matthew Bishop, attorney with the Western Environmental Law Center, in a written statement.
Western Watersheds Project and WildEarth Guardians previously petitioned for the tortoise to be listed.
In 2010, the Fish and Wildlife Service determined that the reptile's situation was bad enough to warrant federal protection, but deferred action because other species deserved higher priority.
Five years later, the agency reversed its position, concluding that the risks to the tortoise weren't serious or imminent enough to list it as threatened or endangered.
The decision drew praise from the Arizona Game and Fish Department and spared homebuilders and ranchers from additional regulations for tortoise protection.
Environmental groups cite development and livestock grazing as the two main threats to the species.
Cyndi Tuell, Arizona and New Mexico director for Western Watersheds Project, said other threats include climate change, invasive species, fire, and habitat fragmentation by roads and other infrastructure, including what she called "border militarization."
"The tortoise is definitely one of those species that can't fly or climb over the wall," Tuell said.
The Sonoran tortoise lives in desert scrub habitats throughout Southern, Western and northwestern Arizona and Northern Sonora. It is a separate species from the Mojave Desert tortoise, which lives in California and Nevada and has been listed as threatened since 1990.
"For five years the Fish and Wildlife Service recognized the grave danger of extinction facing the Sonoran desert tortoise. We are simply asking this federal agency to do its job — protect species on the brink of extinction from the ever-increasing threats," Tuell said. "This species is becoming more and more endangered every day."
When asked why the lawsuit was being filed now, she said the statute of limitations was due to run out.
Contact reporter Henry Brean at hbrean@tucson.com or 520-573 4283. On Twitter: @RefriedBrean
Get local news delivered to your inbox!
Subscribe to our Daily Headlines newsletter.