It runs from one side of Tucson to the other, but 19th Street is at its 19thiest where it crosses a quiet stretch of South Campbell Avenue east of South Kino Parkway. There's a sign for it and everything.
Right at the corner, directly in front of an auto repair shop called Accurate Service, a misprinted city of Tucson street sign identifies the road as "19st St."
City officials insist such errors are rare, and this one will soon be corrected. But that hasn't stopped snarky online commenters from having some fun at the city's expense.
A photo of the mistaken sign was the most popular post of the past month on the Reddit forum for Tucson. One user called it "just the Most 19th a street could be." Another wrote, "If it was any more 19er it would be 38."
The post touched off a discussion on Reddit about other local street sign screw-ups, including the time Wilmot Road was mangled in the most predictable way at several intersections.
The east-side road is regularly — and wrongly — referred to as "Wilmont," a mistake that has appeared in the pages of this very newspaper a time or two.
It's unclear when the error inevitably found its way onto the road itself, but a faint reminder of the blunder lives on at the southeast corner of North Wilmot and East Fifth Street, where the ghost of an N and a T still peaks out from both sides of the corrected sign.
City officials couldn't say how often errors like this end up on street corners, but it probably doesn't happen as frequently as it could.
A single shop at the city's Thomas O. Price Service Center at East Ajo Way and South Park Avenue produces signs for every city department, including transportation, police, fire, water and Sun Tran, to name a few.
All that work is done by just two people, who use special vinyl plotters, latex printers and silk screening to produce a wide variety of new and replacement signs.
"All street names signs are manually typeset into our graphic program for fabrication," said April Ormsby, Tucson's lead sign fabricator, in an email.
And typos happen, no mater how careful you are. (Just ask any journalist, Twitter user or the president of the United States.)
As sign snafus go, Tucson's could have been worse.
Reno, Nevada, rode a wave of public ridicule earlier this month when a missing "i" on several new signs briefly turned one of the community's busiest roads into "Virgina Street."
As the Reno Gazette-Journal reported on Nov. 1, city officials there decided to join in on the jokes.
Reno City Manager Sabra Newby tweeted, "Cost cutting measure, folks. That extra 'i' put us over budget."
Reno City Councilman Devon Reese offered an i-less tweet of his own: "Keepng Reno grtty."
Outside of Reddit, though, no one in Tucson has taken much notice of the minor gaffe on 19st Street.
The woman who answered the phone at Accurate Service said she didn't know anything about the bad sign, and the owner of the auto shop declined to even talk about it.
The erroneous sign was still there Monday morning, but Ormsby said a new one has been ordered and should be put up before too long.
The mistake probably won't bust the city's budget. According to Ormsby, the price of a standard street sign is $23.
That cost estimate does not include labor or all this negative press covfefe.
RELATED GALLERY: The stories behind 12 Tucson-area street names
Craycroft Road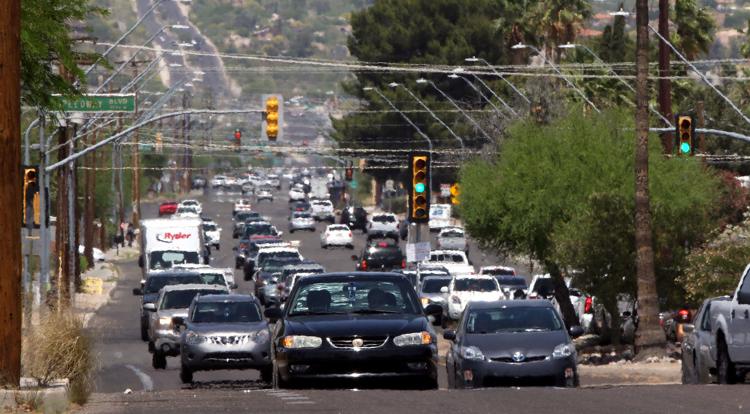 Frank Craycroft, a mechanical and mining engineer, built one of the most impressive houses of the day on the road that now bears his name.
Craycroft was born in Louisville, Ky., in 1872, to Elkanah and Louise Craycroft. He graduated from the University of Kentucky and then, following in the tradition of men in his family, enrolled in the University of Edinburgh in Scotland. On graduation day in 1889, he received his degree in mining engineering and also became a CPA.
He spent the next four years working with his father on water works projects. After his father died, he lived in Boulder, Colo., Bisbee, Globe and Los Angeles. He also served in the Spanish-American War in 1898.
In 1904, Craycroft came to Tucson, working mostly in heating and power plant construction. He also was chief engineer for the J. Knox Corbett Co., and later went into business for himself. The 1925 Tucson City Directory lists his business, Frank Craycroft Plumbing and Heating, at 40 Toole Ave., downtown.
He was also an important promoter of the El Conquistador Hotel, where El Con Mall is now.
Craycroft was married twice, first to Mary L. Norman, of Texas, who died in 1917, and again in 1925 to Edna E. Huckabee (some sources site her last name as Greene). He had three children.
In 1925, he built a house in the desert, just off a dirt road that was then called Kenyon. A Tucson Citizen article in May of that year described the house as "of Spanish architecture and is built in the shape of an 'H.'
" The article said it "contains nine rooms and three baths . . . two large sleeping porches, and a porch built on the roof, which is gained by means of a spiral stairway."
The house, at 5524 E. Fourth St., off Craycroft Road, has been remodeled and changed hands several times. In the 1990s, it was the headquarters of the
Tucson chapter of the American Cancer Society. It is now a private business.
Roughly 15 years after the house was built, Kenyon Road was renamed Craycroft Road.
Frank Craycroft died suddenly on May 10, 1929, at his home. He was 56 years old.
Kino Parkway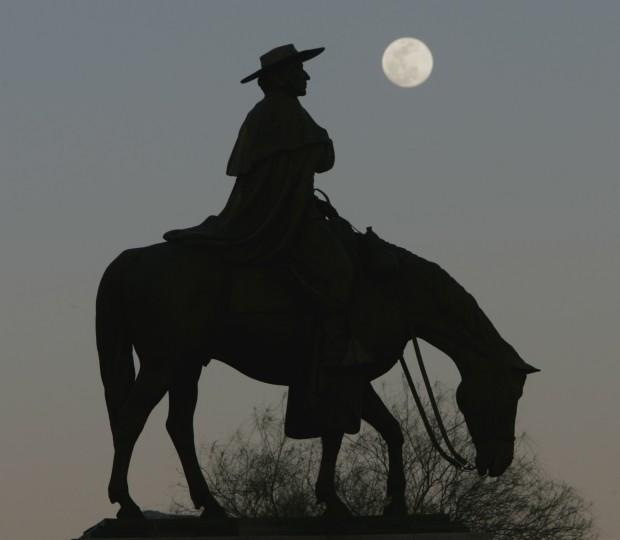 Eusebio Francisco Kino, the father of Tucson's San Xavier Mission, is the namesake for Kino Parkway, which runs from East Broadway south to Benson Highway.
Kino, whose nickname became "The Apostle of Arizona," was born in 1645 in the town of Segno, Italy. He excelled in cartography, mathematics and astronomy.
As a teenager, he fell seriously ill and vowed to St. Francis Xavier that if God would save him he would become a missionary to the Orient. Entering the priesthood in 1665, he spent a dozen years studying to become a Jesuit priest.
At age 36, in 1681, he arrived in Mexico, and the following year, he mapped out Baja California and the Sea of Cortez. Later he became the first person to confirm that California was not an island, as was a common belief at that time.
His 1706 map of Southern Arizona was so accurate that it went unaltered for a century.
In 1691, Kino embarked on the initial expedition into the Pimeria Alta, land of the Upper Pimas, in northern Sonora and Southern Arizona; he would make a total of nine trips to Arizona. He followed the Santa Cruz River north and stopped by what became the Tumacacori Mission. On his second mission about a year later, he visited the village of Bac, south of Tucson, where he laid the foundation for the San Xavier Mission. It was built after his death and is still active today.
At Bac and Schookson, he counted 900 and 800 Indians, respectively; the Spanish incorrectly pronouncing Schookson as Tucson, which translates roughly to "at the foot of the black hill." The Indians were living in clusters of houses along the banks of the Santa Cruz River.
Kino spent 20 years in the Pimeria Alta and established 24 missions. He trained natives as cowboys - the roots of the cattle industry in the Southwest stem from the rancho missions he started in Arizona.
He also earned the respect of his fellow missionaries and the Indians with whom he worked. He was known for his compassion and his hard work.
Kino died at Magdalena, Sonora., in 1711 at 65.
Egleston Drive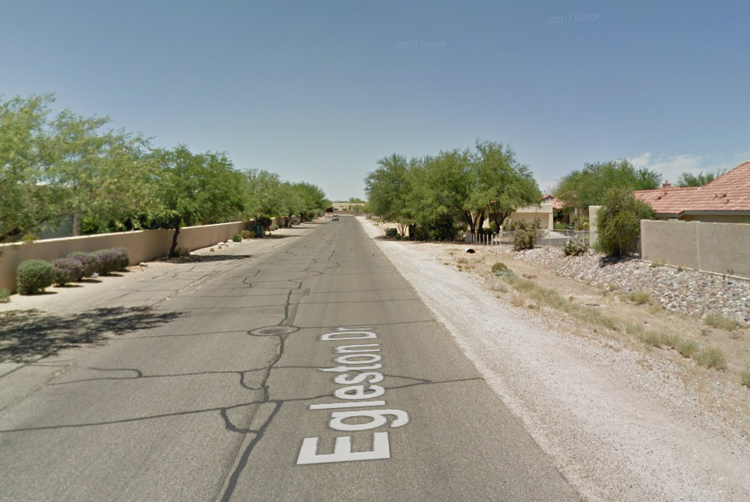 Egleston Memorial Drive and Egelston Drive, both in Oro Valley, are named in honor of landowners who helped preserve some of Tucson's most scenic land.
Charles Egleston was born in 1895 in Westfield, Mass., and his wife, Anna (Kehr) Egleston, was born three years later in 1898 in New York City. The two arrived in Tucson in the 1920s with their two children - three others later would be born in Tucson. Before moving to Arizona, Charles had served in the U.S. Navy.
When they first moved to Tucson, the Eglestons lived near East Glenn Street and North First Avenue, and Charles worked as a self-employed electrician. In the 1930s, they purchased large tracts of land around Tucson, including 65 acres near Pusch Ridge, which was their largest holding. It was bounded by Oracle Road on the west, Linda Vista Boulevard on the north, and Calle Concordia on the south and also included two parcels totaling 30 acres on the west side of Oracle Road north of Calle Concordia.
Part of that land is now the James Kriegh Park, which sits next to Egleston Drive. On one of these two parcels they built the family home, which was finished in 1951 and still exists today at 9465 N. Oracle Road.
Outside of work, the Eglestons volunteered with the Beacon Group, a non-profit organization dedicated to supporting and providing opportunities for individuals with developmental disabilities. Charles died in 1965, but Anna lived until her 99th birthday. Throughout her life she was dedicated to her Christian faith, including her mission work on the Indian reservations throughout Arizona.
Perhaps the couple's greatest legacy was preserving the land on North Oracle where Pusch Ridge Christian Academy and Canyon del Oro Baptist Church are now located. They gave the land to the Palo Verde Baptist Church in 1958, with the stipulation that it be used "for religious and educational purposes only."
The road in the Pusch Ridge property is named Egleston Memorial Drive, in honor of Charles and Anna.
Bentley Avenue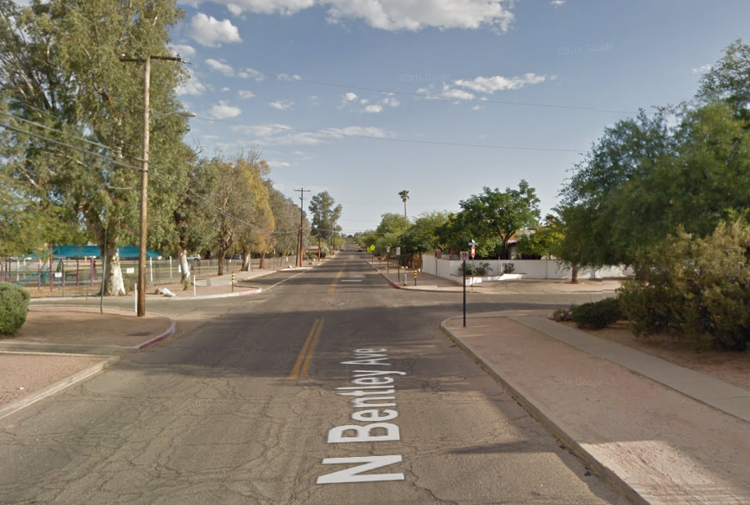 Bentley Avenue was named not for the famed automobile, but for a Tucson family whose most prominent member helped improve education and health-care opportunities for the area's poorest residents.
Evalyn Bentley was born in Friend, Neb., in 1878. Her parents, Randall and Sarah Bentley, of Canada, had five children together. After Randall Bentley died, the family moved to Arizona in 1914.
That same year, Evalyn Bentley traveled by horseback to the Hopi Indian Reservation to assist in the development and improvement of the nation. She served as a field nurse, home economist, lawyer and doctor for the Hopi families.
She later became a home demonstration agent for Pima County, and in this role she organized programs that aided families with cooking, sewing and other items related to home management in rural Arizona. She also established a 4-H club.
Bentley paved the way for better education, health, and home life for Southern Arizona by introducing health and homemaking programs for rural housewives, and propelling Pima's first adult extension classes. One of the programs she introduced to the county, the "Keep Growing Project," offered free medical and dental services in rural areas and county schools.
The program was such a success that it later became part of the Pima County Health Center.
In 1947, Bentley retired from her home demonstration work in Pima County. She worked as Pima's home demonstration agent for 26 years and received honorable mention for her achievements at the First Presbyterian Church.
In 1960, while crossing Speedway on her way to church, Bentley and a friend were struck and killed by a car; she was 82 years old.
Bentley Avenue runs north-south between North Tucson Boulevard and North Country Club Road and between East Pima Street and East Grant Road.
The street was named after the family, which owned land west of Country Club Road.
Mabel Bentley, who was Evalyn's sister, married a member of the Stewart family, and that is where the name of the street next to it came from.
Brichta Drive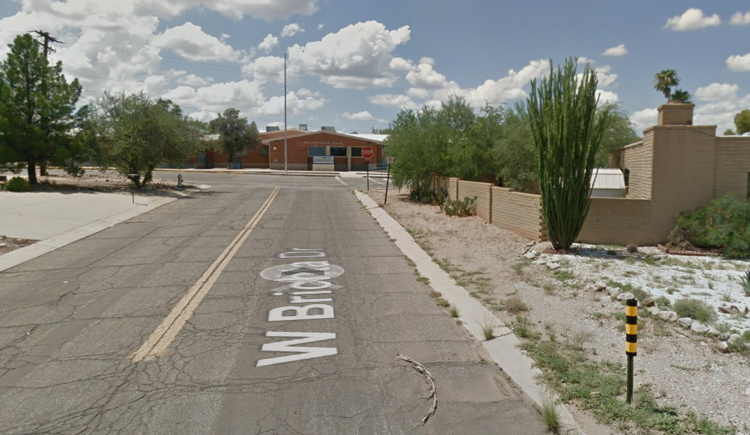 Augustus C. Brichta was such a strong advocate of education that he worked two months without pay as the area's first school sputtered and then closed.
But his educational legacy lives on in the Augustus Brichta Elementary School, 2110 W. Brichta Drive, and the street named in his honor off North Silverbell Road and West Speedway.
Brichta was born in New York City on Sept. 2, 1821, to Francis and Amelia (Rudolphus) Brichta, who were from Germany. He was one of four children and was educated at the Jesuit College in Havana, Cuba, and at St. Louis University.
After finishing school he went to work with his father in Nacogdoches County, Texas. When the Mexican-American War began, he enlisted and served in the Second Mounted Volunteers under Gen. Zachary Taylor.
In 1846 and 1847 he was on the front lines and fought in the Battle of Monterrey. Many years later, he was a member of the Society of Mexican Veterans, which he had joined in San Francisco.
In 1849, Brichta traveled to California during the Gold Rush, mining for the precious metal on the American, Feather, and Yuba rivers, but found slim pickings.
He arrived in Arizona around 1864, and worked as a clerk for the First Arizona Territorial Legislature.
His next stop was Tucson, where he taught in the first English-speaking school. Held in an adobe building downtown, in 1868 it had about 55 students, all boys.
It had dirt floors, and the only furniture was pine benches and desks.
Due to lack of funding by the town, the school closed less than six months after opening, and Brichta taught the last two months without pay.
After that, Brichta worked for the firm Lord & Williams and did a stint as deputy postmaster.
He was Pima County Recorder for one term and also the first Justice of the Peace of Nogales.
Mining was his major endeavor throughout his life, and he worked three copper claims in the Tucson Mountains.
In 1872 Brichta wed Maria Jesusita Franco of Santa Cruz, Mexico, and adopted her three children. He died Dec. 21, 1910.
Samaniego Avenue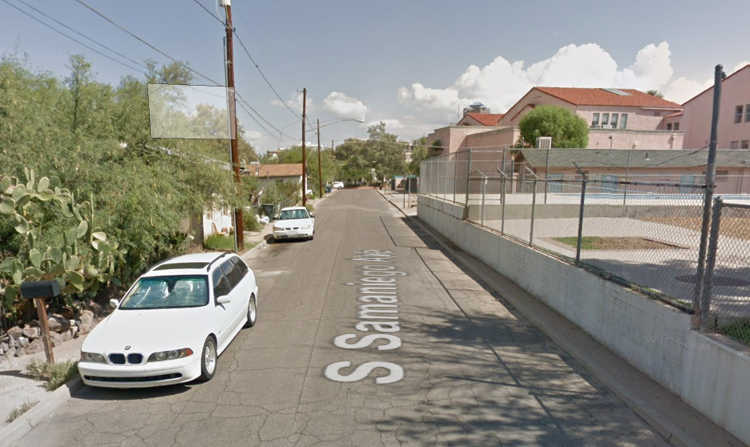 Samaniego Avenue, located south of the Tucson Convention Center downtown, is named in honor of a naturalized U.S. citizen who became one of the most powerful men in early Tucson.
Mariano Guadalupe Samaniego was born in Sonora, Mexico, in 1844. His parents, Bartolo and Ysabel Samaniego, were born there also.
Ysabel's father, Pedro Luna, was a soldier from Sonora; Bartolo's father, Tiburcio Samaniego, was a large land owner, magistrate and adviser and friend to the Opata and Yaqui Indians. His family was one of the oldest in Sonora.
After Bartolo's death in Mexico in 1850, Ysabel moved to what is now Mesilla, N.M., where she and Mariano ran a store. A few years later they became naturalized as a result of the Gadsden Purchase.
Mariano Samaniego attended St. Louis University, graduating in 1862. Next he signed on as an interpreter for the Confederate Army. In 1864, he began freighting supplies to and from multiple posts, traveling as far east as the Missouri River.
After marrying Dolores Aguirre in Las Cruces, N.M., he came to Tucson in 1869, and was awarded numerous contracts to carry supplies to various Arizona forts.
In 1881, after the murder of his brother Bartolo Jr. in an ambush by Apaches, he sold his contracts and started raising cattle, which he continued until his death. He also owned a large amount of real estate, including the Canyon del Oro and Rillito ranches, both north of Tucson.
The Canyon del Oro ranch is now the site of Biosphere 2.
Mariano Samaniego served as a Tucson city councilman, Pima County assessor, chairman of the Pima County Board of Supervisors and representative in the Arizona Territorial Assembly.
He also was on the University of Arizona's first board of regents and served two terms as president of the Arizona Historical Society.
During the last decade of the 1800s, when he was at the apex of his career, he was one of the most powerful men in Tucson. He died in 1907, at the age of 65.
Note: Samaniego's house, built in 1876, is at 222 S. Church Ave., south of La Placita Village.
Herbert Avenue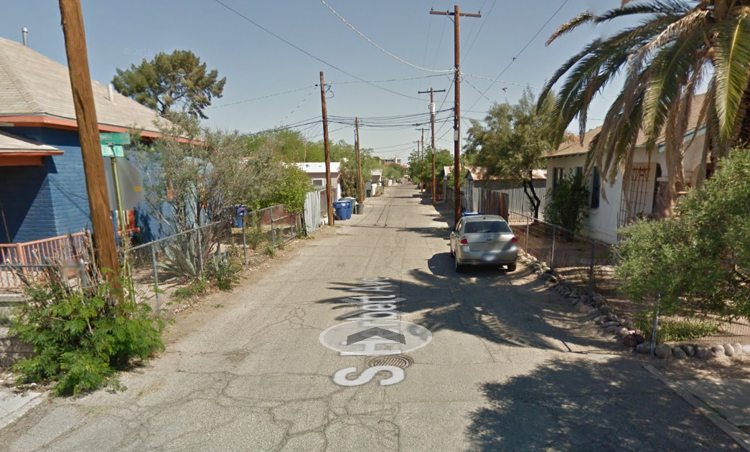 Herbert Drachman was born in 1876 in Tucson to Samuel and Jennie Drachman at a time when the Old Pueblo was still part of the Old West.
He grew up with his cousin Harry Arizona Drachman, who is said to be the first Anglo born in Tucson.
Toward the end of the 1800s, Herbert journeyed by stagecoach to Berkeley, Calif., where he studied at the University of California for five years. After graduating, he returned home and worked in his father's cigar store downtown. He also became active in athletics, with a particular fondness for baseball.
In 1909, after 10 years of business and civic duty, he went to San Francisco and founded a curio shop.
After the death of his father, he returned home in 1916 and set up a real estate and insurance company in which he flourished and was active until his death in the spring of 1937. He was married to Eda Drachman and had a stepson, Richard Drachman, who worked with him in his real estate and insurance business.
In 1934, he spearheaded a campaign to save the Orndorff Hotel downtown, but the landmark fell the following year to make room for a parking lot.
He spent more than two decades aiding the Tucson Chinese colony, the Yaqui Indians of Pascua Village and in many other civic activities.
He also advocated against attempts to legalize gambling but seemed most proud of being a member of Tucson's first volunteer fire department - he often showed off pictures of himself and other firefighters.
According to a file at the Arizona Historical Society, his father purchased the block between Broadway, Fifth Avenue and Ochoa Street for $48 around 1880 and named the street to the east Herbert Avenue after his son.
Blacklidge Drive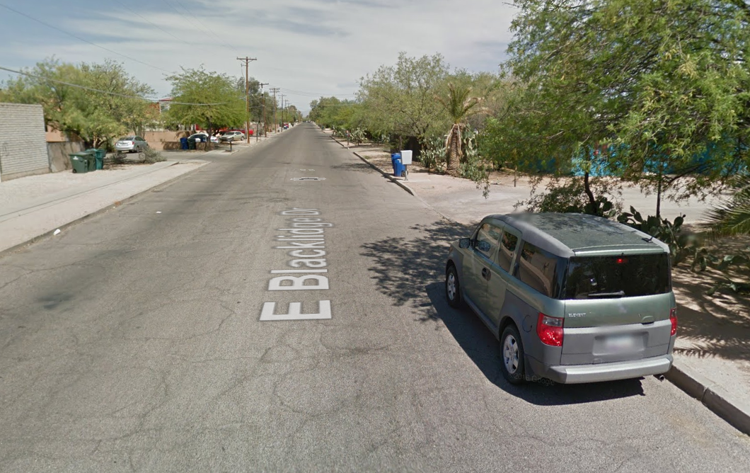 Frank E. Blacklidge Sr., the namesake of a street in central Tucson between Fort Lowell Road and Glenn Street, was an early contractor who was also a celebrated rancher and cook.
Blacklidge was born in Redondo Beach, Calif., on Nov. 15, 1888. In 1890 or 1891, he arrived in Benson with his family.
His parents divorced in 1892, and his mother, Laura (Trask) Blacklidge, gained custody of Frank, his brother, Harry J., and his sister, Myrtle.
He spent much of his childhood on his grandfather Jacob Trask's ranch. At about 10 years old, he roped his first steer while riding an old horse named Baldy. This experience came in handy later on when he worked as a cowhand for Jim Cummings on his Circle Five Ranch close to Peña Blanca Lake.
In 1912, the year Arizona gained statehood, Blacklidge was living in Patagonia, which was then so small that its jail was a "grilled iron door" at the entrance to a small mine just south of town. Blacklidge was one of the first people to enjoy the new jail, after a night of drinking with a cowboy friend, while driving a Model T.
In 1921 he arrived in Tucson, where he established a contracting company. Business was slow during the Great Depression, so he ran the O-J Ranch south of Three Points, off the road to Sasabe.
Blacklidge, whose nickname was "Pancho," loved to cook and reminisced in a 1966 Arizona Daily Star article about a Fourth of July celebration at the ranch, where neighboring families barbecued, drank moonshine and danced to a fiddle and guitar. Some of his recipes were even published in Sunset magazine and a few cookbooks.
In the 1920s, Blacklidge built many of the homes on what is now Blacklidge Drive. This street was first recorded in the county records in 1922 and was one block long, between Cherry and Campbell avenues.
He owned a little ranch at 4200 E. Glenn St., just west of Columbus Boulevard.
He was married twice, first to Eleanor (Roberts) Blacklidge of Tombstone, with whom he had two children: Frank E. Blacklidge Jr. in 1926 and Ruth Marie Blacklidge in 1925. After Eleanor died in 1927, he married Augusta Frances (Haller) Blacklidge, who helped raise the kids.
Blacklidge died in 1973 in Tucson at the age of 84.
Runway Drive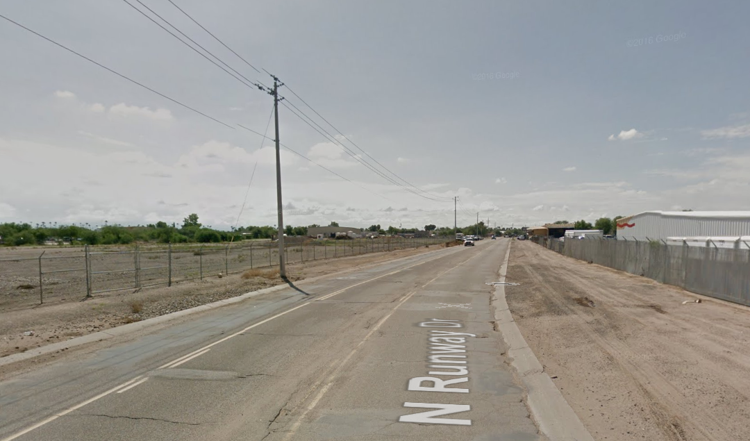 Runway Drive, as the name suggests, was a runway at the old Gilpin Airport.
In the late 1930s, Walter Douglas Jr., a longtime pilot and flight instructor at the Davis-Monthan Airfield, purchased farmland northwest of Tucson. The area, near West Prince and North Romero roads, was leveled in 1939 by Fred Grissom, who became Douglas' chief mechanic.
A control tower, which was built on top of the passenger terminal, was built later, surrounded by hangars to the north and south. These structures exist today as part of the R.E. Darling Co., west of Romero Road.
Farming next to the airport continued for a few years. Douglas operated Gilpin Airlines as well as a flight school, which trained members of the University of Arizona's Reserve Officer Training Corps, among others.
In the late 1940s and early 1950s, Gilpin Speedway, an unpaved race track, drew crowds to watch midget-car and jalopy races.
In 1957, the airport was renamed the Central Airpark, and in 1958, under new ownership, it was rechristened Freeway Airport.
Thomas R. Borst purchased the 42-acre airport and several buildings in 1970. The airport went under in 1978. The land now is an industrial park, which includes the 25-acre Sun Tran Northwest Bus Facility.
Runway Drive is about a block east of Interstate 10, north of Prince. It runs parallel to the interstate.
Gates Pass
Thomas Gates came to Arizona in 1866 with Billy Brannen, a fellow poker player.
The two made money hand over fist in Tucson, Las Cruces, N.M., and Santa Fe, where the partnership ended in 1867.
Gates was born in Mount Pleasant, Canada, in 1834. Indian Territory (now Oklahoma) was the family's next stop, and then on to California.
After parting ways with Brannen, Gates returned to California by way of Salt Lake City. He made several visits to Arizona in the following years, and sometime in the 1870s he was married in Los Angeles and brought his wife to Arizona.
He became partners with territorial legislator Albert Franklin Banta for some time and later invested in mining.
In 1883, he acted as a lobbyist and helped repeal the bullion tax law. That same year he was head of the Democratic Territorial Central Committee. He was also a founding member of the Arizona Pioneers Historical Association and spent some time as a saloonkeeper.
He was appointed superintendent of the Yuma Prison by Gov. C. Meyer Zulick. In 1887, during a prison riot, he was stabbed in the neck and back. The trauma would haunt him for nearly a decade and eventually led to his suicide at the prison hospital.
Author William Ascarza wrote: "It was his legacy to discover the path through the Tucson Mountains, now called Gates Pass. Gates' objective was to establish a faster route between the Waterman Mountains in Avra Valley to the city of Tucson.
"Gates owned a profitable claim in the Waterman Mountains known as the Abbie Waterman Mine, which was 33 miles southwest of Tucson. It was to his economic advantage to find a shorter trade route to his carbonate mine. He discovered such a route via 'a natural canyon' that was 3,500 feet in height and a little over a mile long.
"Unfortunately, the Tucson Board of Supervisors failed to appropriate the necessary funding to build a road. Thomas Gates determined it a necessity and funded the project out of his own pocket. The total cost was $1,000. The result was the completion of a dirt road that directly linked Tucson with Avra Valley and shortened Gates' travel route from Tucson to the Waterman Mountains by eight miles."
Plumer Avenue
Plumer Avenue, between Campbell Avenue and Tucson Boulevard, is named in honor of a banker who helped Tucson grow and develop.
Nathaniel E. Plumer was born in 1866 in Detroit to Nathaniel B. and Martha (Sanborn) Plumer but grew up in Boston.
Plumer's first job was as a representative with the George H. Hammond Packing Co. After several years, he went into business for himself in the same field.
He arrived in Tucson in 1899, coming from Denver in a wagon due to health issues. Here he created a partnership with Fred J. Steward and was involved in real estate and insurance for three years as a member of the firm Plumer & Steward. Their offices were at 32 N. Stone Ave., where the Steinfeld Department Store would later stand.
With Steward and other investors, Plumer organized the Southern Arizona Bank & Trust Co. in 1903 and was elected president of the corporation - a role he would hold until his death. The bank was one of the strongest in the state, and in 1913 it had resources of more than $1 million.
Plumer was deeply involved in the creation of the Tucson YMCA. He became president of the board of trustees and guided the construction of the headquarters and purchase of equipment.
He also was active in the prohibition of alcohol and gambling in Tucson.
He owned property near the University of Arizona -likely in the area bounded by East Speedway, North Campbell Avenue, East Elm Street and North Tucson Boulevard - which he organized into a subdivision. He loved to play desert golf on the land, and also to race cars down Speedway.
Plumer married Mabel Roberts of New England, and they had one daughter, Alice Plumer.
After a visit to his summer home in Oracle, he became ill and died in 1917.
Contact reporter Henry Brean at hbrean@tucson.com or 520-573 4283. On Twitter: @RefriedBrean