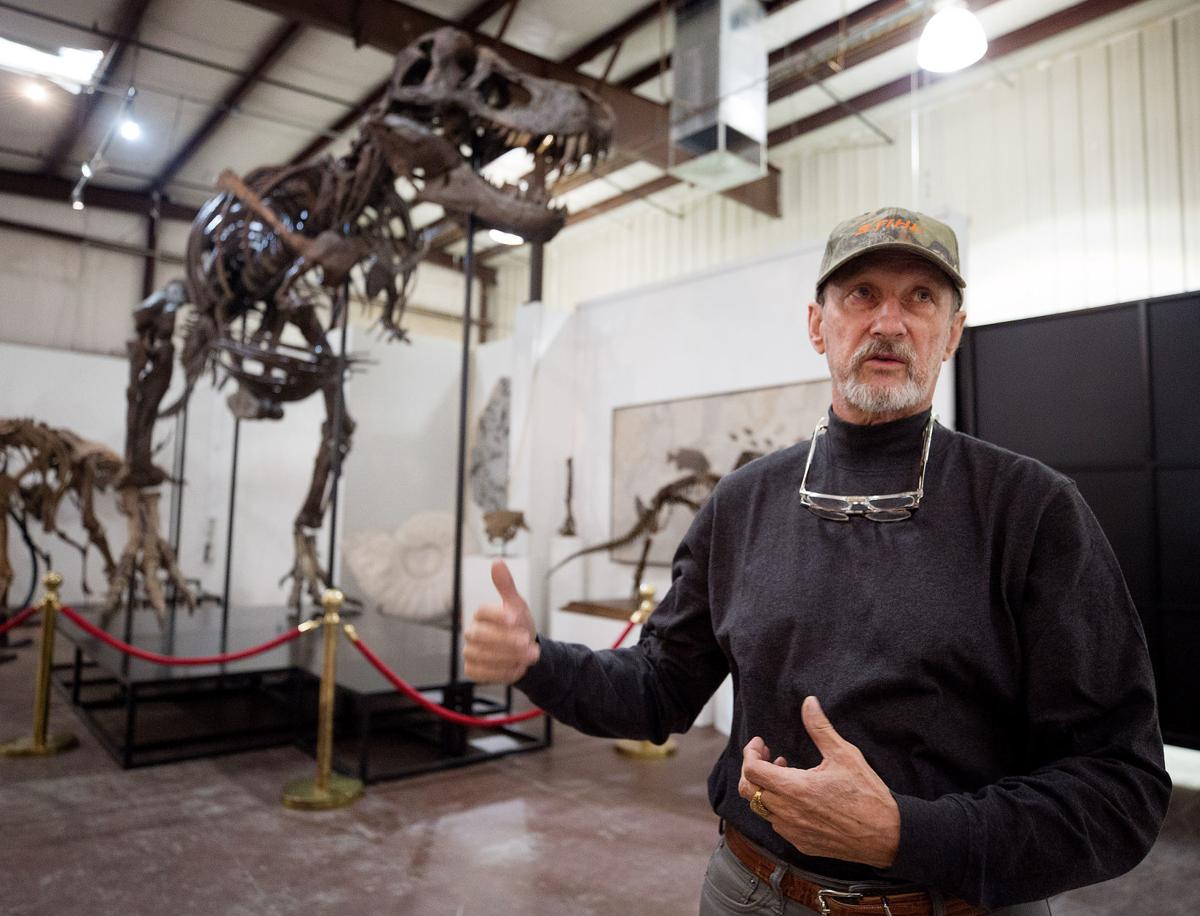 A 35-foot-long T. rex named Roosevelt and other works of fossilized art will be on rare public display at an exclusive local gallery during the Tucson Gem, Mineral and Fossil Showcase.
Tom Lindgren said his GeoDecor showroom near Oracle Road and Drachman Street is usually open by appointment only, namely for customers pre-qualified to buy one-of-a-kind items priced as high as a million dollars or more.
For the next two weeks, though, the 4,000-square-foot gallery at the Mineral and Fossil Co-op is open to anyone free of charge from 9 a.m. to 7 p.m. daily.
The special exhibition opened on Friday and runs through the end of the gem show on Feb. 16.
Just be careful not to bump into anything. Everything on display is for sale, and chances are you can't afford it.
"This is nature's art on a Jurassic scale," Lindgren said.
And his typical showroom customer? "If it's not a museum, it's a collector who can have anything he wants and wants something nobody else has."
In addition to the T. rex, the showroom currently features a triceratops skull, a woolly mammoth skeleton as tall as a house, limestone murals of fossilized palm fronds and fishes, a 5-foot-long fossil of a turtle that lived and died 52 million years ago, and a 10-foot-long chunk of a duck-billed hadrosaur with mummified skin still attached.
"That is exceptionally rare," Lindgren said.
Arguably the gallery's most significant item is a nearly complete skeleton of a stegosaurus that was dug from an outcrop in Wyoming with some of its bones still linked together after 150 million years in the ground.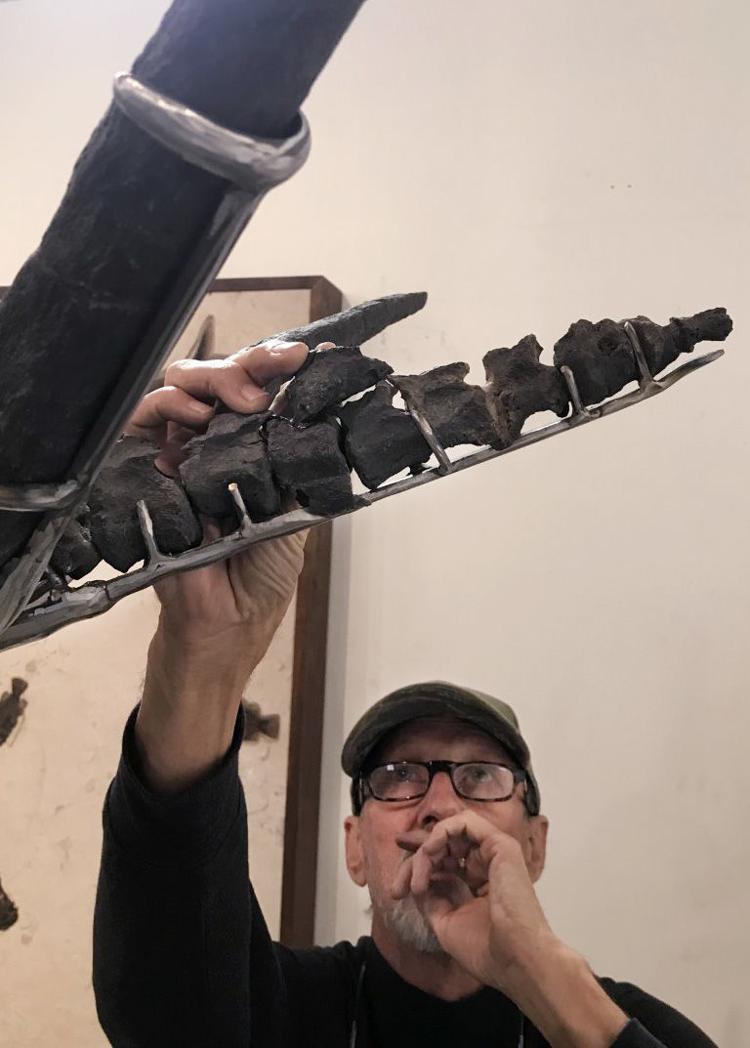 Lindgren said it's one of the largest and most complete that's ever been found, leading some to suspect it could represent an entirely new genus of the plant-eating dinosaur.
He keeps the rarest piece of the specimen locked away in his safe. Lindgren said the black football-shaped rock, small enough to fit in the palm of your hand, used to stick out from the tip of the animal's tail and is "new to science."
"The stegosaurus is a multimillion-dollar fossil," he said during a Thursday afternoon preview of GeoDecor's public exhibit.
Roosevelt can be yours for a mere $5 million. It is actually a composite of bones from three partial T. rex skeletons excavated at different sites in Montana and Wyoming. About 42 percent of the specimen is made up of real fossils ranging in age from 65 million to 72 million years old. The rest of the skeleton has been filled in with replicas.
Roosevelt recently returned to Tucson after an exhibition at a private gallery in Napa Valley, California. The bones were individually wrapped and carefully packed into seven crates for shipment. Lindgren said the whole dinosaur fits on one truck and can be assembled for display in as little as two days.
The T. rex has actually been displayed here before in what Lindgren described as a "clunky, cumbersome" position, but he said its new, more elegant mounting really highlights the length and ferocious beauty of the creature.
"It's much more visually pleasing," Lindgren said. "When you're looking at a dinosaur, you want the focus to be on the animal, not the armature."
A few minutes later, Lindgren had to step away from his newspaper interview to talk to a potential customer.
He came back with a smile on his face. He said the buyer, visiting from London, just agreed to purchase a 9-foot-long, nearly intact thescelosaurus skeleton for an undisclosed sum.
The specimen is listed on GeoDecor's website for $350,000.
Lindgren said his first taste of fossil hunting came during a high school field trip to the South Dakota Badlands in 1967.
His career in commercial paleontology began in 1978, when he went to work at a fossil fish quarry in Utah.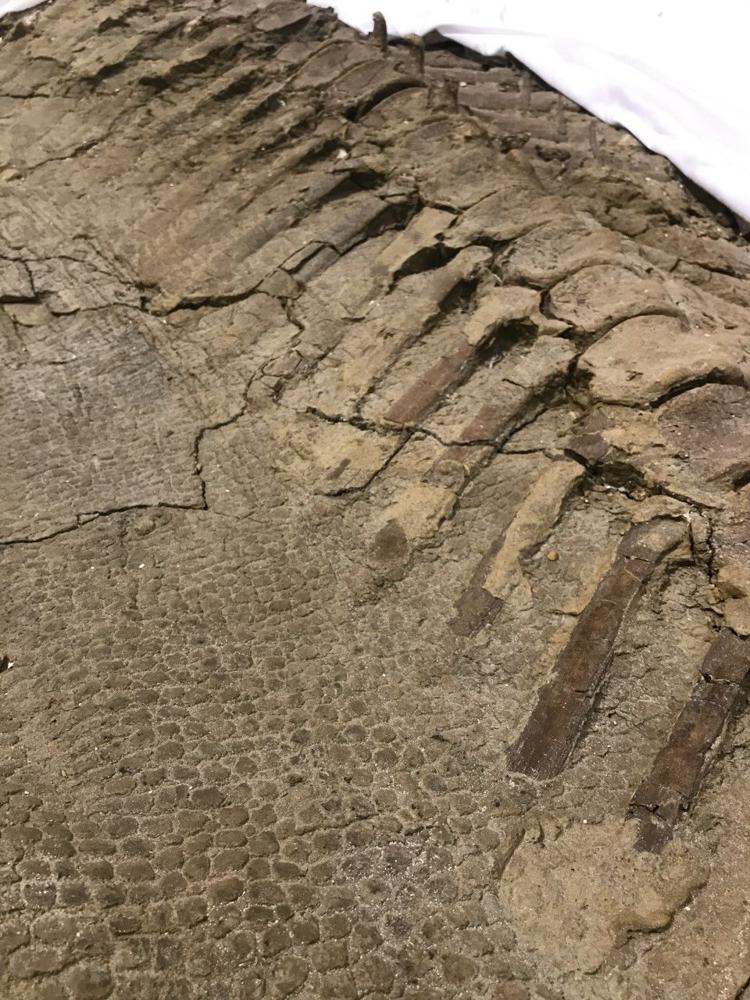 When he hauled a load of fossils to Tucson for his first gem show in 1986, he was so inexperienced he had to ask other vendors how much to sell his stuff for.
Thanks to a few rare pieces, he said, he made about $5,000 in sales that year, after racking up $4,500 in costs.
The business built quickly from there.
By the 1990s, he was specializing in what he calls "fossil art" and co-hosting a cable shopping channel show that earned him the nickname of QVC's "real-life Indiana Jones."
The self-taught paleontologist went on to become the co-consulting director of natural history for Bonhams auction house, overseeing some of the highest-priced dinosaur sales on record while still running his own successful fossil business.
Lindgren moved his entire operation — and his family — to Tucson in 2008, in large part because of the gem show. He said he used to operate a high-end gallery in El Segundo, California, and "schlep" his wares to the Old Pueblo once a year. "As soon as I moved here I saved $40,000 a year" on shipping and transportation alone, he said.
Today, Lindgren is regarded as one of the most successful dealers in the commercial fossil business, and early February in Tucson ranks as one of his most profitable times of the year. "It becomes a seven-figure show," he said.
But Lindgren is still at his happiest when he's out in the field, digging in the dirt.
He said he tries to spend three or four months of the year scratching for fossils in Montana and Wyoming.
"It's the moment of discovery that fuels my passion," Lindgren said.
The money isn't bad, either.
Contact reporter Henry Brean at hbrean@tucson.com or 520-573 4283. On Twitter: @RefriedBrean.
Get local news delivered to your inbox!
Subscribe to our Daily Headlines newsletter.