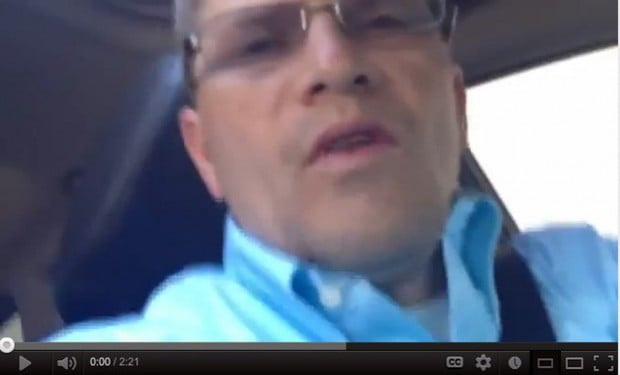 An executive at a medical manufacturing firm lost his job after a YouTube video of him verbally ambushing a young employee at a Tucson Chick-fil-A went viral.
Adam Smith, formerly chief financial officer at Vante, stepped down after the video - which Smith shot and uploaded himself -caused embarrassment to the company.
The video was picked up by countless blogs. Before Smith took it off YouTube, others had downloaded it and reposted it.
Both the escapade and its fallout filled Tucson-linked tweets.
Smith, who served as an adjunct lecturer at the University of Arizona last semester, filmed himself berating a drive-thru employee at Chick-fil-A, 3605 E. Broadway, on Wednesday. Conservative commentator Mike Huckabee dubbed that day "Chick-fil-A Appreciation Day" and encouraged customers to eat there to show support for the chain after its president, Dan Cathy, said the company supports efforts to block gay marriage.
In the video, which runs 2 minutes, 21 seconds, Smith enters the drive-thru, explaining that he's ordered a free cup of water. Once the employee hands him his cup, he lambastes her employer, calling Chick-fil-A "a hateful corporation" and "a horrible corporation with horrible values" that "gives money to hate groups."
Chick-fil-A restaurants have been a focus of political uproar since Cathy's statements against same-sex marriage.
Cathy made statements in June and July in support of the biblical definition of marriage. Gay-rights groups called for a boycott of the Atlanta-based company, and city leaders in Boston and Chicago have said new franchises would not be welcome there.
Protests critical of Cathy's statements are expected today.
In Smith's video, the employee at the drive-thru window tells Smith that she's uncomfortable being filmed. Smith does not back off.
"I don't know how you live with yourself and work here," Smith says to the employee, before calling himself "totally heterosexual" and saying there's "not a gay in me" and "I just can't stand the hate." He also says "I'm a nice guy, by the way."
After he's done talking to her, he says he thinks he "just did something really good" and "I feel purposeful."
Roger Vogel, chairman, president and CEO of Vante, said the decision for Smith to step down was mutual. Vogel said he was "shocked" by the video, which he first discovered when people emailed him a link.
"We obviously found it very disturbing," Vogel said. "We respect everybody's ability to share their opinions in the public square and we have a very diverse workforce with a diverse set of opinions. We expect employees to behave in a professional manner that's commensurate with their positions, and discuss their opinions in a civil fashion. … We thought what he did was inappropriate."
Vogel said the company has no stance on the gay-marriage issue but has always had a "good relationship" with Chick-fil-A. He said the company will consider contacting the employee that Smith ambushed in an attempt to mend fences.
Reached at Chick-fil-A, the employee declined to comment. Smith did not respond to messages left via email or through the University of Arizona.
The UA issued a statement about Smith, saying he "presently holds no appointment with the University."
The UA "strives to provide an environment where a free and respectful exchange of ideas is valued and encouraged. We strive to have a workforce that is diverse and respectful of different viewpoints and where opinions are respected," the statement said.
Before Vante, Smith worked for more than seven years at IBM, where he was senior finance manager. Smith earned a business degree at the UA, graduating in 1999, as well as an MBA in 2007.
"Vante regrets the unfortunate events that transpired yesterday in Tucson between our former CFO/Treasurer Adam Smith and an employee at Chick-fil-A. Effective immediately, Mr. Smith is no longer an employee of our company.
"The actions of Mr. Smith do not reflect our corporate values in any manner. Vante is an equal opportunity company with a diverse workforce, which holds diverse opinions. We respect the right of our employees and all Americans to hold and express their personal opinions, however, we also expect our company officers to behave in a manner commensurate with their position and in a respectful fashion that conveys these values of civility with others.
"We hope that the general population does not hold Mr. Smith's actions against Vante and its employees."