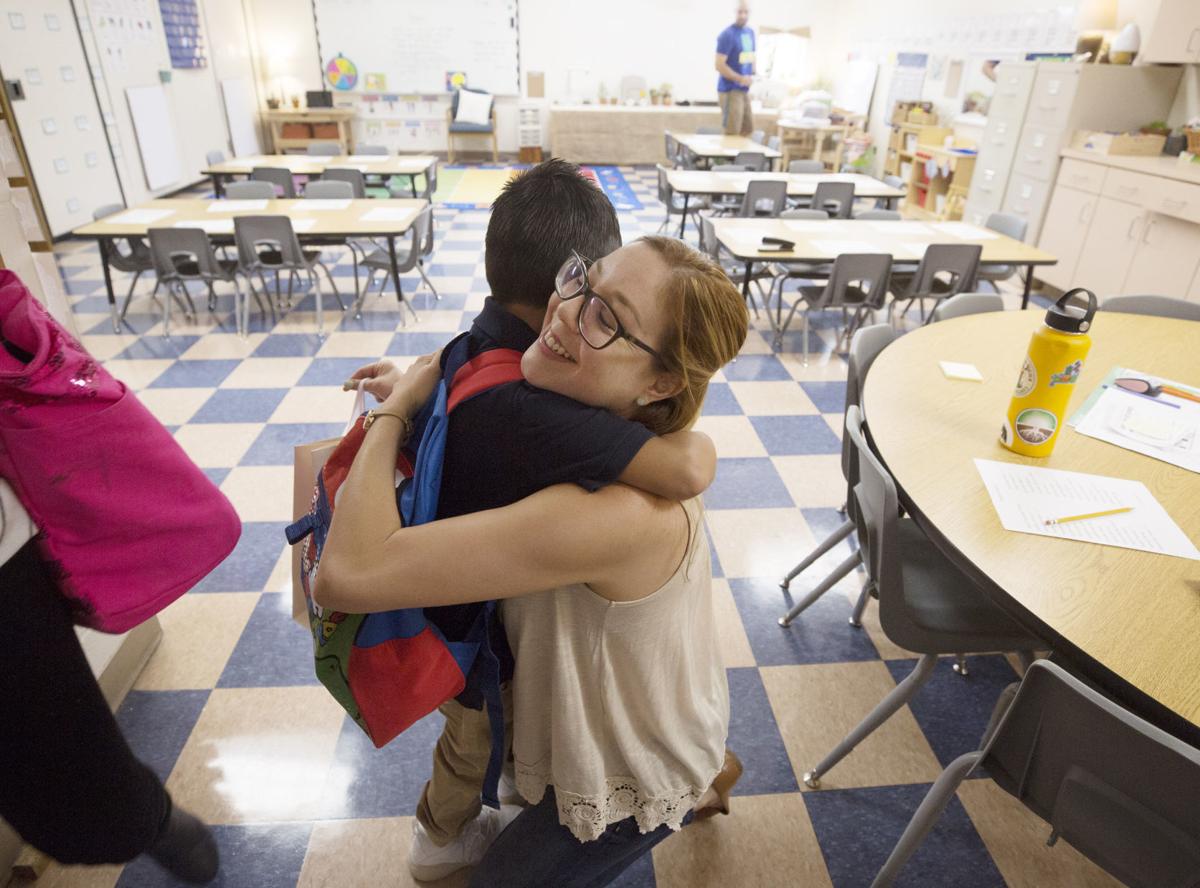 In the wake of a deadly hurricane that left infrastructure on the island in shambles, an Arizona company is eyeing Puerto Rico as a rich source of bilingual, American teachers who can help solve Arizona's teacher shortage.
After Hurricane Maria ripped through Puerto Rico last year, islanders fled to the mainland in droves, and the commonwealth government announced it would permanently close more than 280 schools in an attempt to deal with a massive decline in enrollment.
Educational Services Incorporated, a Scottsdale-based company that contracts employees to school districts, saw an opportunity.
So Jason Hammond Garcia, who's heading up ESI's new International TeachAlliance program, flew to Puerto Rico to try to woo islanders to the desert. Classes at the more than 800 public schools remaining on the island resumed this week.
"Over 30,000 islanders have fled to the mainland, after the havoc wrought by Hurricane Maria, so naturally they've had to close some schools. So there are a lot of teachers available, and we want to convince them Arizona is the place to teach," he said before his trip.
Before joining ESI earlier this year, Garcia spent more than a decade as director of human resources in the Phoenix Elementary School District , where he struggled to keep schools staffed with certified teachers. Last year, he co-authored a report showing four months into the school year, Arizona had more than 5,400 vacancies or positions filled by people not meeting the standard requirements to be teachers.
"Arizona's crisis is part of the national crisis. We can't just fly to Michigan or California or the East Coast to find teachers. There just aren't enough teachers. Young Americans are not going into the teaching profession," he said.
School districts have increasingly turned overseas, largely to southeast Asia, to recruit talent to Arizona.
But Puerto Ricans are United States citizens, and don't require a visa to work in the states. That means it's a lot easier to recruit them, and they don't have to return to their home countries, as teachers on temporary work visas are required to do. And they're bilingual in Spanish and English, a big asset in Arizona.
"I see this as a way to help more districts, more people, more students, more teachers. In a time of great need, this is a longer-term solution," Garcia said, adding he hopes to place Puerto Rican teachers within Arizona classrooms this school year. "They're already U.S. citizens, so that's doable."
ESI, which contracts with school districts across Arizona, mostly to provide substitutes and recently-retired teachers, would collect a $2,000 finders' fee on each Puerto Rican teacher it places with an Arizona school district, Garcia said.
But Arizona has competition. School districts across the country have been courting Puerto Ricans for years.
School districts from Texas, Florida, New York and Kentucky have sought and hired Puerto Ricans for their dual-language skills and the diverse backgrounds they bring to the classroom. And some states have already streamlined their teacher certification processes for Puerto Rican teachers.
Experts say low teacher pay is at the heart of Arizona's teacher shortage. And Arizona is still competing against better-paying neighbors for teachers.
Dallas Independent School District, for example, has a Puerto Rico page on its jobs website explaining how Puerto Rican teachers can transfer their licenses to Texas, and promoting interviews in Puerto Rico.
The page states that salaries start at $50,000 — about $2,000 more than Arizona's median teacher salary.
ESI is also seeking to start its own J1 visa program, allowing it to recruit teachers from other parts of Latin America to work in Arizona schools. A J1 visa is aimed at promoting cultural exchange, especially to obtain training within the U.S.
But the company is still awaiting approval from the U.S. Department of State to sponsor the visas, which expire after five years maximum, Garcia said.
In the meantime, he's been recruiting dual-citizens and those who already have work permits from Latin American countries like Mexico and Guatemala.
He's found about 10 dual citizen teachers from Mexico so far, he said. And he hopes that the J1 visa program, if approved, will be successful in bringing desperately needed bilingual Spanish teachers to Arizona.
"The culture is very unique in the Southwest, it's a real blend of American and Mexican. So it just makes more sense to me, rather than going to India or the Philippines, to go right next door," he said.