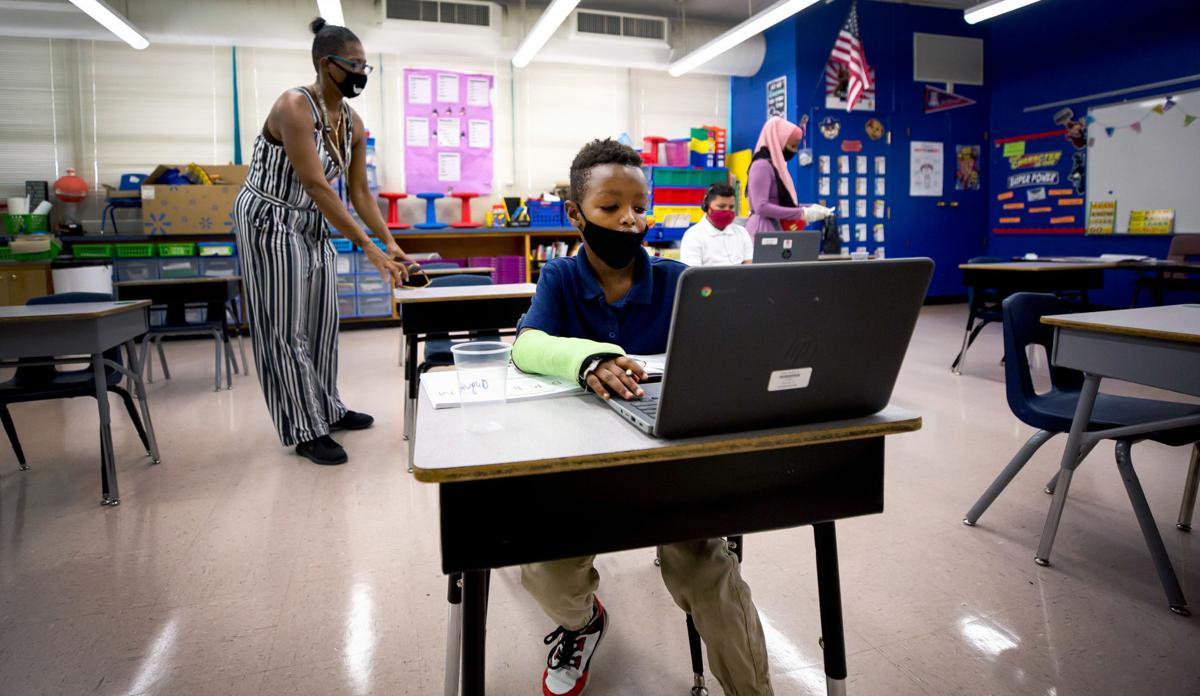 Many Tucson teachers and school staff will have to use their own sick leave or lose pay if they get sick with COVID-19 or have to quarantine after federally funded sick leave expired.
Whether such an absence is covered depends on which school district the employee works in.
The Families First Coronavirus Response Act, which expired on Dec. 31, was part of the first coronavirus relief bill. It required school districts and other employers to provide employees with up to 10 days paid sick leave and expanded family and medical leave for reasons related to COVID-19, with the federal government reimbursing employers.
Tucson's largest school district, TUSD, won't be covering COVID-19 sick leave, though some of the city's other districts have chosen to.
With over 3,000 people working on Tucson Unified campuses, even while schools are only open for students who need a place to be during the day, the district looks for ways that people can work remotely when they have to quarantine but aren't sick.
Traci Lewis, a teaching assistant in TUSD who works in-person monitoring young students, has to take days off for regular doctor appointments because of a health condition she was diagnosed with in September. With less than two weeks of personal and sick leave combined, Lewis is already at the point where she has to take unpaid days off for doctor visits.
She makes minimum wage and is living with her retired parents and adult son who has special needs, and they're just getting by.
She hasn't had to quarantine yet, but a couple of her colleagues have. If she had to take an extra two weeks off without pay, she's not sure what she would do.
"It would put us in a really tough spot because with what little pay I do get, I try and stretch it for two weeks but it's hard," she said. "I mean, it's barely making it."
It would cost TUSD $11.6 million to cover an emergency paid sick leave for all employees who would qualify.
Sunnyside, on the other hand — Tucson's second largest district, will continue funding a 10-day sick leave for COVID-related illness and quarantine through the end of March. The district will pay for it with funds from the first coronavirus stimulus package.
Flowing Wells, Sahuarita and Marana school districts are also voluntarily extending the paid leave through March 31.
Along with TUSD, the Amphitheater, Vail, and Catalina Foothills school districts are not offering extended sick leave above what employees regularly get. Some districts like Vail and Amphi are letting employees ask for donated sick leave, which other staff have accrued but don't need, to cover COVID-related absences, but in TUSD this isn't an option.
Tanque Verde School District is handling it a little differently, with employees first required to use their own sick days, then pulling from a "sick bank," and finally if both those options are exhausted, the district is covering 10 days for COVID-related leave.
Many school districts are still fully remote, but as more return, the lack of sick leave is weighing on teachers and school staff.
Amphi teacher Kayla Kipley says she was the first at her site to quarantine due to a potential COVID-19 exposure. It was back in October, at the outset of school reopening. She used the federal sick leave and was told she couldn't work during the quarantine, though she noticed that as more teachers were forced to quarantine, there were allowances made to have people continue working albeit remotely.
Kipley has seven sick days and four personal days for the year, which she would use up all at once if she has to quarantine again.
It's her sixth year with the district, and although some teachers have more sick time because they accrued from previous years, Kipley used all of hers during a bad case of bronchitis last year and so started from scratch. She worries about what would happen if she had to quarantine again, or worse, got COVID.
"It would be absolutely terrible having an entire day unpaid or even more than that," she says. "I mean, I'm a teacher. We all know the teacher salaries in Arizona."
Kipley is 27 and says she wants to be teaching in person, even with the dangers of the pandemic. But she's upset about the fact that if she gets sick or has to quarantine, she may end up losing pay.
"What if I'm hospitalized for longer than 14 days or however long they make me stay out?" she says. "It's kind of scary. It's definitely over my head like this dark cloud."
The possibility she could have to quarantine again is very real, as most school districts had large numbers of staff out quarantining before returning to remote learning. Since October, Amphi had 70 staff members test positive for COVID-19 and 97 quarantine due to being in close contact with a person who tested positive.
Kipley doesn't blame her district for not offering the extra coverage. She says there needs to be more government funding to cover this potentially expensive issue all school districts are now facing.
"I will go and risk myself as long as I know that I have something to cover me. If I get sick, I'm young and healthy. I hope I wouldn't die. But that fear of if I have to be out for three weeks because this thing is affecting me that long — it's just not OK," she said.
Amphitheater Education Association President Lisa Millard said there are employees who have already exhausted their leave, mostly newer employees who haven't had time to accrue sick days. And Millard knows employees who have health conditions where they really need those sick days for medical absences that have nothing to do with COVID, like Lewis in TUSD. Additionally, people with children tend to use more sick days regardless of COVID-19.
"The leave thing is a nightmare, and with COVID leave from the feds going away, that's putting a lot of people in some precarious situations," Millard says.
She also brings up the fact that in normal times, when people don't have leave options, they just come to work sick — a possibility that has much graver consequences now.
And a lot of the staff who are working in person are often making minimum wage, says Tucson Education Association President Margaret Chaney.
"So they're already not making enough money, and now you're going to tell them to stay home and possibly quarantine," she says. "Well there are things that they could do at home, quarantined, if they had the resources to do it. If each one of those people had the ability to afford the laptop that teachers have or the WiFi service or all the little things that come with it. That's another level of income."
Chaney doesn't blame TUSD for not covering the expense, saying the size of the district would make it difficult to fund. She blames Gov. Doug Ducey, saying he should be providing some kind of funding to cover this expense for districts.
Contact reporter Danyelle Khmara at dkhmara@tucson.com or 573-4223. On Twitter: @DanyelleKhmara