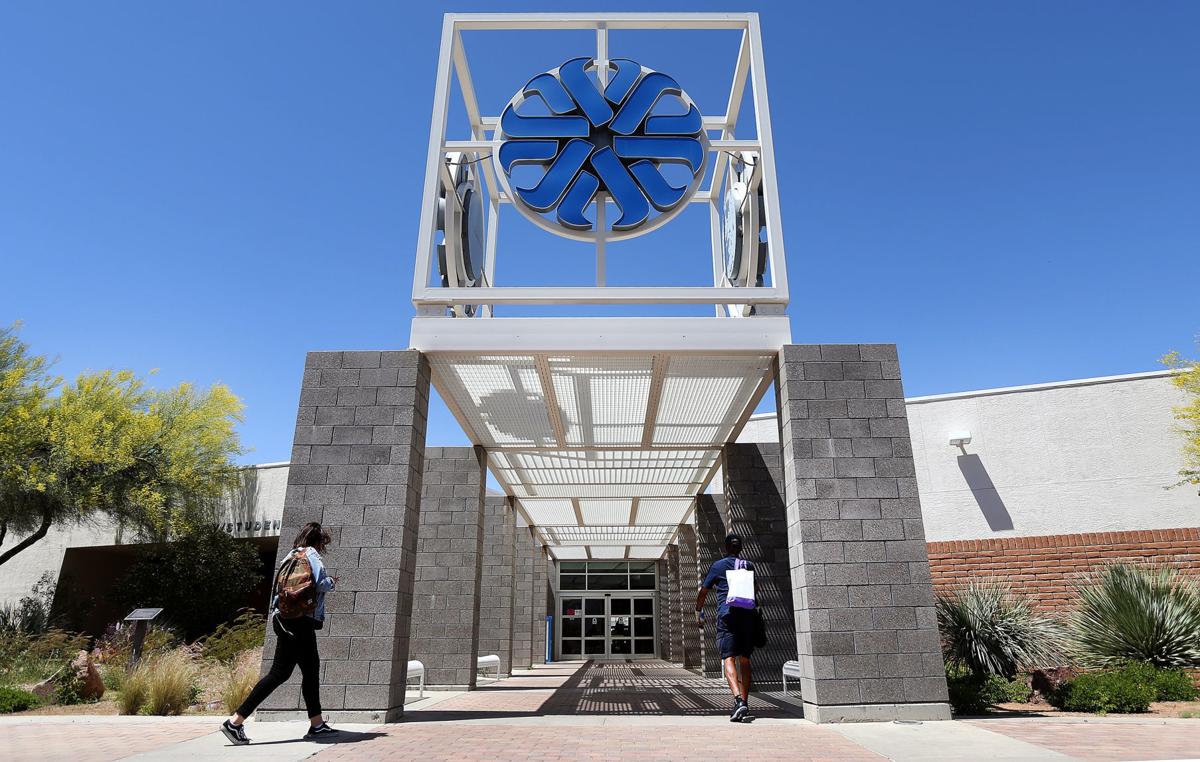 Pima Community College is looking to sell or lease two properties and cut more than 67 employee positions this year as part of a plan to reduce operational spending by $15 million by the end of fiscal year 2020.
The two properties include the district office at 4905 E. Broadway and the Community Campus at 401 N. Bonita Ave. There have been multiple inquiries into the properties, said PCC spokeswoman Libby Howell.
By October, 51 staff members — or 6 percent of its full-time-equivalent staff — 10 faculty members, six support faculty and three administrator positions will be cut through attrition and elimination of redundant positions, in which case employees will be encouraged to re-apply for remaining jobs.
"We are looking to minimize impact on people," said Dave Bea, PCC's chief financial officer. "All employee reductions have been facilitated through attrition until now."
Last year, the college eliminated 100 employee positions through attrition. In fiscal year 2020, an additional 23 faculty positions will need to be cut.
Rachel Schaming, formerly the PCC Foundation president, was hired to facilitate employee reductions and college reorganization as the school's transition officer for the next two years. The job is funded by an existing administrative position.
These are the first actual cuts in employees PCC has faced since the college had to tighten its purse strings.
The college lost state aid in 2015 and now subsists off property taxes and tuition, said Demion Clinco, chairman of the PCC Governing Board.
Raising property tax rates has not been proposed, but the board approved a $1-per-unit tuition increase for the upcoming school year and is considering a $3 increase for fiscal year 2020, Clinco and Bea said.
Additionally, Arizona's expenditure-limitation law caps how much public institutions can spend on operational costs, which includes employee pay. For Pima, this spending limit is determined by the average enrollment over the last five years, during which Pima logged the lowest enrollment since the 1980s.
Enrollment has fallen more than 35 percent since its peak in 2011, when the school had nearly 23,000 full-time-equivalent students. Today, PCC enrolls about 14,700 students. The last time enrollment was this low was almost 30 years ago, when PCC had only three campuses.
To prepare for the coming "fiscal cliff" created by the expenditure limitation, Clinco said, the college decided to strategically spread the $15 million in cuts over three years. The property and employee reductions are part of that strategic plan.
Additionally, Bea said, space outpaces the demand. About 20 percent of PCC students take classes online.
"Part of being good stewards of the funds is recognizing that we're out of whack," Bea said.
"There's seven or eight reasons," for falling enrollment, Bea said. "The two primary reasons are that the college-age cohort has been declining ... and community college enrollment is countercyclical with the economy."
The argument goes that when the economy is struggling, students stay in school; when it's chugging along, they opt for the workforce.
"Students also have more choices than they used to have," Bea said, "whether it's online programs that advertise really heavily or by universities trying to grab the same smaller number of students."
Bea and Clinco acknowledged that Pima's accreditation sanctions had an impact on enrollment.
PCC was under accreditation sanctions from 2013 through 2017 for not meeting or for barely meeting quality standards in areas such as financial transparency, human-resource practices and proper tracking of student learning. The biggest concern was a lack of an effective way to assess the quality of PCC programs by measuring what students have learned.
"The sanctions would be one reason, but whether it had a tangible effect, you can't tell, because the other effects are much greater," Bea said.
Whatever the cause, Pima is planning a major reorganization.
The first part includes cutting back operational spending to deal with the expenditure limitations.
Secondly, the board approved $45 million of bond debt (with the possibility of an additional $10 million later this year) to invest in "refreshing the institution and making strategic investments in programs that will create opportunities for students," Clinco said.
According to PCC's master plan, this includes consolidating programs on certain campuses and streamlining the path toward a degree.
"These are difficult decisions," PCC Chancellor Lee Lambert said in a statement, "but fully necessary as we restructure to meet the needs of our students and community. We are overstaffed for the college we are today. We must be leaner and more efficient."
"When a position opens up, we ask ourselves what do we need to fill based on enrollment," Bea said. "It's been a good adaptive model."
To determine how many faculty numbers to cut, PCC compared its student-to-faculty ratio with peer institutions and found that PCC is "still high on that number," Bea said.
But some faculty worry that these ratios are inaccurate because faculty have had to take on more administrative duties amid the cuts, said Ana Jimenez, president of the PCC Education Association, which represents faculty at the college.
"Our main priorities are to ensure we are not limiting services to our students," Jimenez said, "and that policies are followed if there are layoffs."
Lambert said at an all-college meeting April 13 that PCC would follow the reduction-in-force policy for the layoffs, but that officials would reserve the right to cut anyone not suited for the college, Jimenez said.
In an interview, Lambert echoed what was said at the meeting — that he did not want to be limited by seniority when deciding which cuts to make and preferred retaining employees who were keeping up with technology.
Jimenez called this "alarming."
Contact Mikayla Mace at mmace@tucson.com or (520) 573-4158. Twitter: @mikaylagram.
Get local news delivered to your inbox!
Subscribe to our Daily Headlines newsletter.