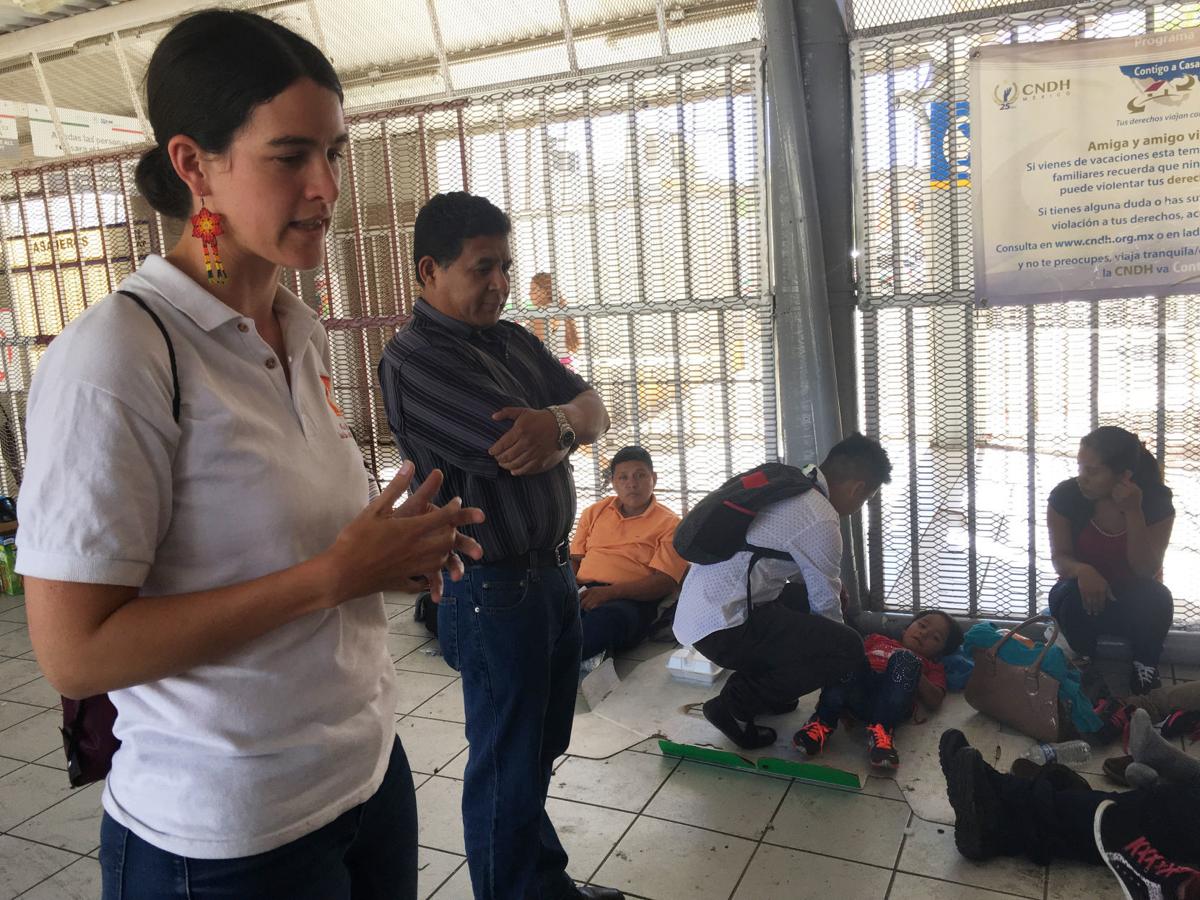 Families continue arriving at the Nogales port of entry, many of them to seek asylum, but Customs and Border Protection has declined to provide updated information on the numbers or the process.
Since about May 12, dozens of parents with their children have been lining up at the pedestrian entrance of the port waiting to seek humanitarian protection. Most are Guatemalans; some are from Honduras and Mexico.
Many report fleeing cartels or gangs, domestic violence situations and extortion, said Joanna Williams with the Kino Border Initiative, a binational migrant aid organization.
On average, families are now waiting four days to be processed, which raises health and safety concerns, she said.
Initially, CBP issued a written statement saying the agency was processing people as quickly as possible and that the number varied on factors such as case complexity, resources and space available, and overall port volume.
Williams said a current delay seems to be with the Immigration and Customs Enforcement unit that transports people to a detention center or to a shelter, in the case of some families.
So far, Williams said, CBP has been communicating with the Kino Border Initiative about the agency's limitations and tried to be responsive to its concerns regarding wait times and particularly vulnerable people.
There are about 45 parents and children waiting in line at any given time with about 10 allowed in daily, Williams said. While they await their turn, they generally sit and sleep on the floor. A few have been hosted overnight at the group's shelter or by the Mexican Red Cross. There's a bathroom nearby they can use but few have opportunities to shower. Volunteers provide them with water, food and diapers and other basic necessities.
It appears that many are then released with an ankle bracelet and a notice to appear before an immigration officer to continue their case at their final destination, usually a place where they have a relative who serves as a sponsor.
That stands in contrast to those who are caught or who turn themselves in to the Border Patrol. As the Star reported, CBP started to refer those parents for prosecution several weeks ago as part of the administration's "zero-tolerance" policy.
If a parent is charged criminally, the minor traveling with that parent is treated as an unaccompanied minor and transferred to the custody of the Office of Refugee Resettlement. This federal agency then contracts with groups that run shelters where they place them until they find a relative or sponsor who can take them.
It is not clear what is happening in the longer term to these minors. The Star has pending requests for additional information from the agencies involved.