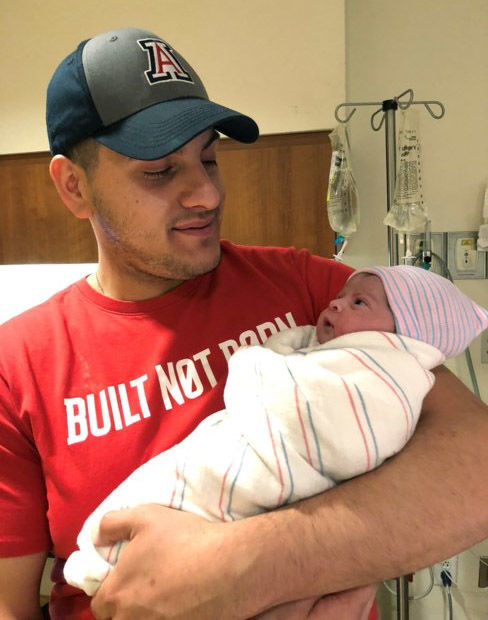 The family of a Tucson man who died in police custody requested a privately done autopsy, which challenges the official version and suggests the death may have been caused by police.
Although Carlos "Adrian" Ingram-Lopez was high on cocaine and had an enlarged heart problem, he likely died of suffocation when officers kept him handcuffed as he lay on his stomach, the second autopsy report said.
Attorney Eduardo Coronado, who represents the dead man's family, said they are weighing a lawsuit against the city in light of the new findings, which they hope will lead to criminal charges against three former Tucson Police Department officers who recently resigned.
"Had it not been for the actions or inactions of these three officers, their family member would still be alive," Coronado said.
The case has received widespread attention in Tucson and elsewhere since TPD released body cam footage in which Adrian-Lopez stated once, near the start of an extended struggle with police, that he couldn't breathe.
The Pima County Attorney's Office is reviewing the case to see if criminal charges are warranted and has yet to announce a decision.
Ingram-Lopez, 27, who had a history of cocaine use, died April 22 on the floor of his grandmother's garage after she called 911 saying she feared he might harm her.
An initial internal investigation by TPD cleared the officers involved to return to their jobs but a later investigation, ordered by the police chief, found they violated several policies for proper prisoner handling and should be terminated.
The three officers resigned when they learned they were about to fired.
The Pima County medical examiner ruled that the manner of Ingram-Lopez's death was "undetermined."
The cause of death was attributed to "sudden cardiac arrest in the setting of acute cocaine intoxication and physical restraint" with an enlarged heart as a "significant contributing condition."
The county medical examiner, Dr. Greg Hess, would not comment on the new autopsy report, saying he was not free to comment because of the possibility of a lawsuit.
The second autopsy, which was requested by the family, was conducted by Dr. Philip Keen, a forensic pathologist in practice for more than 50 years. Keen, formerly a medical examiner in Maricopa and Yavapai counties, now works as a freelancer for a private investigation firm.
Keen's autopsy report stopped short of assigning a precise cause of death.
Instead, it said the death was "most consistent with" suffocation.
"His death is most consistent with asphyxia due to a compromised airway, which is best explained by the face-down position restricting his breathing," it said.
Ingram-Lopez is one of two men who died in TPD custody this spring.
The deaths have overshadowed police budget talks as some activists push to defund police.