Federal magistrate judges in Tucson are showing signs of pushing back against a Trump administration practice of separating parents from their children after crossing the border illegally.
In more than two dozen recent cases, judges in Tucson recommended children, some as young as 7 years old, be reunited with their parents after the parents are released from custody, U.S. District Court records show.
The magistrate judges' recommendations for reunification come as the Trump administration employs a zero-tolerance policy in which Border Patrol agents refer for prosecution everyone they apprehend along the border, including parents.
In Southern Arizona, parents and their children illegally cross the border near Lukeville and flag down agents or otherwise surrender, according to the Border Patrol's Tucson Sector.
While those parents face judges in federal criminal courts in Tucson, other immigrants head to a port of entry in Nogales where they spend days waiting to cross over for a chance to ask for asylum in the United States.
During a trip Thursday to Nogales, Department of Homeland Security Secretary Kirstjen Nielsen told reporters that critics want families crossing the border illegally to get special treatment. "No jail if they have family, no critical consequences if they have children," she said. "I'm here to tell you differently. If you smuggle illegal aliens, we will prosecute you. If you cross the border illegally, we will prosecute you. If you make a false immigration claim, we will prosecute you. The lawlessness has to end."
But the administration's deterrence policy might have the unintended consequence of shifting more traffic to the ports of entry, where parents can't be prosecuted because it is not against the law to seek asylum here.
Instead of facing prosecution, these families are generally detained together or, if there's no room to hold them, released with an ankle monitoring bracelet and a notice to appear later before an immigration officer.
Already, a different scene has been unfolding at the port of entry in Nogales, where nearly 100 parents and their children are waiting to be processed by customs officers, some of them for as long as six or seven days.
Parents caught crossing illegally were prosecuted and separated from their children in federal courts in Texas for months prior to Attorney General Jeff Sessions' announcement of the zero-tolerance policy.
While apprehensions of families in Texas fell recently, CBP figures show those apprehensions jumped in Arizona, which indicates prosecutions of parents also could be on the rise in Tucson.
Customs and Border Protection will not release the number of parents referred for prosecution in Arizona, but an agency official recently said during a congressional hearing that from May 6 to May 19, 638 parents traveling with 658 minor children were prosecuted.
'Best I can do
is recommend'
"The minor that I came with, is he going there, too?" asked Armando Ramirez Vasquez, a Guatemalan citizen at an Operation Streamline hearing on Wednesday.
Moments earlier, U.S. Magistrate Judge Eric Markovich told Ramirez he was going to be deported. Markovich recommended Ramirez be reunited with his son, but said he doesn't have any control over immigration agencies.
"The best I can do is recommend," Markovich said.
The Arizona Daily Star found 26 cases in Tucson federal court from May 21 to May 30 where judges recommended reunification. Two of the parents were Hondurans and the rest were Guatemalans.
In two cases, the prosecutor asked for the charges to be dismissed. The rest pleaded guilty to a misdemeanor charge of illegal entry. They were sentenced to time served and released to immigration authorities to be deported.
As of Friday, 10 of the parents, mostly mothers, were held at a detention center in Eloy, according to U.S. Immigration and Customs Enforcement records. Five parents were at a detention center in rural Georgia and six were held near Los Angeles. The Arizona Daily Star could not find detention records for five parents.
The U.S. Attorney's Office said prosecutions of all valid cases, including parents, began after Sessions' announcement of the zero-tolerance policy in April.
In early May, Arizona Chief U.S. District Judge Raner C. Collins told the Star the court was already working at capacity and couldn't handle more cases.
At least nine parents were prosecuted in Tucson federal court during the week of May 14, court records show. At the time, lawyers asked judges to put on the record the fact that their clients were separated from their children. On May 21, they started asking judges to intervene.
"This gentleman has not stopped shaking until this moment," defense attorney Homero Torralba told Magistrate Judge Thomas Ferraro on May 21.
His client, Francisco Gomez Velasquez, was separated from his 12-year-old daughter after they crossed the border near Lukeville on May 19.
"It has been the policy for the last couple weeks of the U.S. government to make arrests in cases like this as they always have, but they've started separating children from their parents," Torralba said.
The Trump administration's policy is not explicitly to separate families. But children automatically are separated from their parents while the parents are criminally prosecuted. They also are separated if the parents can't prove the child is theirs.
Gomez is scheduled to be deported to Guatemala, but his country's consulate told Torralba that children aren't old enough to sign deportation documents. Instead, they are turned over to immigration agencies to be processed.
"At this point, we don't know how long that's taking," but he was told it could take weeks or several months, Torralba said.
"Before they leave, as any parent would want, they want to be reunited with their children," he said. "It doesn't look like that is going to happen and so they are asking the court to intervene."
Ferraro asked under what authority he could intervene to reunite parent with child. Torralba said he didn't have any authority to cite, but added Ferraro could be "on the cutting edge of law" by intervening.
Ferraro offered to recommend immigration agencies reunite Gomez and others with their children so the parents could sign the forms for their children.
"Anybody in that situation today, I'm happy to make that recommendation," Ferraro said.
To avoid being deported without their children, defense lawyer Raul Miranda pointed out parents could request to remain in civil immigration custody until their child is processed.
Miranda said his client, Irma Felicita Pacheco Rodezno, asked to be held until her child is ready to go.
"She doesn't want to leave her child here," Miranda said. Ferraro responded that "she's probably in league with everyone else who has this problem, as any of us would."
Another parent at the hearing, Erwin Alexander Sarceno Miranda, is "willing to stay longer than his time-served sentence in order to be reunited with his 11-year-old son," attorney Jessica Ruiz told Ferraro.
Ferraro said he didn't know how long it would take for them to be reunited. "I can only recommend it. I don't have the authority to order it, but I'm doing what I can," Ferraro said.
It is unclear if federal agencies are following those recommendations, but Border Patrol agents said Arminda Chun Tomas would be deported alongside her 9-year-old daughter, who was being held at a Border Patrol station, federal public defender Eric Rau told Markovich said at Thursday's Streamline hearing.
Muzaffar Chishti, director of the Migration Policy Institute at New York University, said predicting the deterrent effect of a zero-tolerance policy for illegal border crossers is difficult because the United States has never had such a policy before.
"We don't know whether zero tolerance is a deterrent, but we do know that there was a significant surge in the family units migrating from Central America after 2014," he said.
For some, the surge was a response to the Obama administration sending a "signal" that the chances of a parent with children being deported to Central America were "slim," he said.
The DHS secretary recently encouraged people to go to a port of entry if they want to ask for asylum, which Chishti said could have unexpected consequences. "What may happen here, oddly, is you may have a movement of people, who may have in the past crossed illegally, going to ports of entry," Chishti said.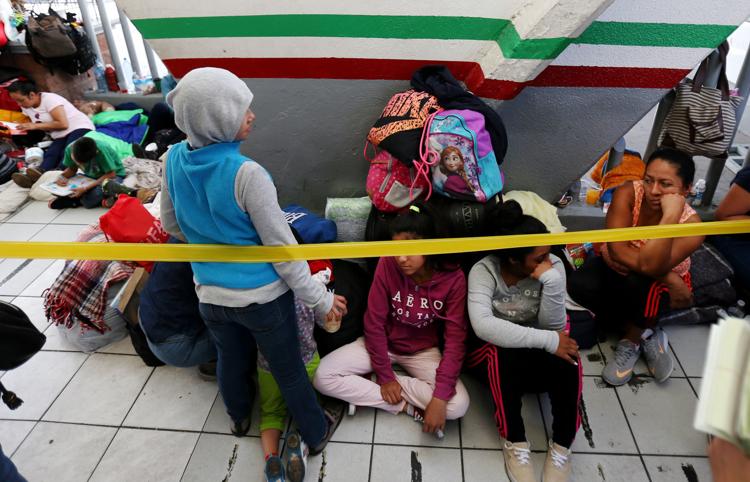 Waiting at entry port
About 100 parents and their children sat on the floor, some on thin mattresses or blankets, surrounded by donated boxes of diapers and bottled water. Waiting for days, they were all weary and tired as they crowded at the DeConcini Port of Entry for a shot at asylum.
A floor or two above, DHS Secretary Nielsen met with community members, business owners and law enforcers in a spacious conference room to talk about securing the border.
The families first started arriving four weeks ago at the port of entry in downtown Nogales. Since then, the line continues to grow as wait times get longer.
Faith-based groups and other volunteers feed the mostly Central American migrant families twice a day. They bring toys for the children, blankets for when the temperatures drop and plenty of water to help with the heat.
Maleni, a 43-year-old Guatemala native, waited more than six days before her turn to request asylum. Whenever she grew desperate, she said, she would get on her knees and pray. Her faith is what gave her strength as she made the multiday journey to the border with her teenage son.
She asked her last name not be used because she said she's fleeing an abusive partner.
While it is unclear why so many have arrived in Nogales now, they cite a rumor that President Trump was going to get rid of asylum laws by the end of May, said Rep. Raúl Grijalva, whose visit with the families at the port coincided with Nielsen's Southern Arizona trip.
"We tried to correct some of it and to reassure them they are not alone," Grijalva said.
"The whole issue about separation of children from their moms, the interminable waits to prove credible fear, to state their cases about violence and why they are seeking asylum, that's just become too long and difficult," he said. "And this is just the beginning of a process to get asylum."
Families waiting at ports of entry to ask for asylum are allowed to request a "credible fear" interview, Chishti said. If the asylum officer believes the claim meets a threshold, "you have to be let in."
The asylum process then can drag on for years, he said.
Family detention space is limited. Currently ICE can hold just 2,700 people at a time nationwide. The president's 2019 fiscal-year budget calls for funding for 2,500 more beds reserved for family units.
In the meantime, it appears most parents seeking asylum are being released with their children, an ankle-monitoring bracelet and a notice to appear before an immigration officer. A practice criticized by administration officials as a form of what they call "catch and release."
CBP has declined multiple requests for the number of people seeking asylum it has processed in Nogales thus far and to talk specifically about where the delay is.
On Thursday, Nielsen said the long lines at the port of entry are a reflection of strained resources and that the agency will continue to process them as quickly as possible. "But we do have limited resources."
Which is exactly what is needed, Grijalva said.
"One of most underfunded areas in this whole 'secure our borders enforcement' agenda is the ports of entry," he said. "To be able to process, be able to deal with this in a timely expedited way, it would relieve a lot of the issues we are facing."
Lately, CBP started to process about a dozen people a day, up from just a handful in the previous weeks, which makes Joanna Williams, with the binational organization Kino Border Initiative, hopeful.
While families are being fed, one of the biggest needs, and one that is much less visible, she said, is for legal orientations so they can learn about the process and what to expect.
For the most part, the families sit on the floor waiting day in and day out because they don't want to miss their spot. There's been some help with helping them find showers, Williams, said but more coordination will be needed if the numbers keep rising.
At least a handful of new people arrive daily, and the physical and mental effects of the wait are becoming more visible, Williams said.
Maleni, the woman from Guatemala, said some women have fallen ill and have had to leave.
While CBP continues to communicate with those from the Kino Border Initiative, Williams said they haven't talked about any long-term efforts to deal with this. "I'm concerned that if this becomes a prolonged situation, there's no back-up plan."