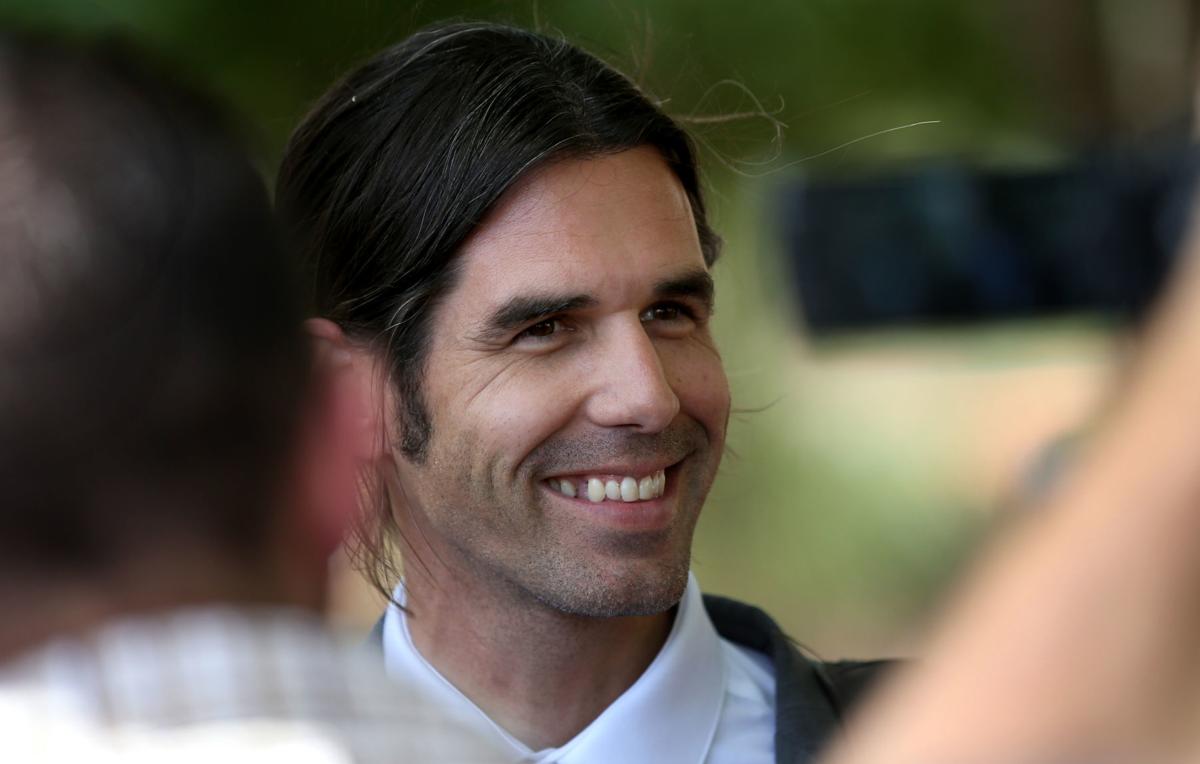 Federal prosecutors announced they will retry a border-aid worker accused of smuggling migrants three weeks after jurors couldn't agree whether Scott Warren committed any crimes. 
The jurors deadlocked 8-4 on three felony charges, including one charge of conspiring to smuggle two Central American men and two charges for harboring them. 
In a Tuesday morning court hearing, prosecutors announced they would retry him on the two counts of harboring, but will dismiss the charge of conspiracy to smuggle. Warren's retrial date is set for Nov. 12. 
"We will continue to defend (him) for as long as necessary," defense lawyer Amy Knight said.
Prosecutors offered Warren time served if he plead guilty to a misdemeanor for aiding and abetting entry without inspection.
He declined to comment on their offer after the hearing, but told a crowd outside the courthouse that he and his defense team are prepared for this second trial.
His case has been "deeply exhausting and troublesome" to his friends and family, he said.
When he finished reading a prepared statement a chorus of his supporters chanted "drop the charges" for a few moments. 
Warren's case was the only one to go before a jury out of all felony, human-smuggling cases brought to Tucson's federal court in 2018, according to an investigation by the Arizona Daily Star. The jurors in Warren's case favored acquittal, with eight voting "not guilty" and four voting "guilty." Each juror voted the same on each charge.
This was the first high-profile case that the U.S. Attorney's Office in Arizona decided to retry under U.S. Attorney Michael Bailey, whom President Donald Trump nominated and the Senate recently confirmed.
Warren only loosely fit the profile of a typical defendant in human-smuggling cases prosecuted by Arizona's U.S. Attorney's office in 2018, according to the Star's investigation. 
Most defendants were U.S. citizens, like Warren. And, like him, many were arrested with two undocumented immigrants. Yet the number of filings in his case was only surpassed by a case of 27 defendants, involving money laundering and a smuggling ring. 
Out of all 361 cases that the Star investigated, Warren was one of the only defendants accused of not trying to make a profit.
He volunteers to search for distressed undocumented immigrants in the desert near Ajo with the Tucson-based humanitarian group No More Deaths. He's found 18 sets of human remains while searching for those who are lost and leaving food and water for others. 
Since 2001, more than 3,000 undocumented immigrants have died within the jurisdiction of the Pima County Office of the Medical Examiner, according to the medical examiner's office and Humane Borders, another border-aid group. 
Warren is among several No More Deaths volunteers who have been arrested in recent years in the course of their volunteer work, but he faced the most severe charges that border-aid workers have seen in more than a decade.
Border Patrol agents filed these charges against him in 2018 after running surveillance on an aid station called "The Barn" in Ajo. They saw him talking to two undocumented immigrants there. One admitted that "Warren took care of them in 'The Barn' by giving them food, water, beds and clean clothes," according to an agent's written explanation of the charges in court filings. 
As Warren's trial concluded, his defense attorney told the jury that Warren was only trying to help two distressed men whom he encountered unexpectedly.
Federal prosecutor Anna Wright acknowledged that Warren wasn't earning money off smuggling, but argued that caring for undocumented immigrants was a "cover story" for participating in a human smuggling ring with a nurse in her late 60s and a man who heads a migrant shelter in Mexico.