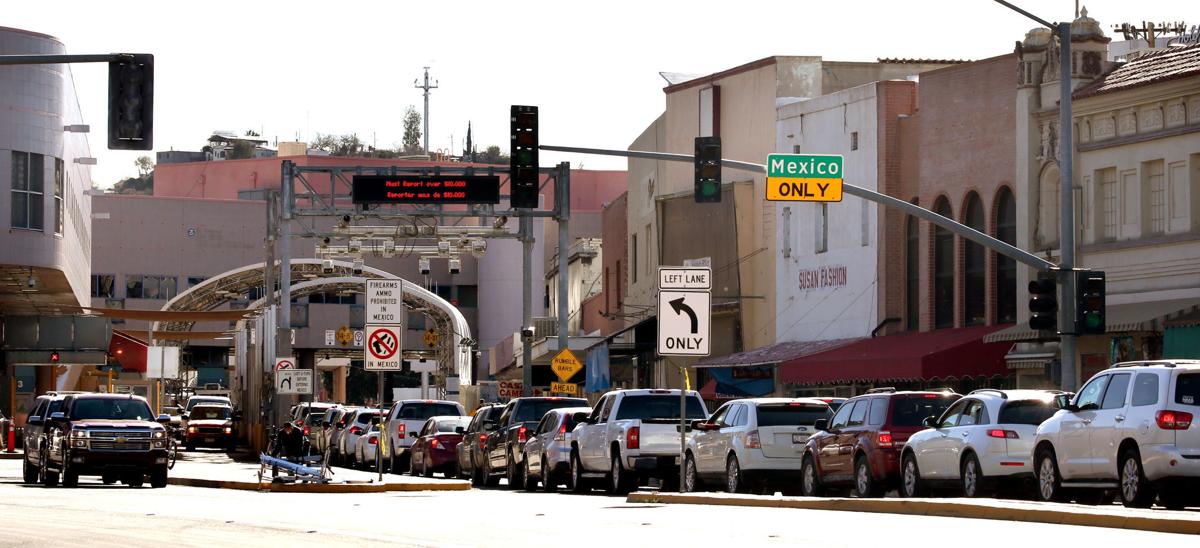 Federal agents discovered $900,000 in cash at a Nogales, Arizona, home while investigating a suspected smuggling ring that shipped thousands of items of military and police tactical gear into Mexico, according to federal court documents.
The cash was found in the home of Luis Fernando Gracia, who is accused of conspiring to smuggle "6,881 handcuffs, 3,434 batons, 1,903 pepper sprays, 31 tasers, 21 ballistic helmets, and two rifle scopes" into Mexico from 2015 to 2018, according to a grand-jury indictment filed in U.S. District Court in Tucson.
Esteban Magallanes-Castro, Victor Garayzar and Juan Alberto Ramos-Sharpe also were indicted on smuggling conspiracy charges. Prosecutors additionally charged Gracia with smuggling goods from the United States, making false statements about the exported products on customs forms, and money laundering. Ramos was also charged with smuggling, according to the May 29 indictment.
In August 2018, customs officers in Phoenix seized about 800 pistol holsters that were imported from China and labeled as "plastic of toy holster," a Homeland Security Investigations special agent assigned to the trade enforcement unit wrote in a search warrant affidavit. The items were destined for Gracia's business in Nogales, which did not bill itself as a toy store, the agent wrote.
The federal government regulates the exportation of certain types of military and police tactical gear out of the country, which requires a license, according to the indictment.
Gracia had a license to export up to $170,000 worth of items from 2018 to 2020, the agent wrote in the affidavit. The currency found at his home, "far exceeds" the amount he could legally export.
Several weeks after the holsters were seized in Phoenix, customs officers stopped Ramos as he tried to drive a minivan into Mexico at a port of entry in downtown Nogales. Inside the minivan, officers found ballistic helmets, stun guns, handcuffs, body armor sleeves, uniform clothing, medical surgery equipment, rifle scopes and bipods used to mount firearms.
Authorities told Ramos he needed to report the ballistic helmets and rifle scopes. Ramos told officers that he drove the items into Mexico three to four times a week and Garayzar paid him $26 per trip, according to the affidavit.
Garayzar acknowledged to an HSI special agent in September 2018 that Ramos did work for him. He stated that Magallenes gave him the tactical gear to export. He was paid $400 to drive the goods into Mexico, with $200 of it to pay Mexican customs, the affidavit noted.
Magallanes stated in an October 2018 interview that Gracia paid him $600 to help move the merchandise across the border. He would get paid another $100 per box, which he would split with Garayzar. Once in Mexico, "an unknown person" would take the items and return them to Gracia to sell. Magallanes also mentioned that Gracia pays him and he in turn pays Garayzar, the agent wrote in the affidavit.
Agents did not anticipate finding the $900,000 at Gracia's home, the special agent said. After finding the cash, Gracia said to investigators that 90 percent of the money was from business he conducted in Mexico. His shop sells tactical gear in Nogales. He said the tactical items he sold in Mexico are not available to the public. Instead, he took orders through phone calls, email and WhatsApp.
Gracia also told authorities he paid Magallanes and Garayzar to smuggle the gear into Mexico, the special agent wrote. When asked why he used Magallenes and Garayzar to transport the items, Gracia stated they "are known smugglers who know how and whom to bribe in the Mexican customs to get the merchandise through," according to the affidavit.
Ramos and Magallanes have not been arrested yet, according to the court docket. The trial of Gracia and Garayzar is scheduled to start Sept. 24.