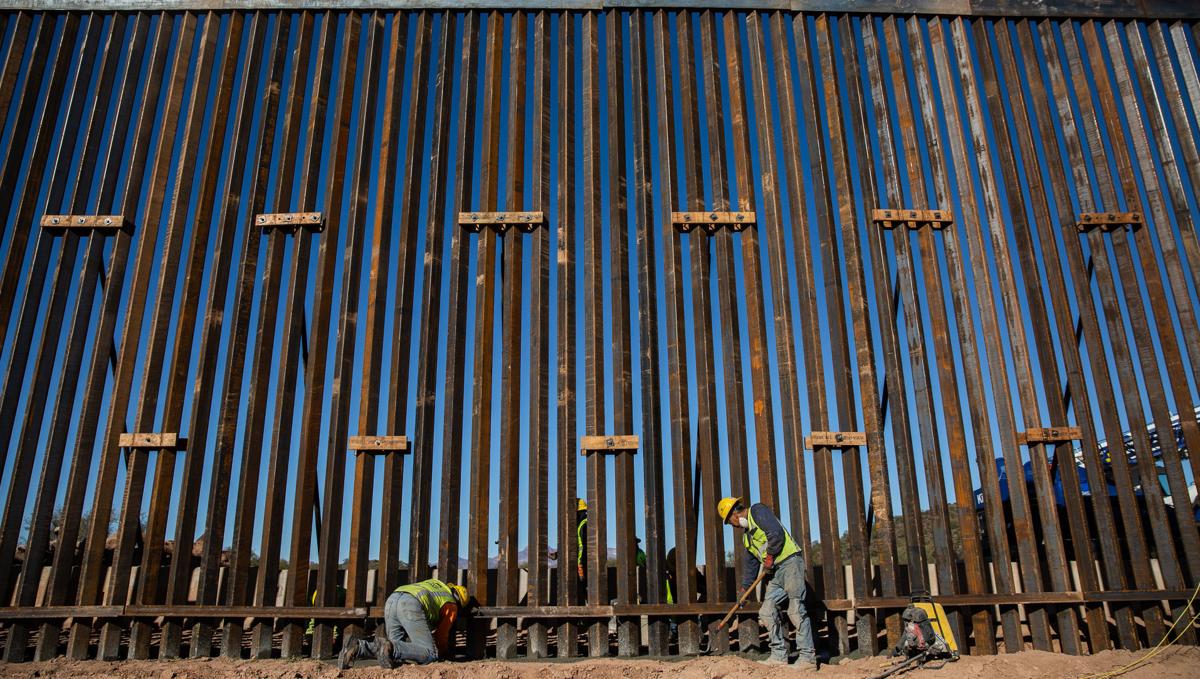 The next wave of border wall projects near Tucson will cost taxpayers an estimated $1.5 billion, federal officials say.
Those funds will be used to build 74 miles of 30-foot-tall wall along the U.S.-Mexico border in Pima, Santa Cruz and Cochise counties, Department of Defense officials wrote in court documents.
U.S. Customs and Border Protection announced the new wall projects last week after the Defense Department, which is funding the projects through its anti-drug-smuggling accounts, approved them in February.
Construction already is underway on three projects approved last year to build 63 miles of wall in Pima and Cochise counties for $1.3 billion, according to the Army Corps of Engineers. With the new projects, the cost for 137 miles of border wall comes to nearly $2.8 billion.
Hundreds of millions of dollars more, pulled from congressional appropriations and Defense Department accounts, will be spent along Yuma County's border with Mexico, including $320 million for 16 miles of wall announced last week.
The border wall is made of 30-foot-tall steel poles, known as bollards, that are topped with steel plates designed to deter climbing. The bollards are 6 inches in diameter and filled with concrete. They are separated by 4 inches of space between each pole. CBP plans to add sensors, cameras and lighting to the wall, as well as build or refurbish roads near the border.
In most places, the new wall replaces head-high vehicle barriers that come in a variety of forms. However, the new wall also is replacing 15-foot-tall metal-mesh fencing near Lukeville, a small border town about 150 miles southwest of Tucson, and seven miles of 18-foot-tall bollards near Sasabe.
CBP did not include cost estimates in last week's announcement, but Kenneth P. Rapuano, an official with the Defense Department, included a breakdown of the costs for each section of wall in a Feb. 13 declaration filed in a federal lawsuit.
One contractor is emerging as the clear winner in the multibillion-dollar effort to build a border wall near Tucson.
The $1.3 billion worth of contracts awarded last year went to Southwest Valley Constructors, a New Mexico-based affiliate of Kiewit, a construction giant that claimed $9 billion in revenue in 2018.
New Mexico state records show Southwest Valley Constructors was formed by Kiewit several months after President Trump, who ran on a promise to build a border wall, was inaugurated as president in early 2017.
The Corps plans to pay Southwest Valley Constructors $1.5 billion for the wall projects announced last week, according to statements made by a contracting official in court documents.
The Corps "intends to execute non-competitive modifications to the existing contracts" for projects located near the "Tucson 1, 2, and 3 contracts," Jill Stiglich, director of contracting for the Corps, wrote in a court declaration.
Tucson 1 and 2 are listed by the Corps as the $891 million wall projects near Lukeville. Tucson 3 refers to the $408 million wall project in Cochise County. Contracts for those projects were awarded last May to Southwest Valley Constructors.
Because contractors already are working nearby, construction on the new wall projects could start as soon as the contracts are modified, Stiglich wrote.
The media office at Kiewit did not respond to an inquiry from the Star.
A spokeswoman for Southwest Valley Constructors referred questions about contracts to the Corps.
With regard to Kiewit operating as Southwest Valley Constructors, spokeswoman Angela Nemeth said it was common practice for construction companies to form a separate legal entity when bidding on projects.
Kiewit is building a section of wall in Texas under its own name as part of a contracting arrangement with the federal government dating from 2016-2017, she said. However, as new wall contracts have been awarded, Kiewit has pursued those contracts as Southwest Valley Constructors.
What's left
So far, about 47 miles of new wall have been built on Arizona's border with Mexico.
About 20 miles of wall have gone up in the Tucson Sector, which includes Pima, Santa Cruz, and Cochise Counties. About 27 miles of wall have been built in the Yuma Sector, including secondary walls, according to the Border Patrol.
Under the approved plans to date, nearly 240 miles of Arizona's roughly 370-mile border with Mexico will have a new wall, including about 100 miles of wall along the Yuma Sector's 110 miles of border.
The longest remaining stretch of border near Tucson without an approved plan for new wall is the 62 miles on the Tohono O'odham Nation. O'odham officials refused to allow CBP to replace head-high vehicle barriers with a 30-foot-tall wall, opting instead for more surveillance towers on the reservation.
Santa Cruz County contains the second-longest stretch of border near Tucson without an approved plan for new wall.
Department of Homeland Security officials asked for funding for 26 miles of wall in eastern Santa Cruz County, but the Defense Department did not approve the request.
Get local news delivered to your inbox!
Subscribe to our Daily Headlines newsletter.