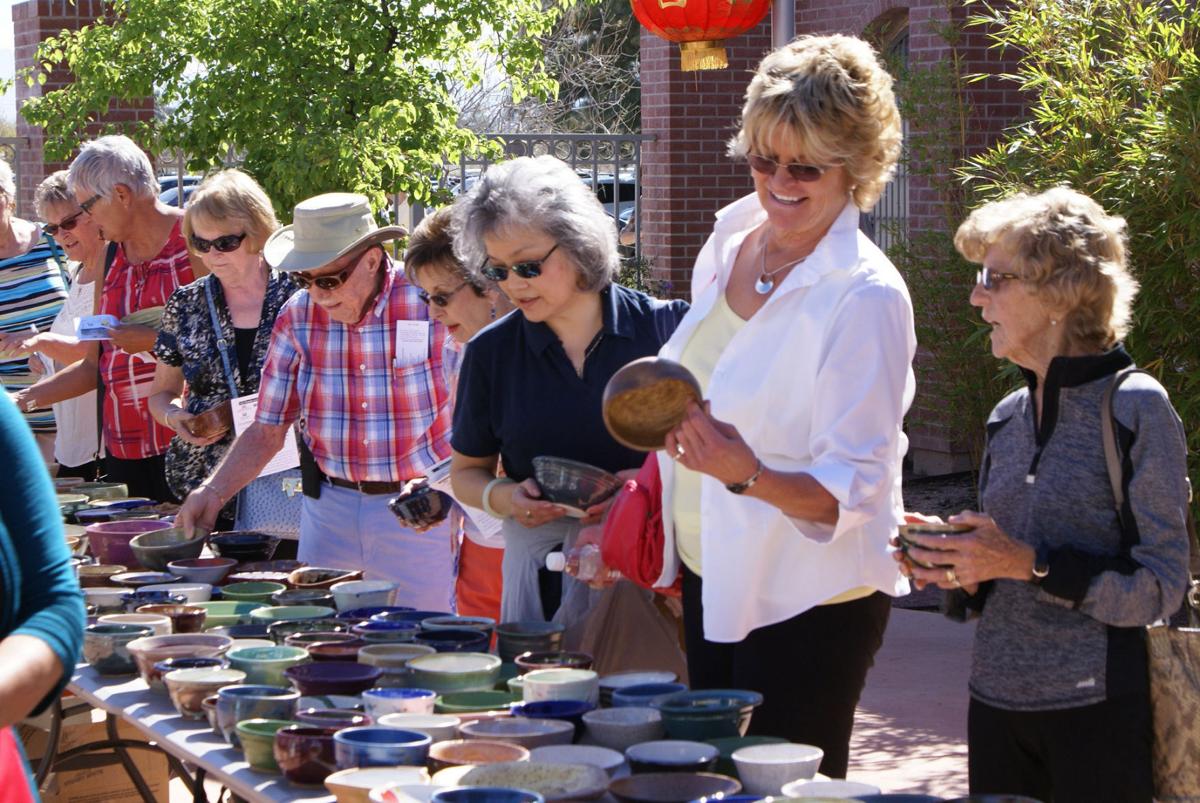 You can fill a hand-made bowl with soup and help to fill food bags for the hungry in Tucson at the sixth annual Empty Bowls event on March 4.
The fundraiser benefits Interfaith Community Services' food banks.
"Hunger is very present in this city and I think the lines at the food bank illustrate that," said Sandy Ricker, chairwoman of the fundraiser and a volunteer for the organization.
"The profit that we made last year at Empty Bowls allowed us to add food bank hours one evening a week to serve working families who can't get to the food bank during the day. The event will help ICS to sustain those hours and serve more families this year and also to support the ICS food bank on the east side."
Ricker is one of more than 100 volunteers who help fundraising and operations for the group's food banks on the campus of Christ the King Episcopal Church, 2820 W. Ina Road, and New Spirit Lutheran Church, 8701 E. Old Spanish Trail. A pantry partner of the Community Food Bank of Southern Arizona, ICS food banks distributed about $2 million worth of food to nearly 29,000 people last year.
While many people find the statistics startling, the individual stories are even more sobering, according to Deborah Carr, ICS philanthropy and public relations director.
"We are serving individuals with very real stories of making choices to pay for rent, utilities, medication or transportation to work instead of food. We often see that food is one of the first things that people try to cut, so hunger is an issue that impacts employment, health, schooling, family dynamics and many other aspects of family life," she said.
The food bank often serves as an initial contact with the organization, providing a gateway to wrap-around services that promote self-sustainability, according to Ricker.
"ICS has 96 faith community partners of all different faiths and beliefs that provide passionate volunteers who work in various areas to lift people up. They have a deluge of programs to assist with everything from helping people to find jobs to providing mobile meals and care for seniors. They work in tandem with other organizations, and it is a wonderful way to approach some of the problems we have in our community," Ricker said.
Services include a job-resource center that helps clients attain or maintain employment through computer skills training, résumé-writing and interview-coaching as well as financial-literacy programs to establish household budgets, build savings and repair credit. Wrap-around services include emergency financial assistance programs that offer aid with rent, utilities and essential needs.
Additionally, ICS has partnered with United Way of Tucson and Southern Arizona to provide tax assistance to families with low-to-moderate incomes from 4 to 7 p.m. Wednesdays and 9 a.m. to 1 p.m. Saturdays at 2820 W. Ina Road through April 15.
Carr said the free tax-preparation-assistance program is one less expense for families to worry about.
"We want to ensure that they claim tax benefits for which they are eligible, including the Earned Income Tax Credit, child tax credits and Arizona property tax credits," Carr said.
As for Empty Bowls, Ricker believes the fundraiser exemplifies the ICS philosophy espousing collaboration among diverse groups.
She said the fundraiser would not be possible without the efforts of volunteers of different faiths; the time and talent of artisans with Southern Arizona Clay Artists and other local potters; the clay donated by event sponsors Marion Ceramics and Laguna Clay; the donation and creation of soups, breads and desserts by almost 20 restaurants and food partners; and the generosity of individual supporters and presenting sponsors such as Precision Toyota, Wendell and Rose Tyson, Dorothy D. Vanek and Richard and Judy Weill.
Overall, she described the event as fun opportunity to come together to enjoy delicious food and help alleviate hunger. As an additional perk, each guest takes home a hand-crafted bowl.