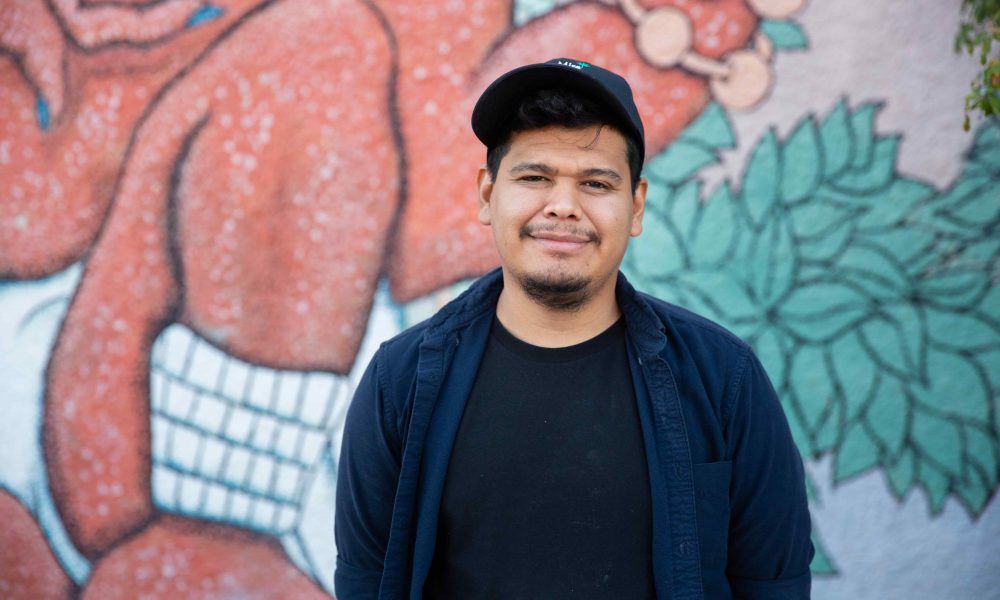 Before the coronavirus pandemic, Carlos Figueroa's small tortilleria business was picking up.
Maiz Tucson, which opened in 2018, became Figueroa's passion and lifeline. He quit his job after eight years to pursue his love of making "corn tortillas that your abuela's abuela would love" and perfected the craft using heirloom corn and all natural ingredients.
Selling to local restaurants and farmer's markets, Figueroa was ready to take his business to the next level. Like so many business owners, workers and families, he could not prepare for what would happen next — a global pandemic that has bulldozed economies.
Figueroa is one of many local residents to apply for coronavirus relief aid through the city of Tucson's We Are One | Somos Uno Resiliency Fund, a product of federal CARES Act dollars. In partnership with local organizations, the program has distributed over $5 million so far to further support small businesses, nonprofits, workers and families who are struggling financially through the pandemic.
Figueroa applied for a business continuity grant, administered by YWCA Southern Arizona, and received $7,500. He was one of 562 businesses to apply for funding and one of 236 businesses to be approved. More than half the applicants were Latino and nearly 66% were women, according to data provided by YWCA. The business owners who applied for funding represented a variety of markets, including food service, personal services, child care, retail and maintenance.
"The stories we're reading in these applications are heartbreaking," said Francisca Villegas-Braker Director of YWCA Southern Arizona's Women's Business Center. "These businesses are doing everything they can and they're still struggling."
"Things just started to pile up"
The pandemic's financial impact hit Figueroa's small business hard, leaving him unable to pay his rent for several months.
"Back before the pandemic hit, business was really picking up and I started making plans to move to new space with increased rent," he said. "And by the time we all realized what was going on I was already scheduled to be in that new space."
Figueroa was set even further back after contracting COVID-19 himself.
"I did what I could and I pivoted toward different markets. Then I got COVID-19 and I was unable to do anything for about a month," he said. "I quarantined at home and had mild symptoms for the most part, but experienced chest pain and circulation issues. At that point, things just started to pile up."
After applying and being approved for the small business grant in September, Figueroa was able to catch up on his rent. His hope is that other small businesses in the area are being offered the resources they need to survive.
"I feel like Tucson especially is very dependent on small businesses. As a town with so much culture, it's the small businesses that really make it what it is," he said. "Without them, we are basically just another giant metropolitan sprawl in the making. Without resources to support these businesses, I feel like it's just exacerbating that process, wherein big giant conglomerations come in and scoop up capital and existing markets. And then not only just push out the current small business owners, but make it even harder for the future small business owners to emerge."
Aid often not enough to get by
For 56-year-old Victoria Spevak, the pandemic brought a different kind of challenge. In April, Spevak was laid off from her job in the hospitality industry after four years.
Even with unemployment benefits, Spevak struggled to stay up to date with her bills, forcing her to go into debt and even sell some of her belongings. When she applied for funding through the city's Worker's and Families Grant program, she said she was not expecting to get approved.
"It was just a complete miracle. I wanted to cry," Spevak said. "I was able to pay off my utilities and my cell phone bill."
Administered through the Women's Foundation of Southern Arizona, the Worker's & Families Grant distributed a total of $3 million to 2,800 applicants, which includes 586 individuals and 2,214 families. Of the applicants, 52% needed help putting food on the table, 48% needed utility support and 45% needed help with their rent or mortgage.
Spevak received $700 through the program in October. However, even with the unexpected help, Spevak said she isn't able to keep up with her rent and is now in the process of moving in with one of her children. She also recently applied for an extension on her unemployment benefits.
Spevak is one of thousands of Tucson residents who continue to struggle through the pandemic, even after receiving aid. The need for additional relief funding is evident in the number of applicants who applied for these grants, said Amalia Luxardo, CEO of the Women's Foundation of Southern Arizona.
Of the 11,361 people who applied for the worker's and families grant, 2,800 applicants were approved. Meaning there were an additional 8,561 individuals and families who were denied, mostly due to lack of funds. Of the families who are left to fund, over 4,000 reported earning less that $25,000 this year and nearly 6,000 fell under the threshold of self-sufficiency standards for Pima County. There are also over 11,000 children under the age of 14 associated with the total number of applicants.
"People, especially families, need money"
"It has taken a crisis to reinforce what we already knew, which is that far too many members of our community are living in the margins and struggle to make ends meet," Luxardo said. "While we understood that these funds would only go so far, we did not anticipate receiving four times the applications. Most of these families were already living below the self-sufficiency standard for Pima County before the pandemic. This is a clear call to our community that we can and must do better in the fight against poverty."
In September, the Tucson City Council voted unanimously to allocate nearly $6 million more in federal CARES Act funds to continue supporting Tucson residents and business owners. This funding now includes a total of $7.5 million for emergency rent and utility assistance, $5 million for the Workers and Families Grant Program, $5 million for small business and nonprofit continuity grants and $350,000 to support arts and entertainment venues.
The council also approved $500,000 in grants to support children and families who are having difficulty paying for child care amid the pandemic. This grant program will be administered through Catholic Community Services.
City officials said they are still finalizing details on the application process and deadlines for the second round of grants, but that they will prioritize those who already applied and were denied for lack of funding, as well as people who have not received aid previously.
"Mayor and council have been very strategic in allocating CARES funds to help those who might have slipped through the cracks of federal funding," Mayor Regina Romero said. "There is still great need in our community and we hope the new round of funds will be disbursed as quickly as possible."
As someone who understands these financial struggles firsthand, Spevak said she hopes these kinds of programs will continue to be available to Tucson residents through the pandemic. With federal unemployment benefits ending and a second stimulus package nowhere in site, Spevak said the need is greater than ever.
"People, especially families, need the money," she said. "It's disappointing that the federal government is not supporting more funds. I think that people were able to pay bills during the pandemic when they were given assistance, but for people that don't have any kind of other resources, they're just fighting to survive."