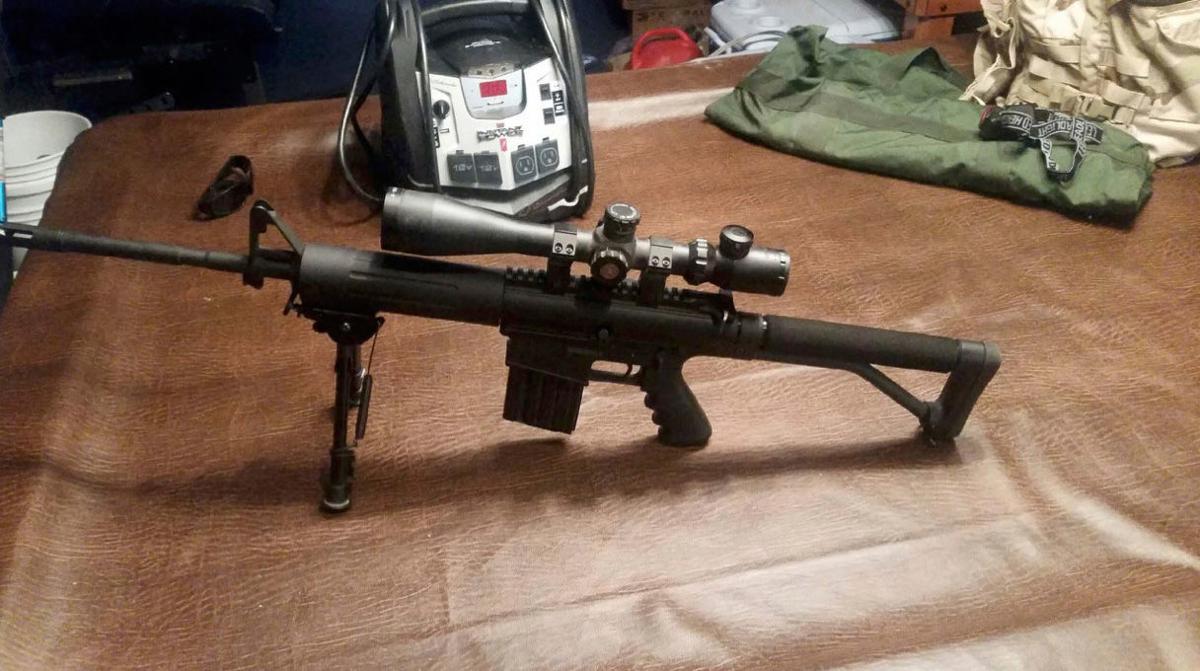 A backpack of cash, suspicious bank deposits and wiretaps of drug traffickers have kicked off several recent investigations of federal law enforcement officers in Southern Arizona.
But these investigations aren't focused on the smuggling, bribery or money laundering often associated with corruption on the border with Mexico. Instead, they revolve around firearms offenses, such as selling firearms without a license.
Federal prosecutors still bring charges against Border Patrol agents and customs officers accused of smuggling, but four recent prosecutions in U.S. District Court in Tucson show agents and officers increasingly facing firearms-related charges.
Rather than a new focus or initiative, the recent prosecutions are the result of "investigators doing their jobs like they always do," said Special Agent Thomas Mangan, a spokesman for the Bureau of Alcohol, Tobacco, Firearms and Explosives.
"It's just simply investigative leads that were presented to us," Mangan said, noting the suspicious activity in the recent cases was reported to the ATF by licensed firearms dealers and a bank.
"When they happen to see a potential straw purchase, they notify ATF," Mangan said, in reference to people hiring others to illegally purchase firearms on their behalf. "That's where a lot of those leads came from, regardless if it happened to lead to a Border Patrol agent that was purchasing guns."
Recent cases involving agents and firearms
A suspicious-activity report filed by a Tucson bank led ATF agents to Laurence Myers, a then-supervisory Border Patrol agent in Nogales. Two months later, a firearms dealer in New Mexico notified the ATF that Myers was selling guns illegally online, an ATF special agent wrote in an affidavit.
Myers was indicted in August on a charge of selling firearms without a license. Federal prosecutors said Myers sold 343 firearms online and planned to sell 207 firearms seized from his Rio Rico home.
Myers had significant credit-card debt, with $3,800 in monthly payments, the special agent wrote. Myers is accused of making $132,000 profit by selling firearms on a gun-auction website.
In the case of Ramon Antonio Monreal Rodriguez, a then-Border Patrol agent stationed in Three Points, the firearms investigation led to cocaine-smuggling charges.
A man showed up at a Tucson gun store in July with a backpack of cash trying to buy two ornate, limited-edition pistols for $10,000, which seemed suspicious to an employee. The resulting investigation led the ATF to search Monreal's home, where agents found phones containing messages that indicated Monreal was involved in a drug-smuggling conspiracy, court records show.
Monreal was indicted in September and accused of hiring two people to illegally buy firearms on his behalf. In October, he was indicted on a charge of conspiring to smuggle 90 pounds of cocaine.
Wiretaps of suspected drug traffickers led ATF agents to Joseph Gill, a then-supervisory Drug Enforcement Administration agent in Nogales. Gill bought two rifles online and sold one to traffickers who smuggled it into Mexico. Gill arranged to sell them another rifle at a Tucson restaurant. That rifle was seized in Nogales on its way into Mexico aboard a shuttle.
Gill pleaded guilty in August to selling firearms without a license to people he had reason to believe would use them unlawfully. An ATF special agent said Gill sold hundreds more firearms online.
A rifle barrel poking out of a cardboard UPS box at the Border Patrol's Willcox station led investigators with Homeland Security's Office of the Inspector General to Jesus Manuel Franco, a then-Border Patrol agent and former firearms instructor at the Willcox station.
Franco was convicted of stealing $100,000 worth of gun parts from the agency's armory in West Virginia and mailing them to a fellow agent in Vail, as well as possession and transfer of a machine gun. He was sentenced in March to 18 months in federal prison.
Franco's attorney said in court that Franco wanted to use the gun parts to refurbish used firearms as his fellow agents went through a shortage.
Few prior cases
These four prosecutions came after a 12-year period in which the Arizona Daily Star found only one federal agent in Southern Arizona faced a prosecution centered on firearms, according to a list compiled by the Star of corruption-related crimes.
The list was based on court records, news releases, Star archives, and a list of cases against Customs and Border Protection personnel obtained by the Project on Government Oversight through a public records request.
In the lone firearms case the Star found from 2004 to 2015, Border Patrol Agent Roberto Easterbrooks was arrested in 2011 after Border Patrol agents saw him sell a bag of agency-owned ammunition in the parking lot of a Tucson restaurant.
Smuggling and money laundering, on the other hand, were the focus of 21 of the 32 prosecutions against federal law enforcement in Southern Arizona during that period. In contrast, five of 18 such prosecutions since 2016 centered on those crimes, including the cocaine charges against Monreal.
The rest of the cases since 2016 included five allegations of lying to the government on background checks, time cards or requests for paid leave. Two other cases involved the misuse of government credit cards and embezzlement.
In two other cases, agents were accused of civil-rights violations by hitting a man with their agency truck or punching a handcuffed man lying on the ground. An agent was acquitted recently in a fatal cross-border shooting in Nogales.
Border Patrol agents are not prohibited by the agency from selling firearms, but an agent who "engages in the sale or transfer of firearms as a personal venture outside of work" must follow all laws and regulations, according to a statement from the public affairs office of the Border Patrol's Tucson Sector.
CBP employees also "must be registered as a legitimate business through all commercial legal registries," according to the statement. "No special concessions are afforded to CBP personnel on the basis of their employment," according to the statement.
The U.S. Attorney's Office declined to comment.
Get local news delivered to your inbox!
Subscribe to our Daily Headlines newsletter.