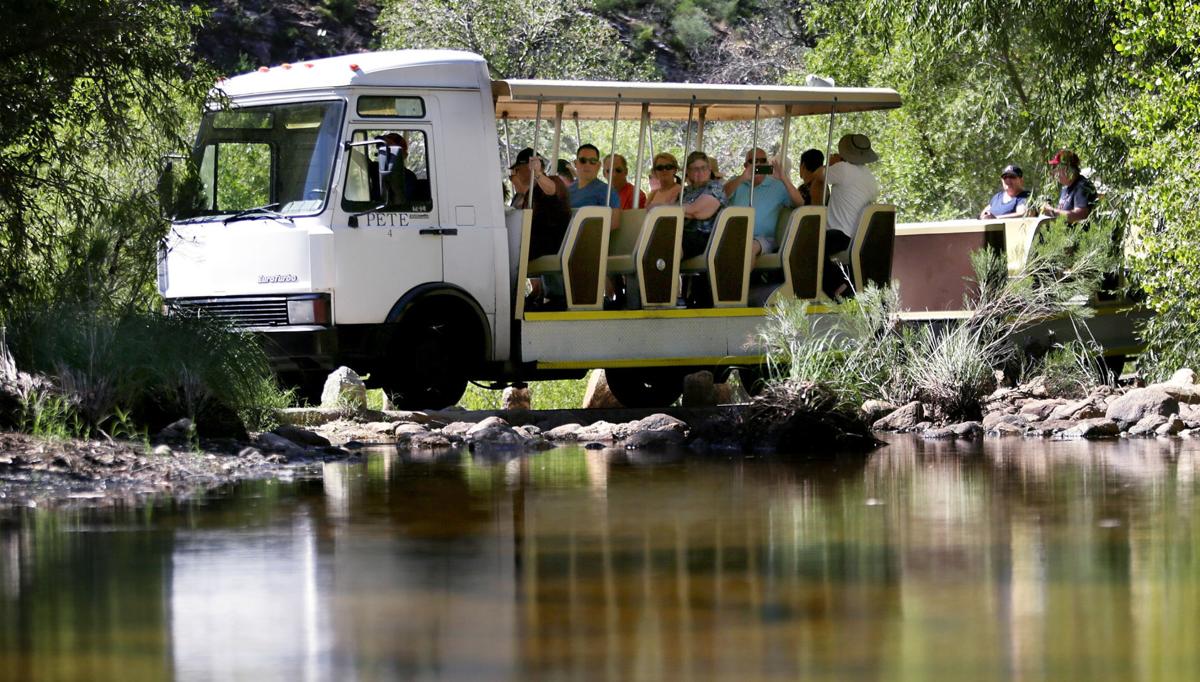 A new operator has been chosen for the Sabino Canyon shuttle system, Coronado National Forest officials announced Friday.
"Regional Partnering Center, based in Tucson, will be the new operator of the shuttle system," said forest spokeswoman Heidi Schewel. "The new operator will replace Sabino Canyon Tours Incorporated, which has been operating the system since 1985."
Schewel said the change, approved Friday by forest supervisor Kerwin Dewberry, will go into effect when the current permit expires at midnight June 30.
Two key factors in the selection of a new operator:
Regional Partnering Center will gradually change the shuttle fleet from diesel and gasoline power to electric vehicles.
Narrated shuttle tours will be within enclosed and air-conditioned passenger cabins — reducing or eliminating the noise of amplified narrations that troubled some canyon walkers.
Some who have spoken out in recent years about air pollution and noise from the shuttles are pleased with the changes.
"That is great news to everyone who loves Sabino Canyon," said Sandy Bahr, director of the Grand Canyon Chapter of the Sierra Club.
"The air will be cleaner and it will be much quieter, so we can all better enjoy this special place," Bahr said. "We are pleased that the Forest Service is going with the cleaner, quieter option. This is good for people who visit and the wildlife that live in Sabino Canyon."
Schewel, of the Coronado Forest, said more than a million people visit Sabino Canyon every year and approximately 10 percent use the shuttle service.
Only two applicants — Regional Partnering Center and Sabino Canyon Tours — sought the permit for shuttle operation, she said.
"We conducted an environmental assessment focusing on the desired experience," Schewel said. "We recognized that public demands were increasing and changing.
"The fuel issue was brought up by a number of people" with a preference for electric vehicles, she said.
The Coronado Forest relied on an evaluation panel from the National Park Service — with extensive experience in transportation system issues — to evaluate the applications, Schewel said.
"They provided our forest supervisor with a written evaluation, and he made the selection," she said.
Efforts to reach a spokesperson for Regional Partnering Center, a nonprofit managed by the Pima Association of Governments, were unsuccessful Friday afternoon.
But Schewel filled in plans for the transition to the new operator.
She said the first of four phases of the transition "calls for interpretation of the cultural and natural resources in Sabino Canyon and avoiding or minimizing adverse effects associated with operating a shuttle system."
A second phase, extending from July through December 2018, "will involve using diesel and gasoline vehicles which meet all Arizona Department of Environmental Quality street-legal motor vehicle emissions standards," Schewel said, adding that a first electric shuttle vehicle will be introduced during that period.
Also during the second phase, debit and credit cards will be accepted to pay for shuttle rides, she said. The service now operates on a cash-only basis.
In the third phase, from January through June 2019, a full fleet of electric vehicles will be operating in Sabino Canyon, Schewel said. Diesel and gasoline vehicles will continue operating in nearby Bear Canyon during that time.
"In Phase 4, from July of 2019 through June of 2023, they will be using a full fleet of electric vehicles in both Sabino and Bear canyons," said Schewel, who wasn't able to immediately specify the total number of vehicles or prices of shuttle rides under the new operator.
She said the new operator's permit for the service will be for five years, "with the potential of extension for five years based on permit holder performance."