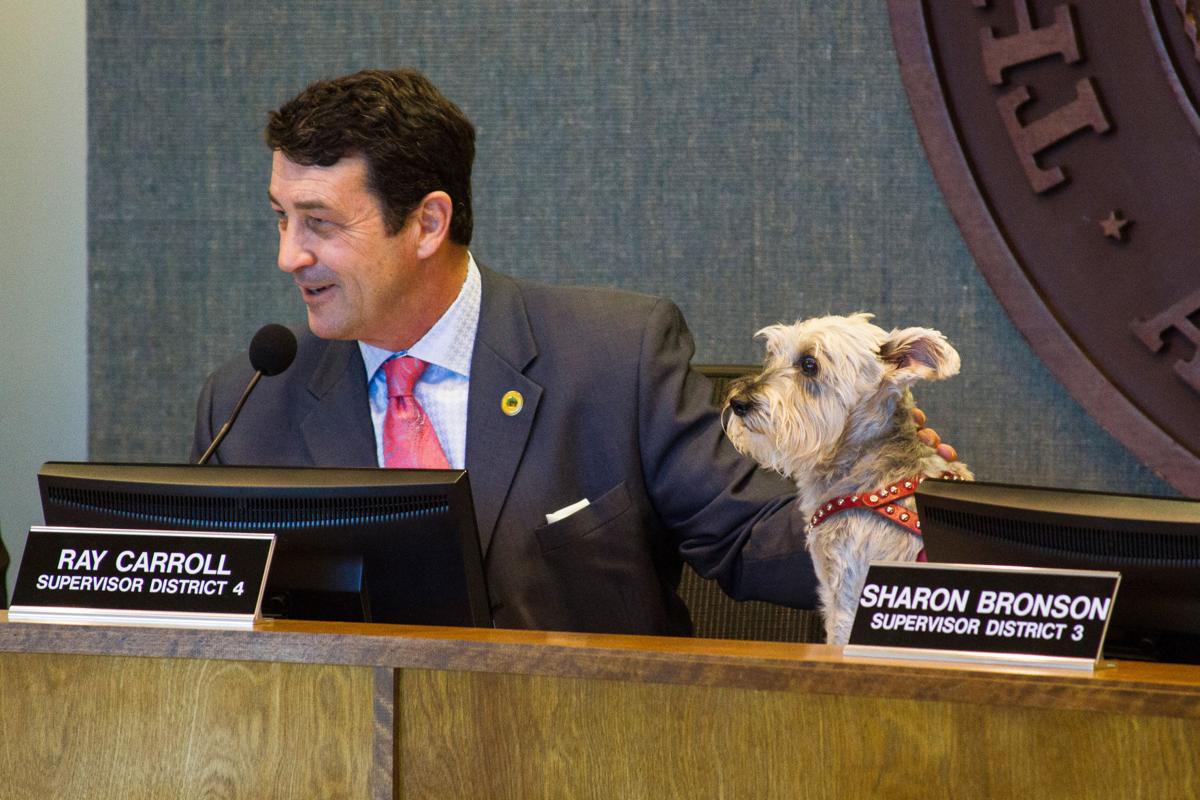 Former Pima County Supervisor Ray Carroll is hoping to fill the recently vacated position of justice of the peace for Green Valley Justice Court.
Since leaving the Pima County Board of Supervisors earlier this year, Carroll has been working with the local nonprofit Amity Foundation, which he would leave if chosen by the board for the position, Carroll told the Star.
"This is a dream job for me," he said.
No other applicants had submitted paperwork expressing interest, though the last day to do so is Friday. A public forum with all candidates will be held in Green Valley on Sept. 27, prior to the board's vote on who will be the new judge Oct. 17.
The previous judge, Lisa Royal, stepped down from the four-year elected position in August, citing concerns about the declining caseload in the court, which serves Green Valley, Sahuarita, Corona de Tucson, Arivaca and Amado.
In 2010, there were 18,363 cases filed at the Green Valley Justice Court, the vast majority of them civil traffic matters. In 2016, only 2,962 cases were filed, according to state court data. One of the contributing factors to the decline was the removal of a traffic camera in 2014, according to Royal, who has since been hired as the Pima County Consolidated Justice Court administrator, a position she previously held from 2005 to 2013.
"It had started to decline, and within two years it was really dropping dramatically, particularly after the enforcement camera was taken down," Royal said, who was appointed to the court in 2013 and elected to a full term in 2014. "We still dropped down even further. Even without the camera, we were averaging 4,000 tickets a year and we're down to 1,700."
As a result of the decreased caseload, Royal was earning fewer judicial productivity credits, which are used to determine salaries for justices of the peace. In 2015, she was assessed as having 215 credits, qualifying her to receive 65 percent of a Superior Court trial judge's $145,000 salary, or $94,250, according to recent county salary data.
In her resignation letter, Royal said she anticipated those credits falling below 200 in coming years, which would have resulted in a 10 percent pay reduction. Royal told the Star her workload was already resembling part-time status.
"I love to work, but I was only on the bench maybe for four hours a day," she said. In the letter, Royal endorsed Ron Newman, a practicing attorney who has experience as a judge pro tempore at the Green Valley Justice Court. However, Newman, who has not made up his mind about applying, also expressed some concerns about the declining caseload.
"In this case, the population has gone up, but filings have decreased, and that's an area of concern," said Newman, who unsuccessfully ran for Precinct 10 justice of the peace in 2016. "Seventy thousand people live in this precinct. It is important to maintain that court to service those citizens. I, for one, would be uncomfortable making people travel 30 to 40 miles to go to court."
Carroll also expressed some concerns about the future of the Green Valley Justice Court.
"There are parts of the Justice Court that need to be addressed as soon as possible," Carroll said. "The declining caseload and the possibility of closing the court are some concerns."
Carroll, unlike Newman, is not an attorney, which is not a requirement to be a justice of the peace in Arizona. Steve Christy, the new District 4 supervisor, said that in the past, there have been non-attorney justice court judges who have succeeded in the position.
"I knew several JPs who were very capable without any law experience," Christy said. "Ray certainly knows the area, and he will go through the process the same as anyone else. He has the experience of the district behind him."
According to Carroll, his biggest sell is the fact that he is unable to receive a second pension should he be chosen to fill the rest of Royal's term.
"There's no double-dipping, no second pension available after becoming supervisor," Carroll said. "You do get benefits, like health insurance."
The League of Women Voters-organized forum will be held at the Las Campanas Community Center, 565 W. Belltower Dr., at 6 p.m., Sept. 27.
C.J. D'Innocente is a University of Arizona journalism student who is an apprentice at the Star. Contact him at starapprentice@tucson.com.
C.J. D'Innocente is a University of Arizona journalism student who is an apprentice at the Star. Contact him at starapprentice@tucson.com.
Get local news delivered to your inbox!
Subscribe to our Daily Headlines newsletter.