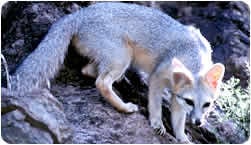 A possibly rapid fox attacked a hiker on Miller Creek Trail in Saguaro National Park East on Wednesday, April 4, the Arizona Game and Fish Department says.
"Victim being evaluated, gray fox at large, likely in area. Call 623-236-7201 ASAP 24&7 about unusual wildlife behavior, avoid contact. Foxes, skunks and bats most common carriers," the department tweeted. The park is just east of Tucson.
No other information was immediately available. 
One week ago, a 9-year-old boy was bitten by a likely-rabid gray fox at Chiricahua National Monument, about 120 miles southeast of Tucson. The boy was treated at Tucson Medical Center. 
And, on Feb. 13,  a possibly rabid fox attacked three bicyclists at Saguaro National Park East, near Cactus Forest Loop Drive.
Get local news delivered to your inbox!
Subscribe to our Daily Headlines newsletter.