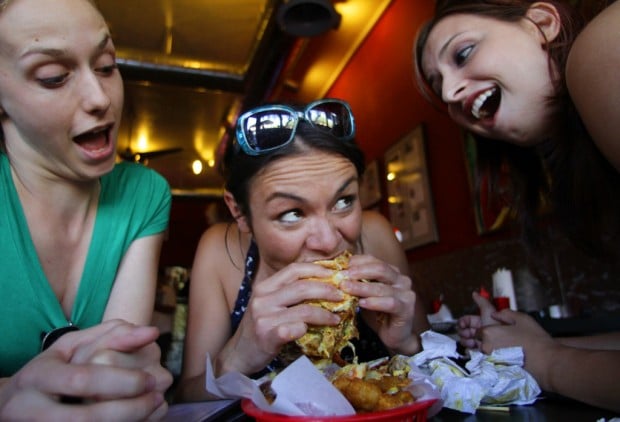 Competitive eater Michelle Lesco is a woman of contradictions.
Standing 5 feet 4 inches and weighing 115 pounds, she's scarcely bigger than an eight-pack of hot dogs, yet she can gobble up 21 1/2 of them in 10 minutes.
She did so at a June 11 qualifier in Tempe and is now headed to Coney Island, N.Y., to go stomach-to-stomach with the best of the best at Nathan's 2011 International Hot Dog Eating Contest Monday.
"It's pretty surreal," Lesco says. "I went into the contest for fun, because my friends kept telling me I should try it. I was curious to see how many hot dogs I could eat. I didn't expect to win a trip to New York. I've never been there before."
Lesco is enough of an extrovert to think nothing of stepping onto a stage and downing enough processed meat to choke Shamu, yet she's surprisingly particular about when and where she's photographed. When asked if we could send a photographer to shoot her while she waitresses at the Arizona Inn, she said she was too self-conscious to go along with it.
Said her boss, Arizona Inn President Will Conroy, "That's funny. It's not every day you run into a self-conscious hot-dog-eating champion. I like it."
Although conventional wisdom says food is more enjoyable when you chew slowly and savor each bite, that's not so for Lesco. While she was growing up in Willcox, her mother, Dienna Kirby, says, she used to scold her for eating too quickly before eventually giving up.
"We would go eat at the Chinese buffet and stuff, and before we'd even sit down, her plate was almost done.
"Slow down," Kirby remembers saying. "I want to sit down and eat with you."
Lesco, 27, says it feels natural to eat faster, and it's more of a pain to slow down to keep pace with others.
She says she learned to eat fast while in grade school, when she wolfed down her breakfast in an effort to reach the school bus in time.
"I'd prefer to eat slower," Lesco says sheepishly.
She'll have to put those thoughts aside this weekend, when she'll compete against nine women and 10 men for the $10,000 first prize.
Don't ask her for reasons as to why she's so good at eating so much so quickly. Or how she doesn't gain significant weight.
"I have no idea," she says. "I'm not a biologist."
Lesco is returning to the University of Arizona to work on her psychology degree after a break of a couple of years to work for AmeriCorps.
In addition to her assistant-server job at Arizona Inn, Lesco works as a cocktail server at The River's Edge Lounge. Between jobs and studies, she finds time to run four to six miles regularly - those calories have to be burned off somewhere.
Although Lesco says the June qualifier in Tempe was her first attempt at eating hot dogs for sport, she's made her mark at Lindy's on Fourth, one of her favorite haunts. There you'll find her picture on the wall, from one of the many times she's tackled the O.M.F.G. challenge, which dares participants to eat a dozen 4-ounce burger patties, 12 slices of cheese, a variety of toppings and a bun. Eat it in 20 minutes and the meal is free, you get a picture on the wall and a $5 gift certificate.
She's also tackled a challenge at Something Sweet Dessert Lounge, where she downed four pieces of cheesecake and four brownies.
Lesco isn't worried about her stomach getting full so much as her jaw getting tired. She says her trick, in addition to the standard practice of dunking buns in water, is to "prechew" her dogs by tearing them apart with her fingers before she crams them in her mouth. She says it helps that Nathan's makes tasty hot dogs.
"Nathan's hot dogs are pretty good," she said. "I'm not sure at which number they start losing their taste."
Her goal for the contest in New York is to eat 25 hot dogs in the 10-minute time limit.
At least now she has the blessing of her mother to eat as fast as possible.
"I think it's awesome and funny," Kirby says. "These people make big money eating. Boy, you have your claim to fame now. Eat what you want and get paid for it."
Lesco is taking her ascent to the top of the hot- dog pyramid in stride.
"It's ridiculous," Lesco says. "But I'm aware of that."
Get local news delivered to your inbox!
Subscribe to our Daily Headlines newsletter.