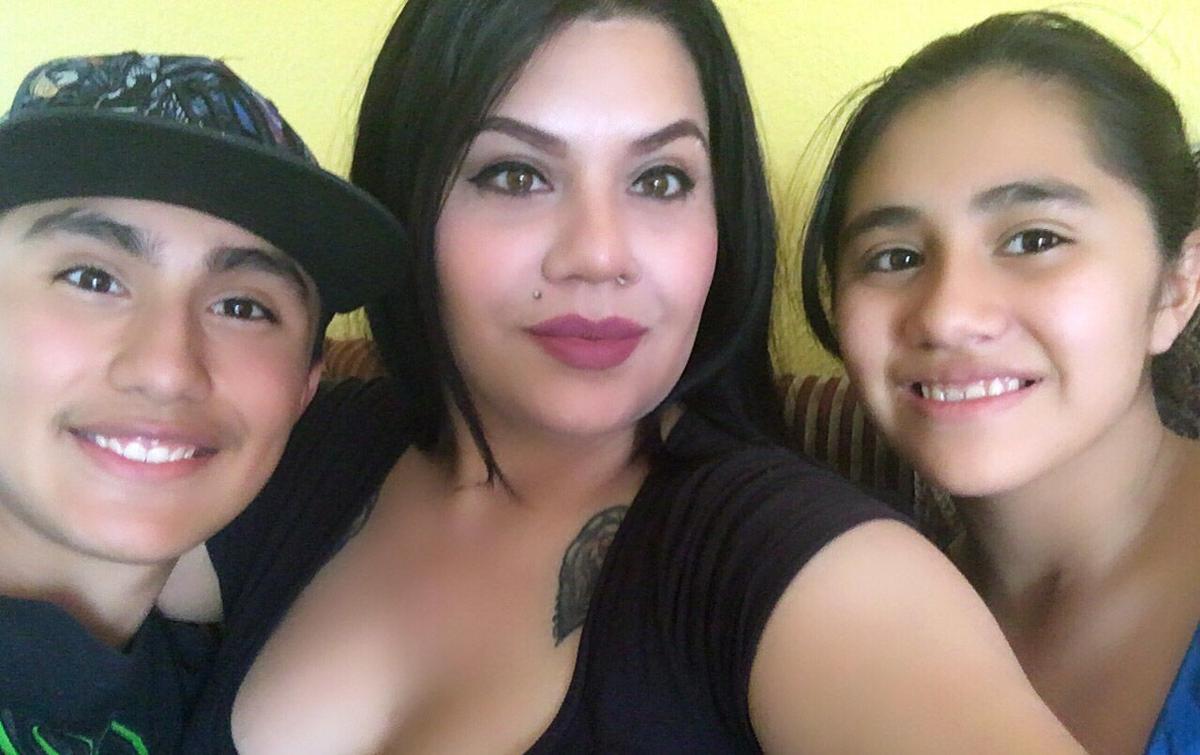 Before the eviction, money was tight, but single mother Sandra Muñoz said she was "making it work" on her $18,000-a-year income.
Muñoz loved her job as a technical assistant in a Tucson call center, and her two-bedroom apartment was walking distance from an after-school daycare center for her 5-year-old daughter and 7-year-old son.
But after a bout of debilitating sciatica put her on her back for two and a half weeks, the precarious balance Muñoz had achieved began to unravel.
Missing a paycheck resulted in her missing one month's rent. She worked out a partial-payment agreement with the property manager that would allow her to catch up over the next few months. But then a new property manager took over and would not honor the agreement.
Muñoz and her kids were evicted for nonpayment of rent and had no option but to move in with a cousin on the south side, she said.
With the eviction on her record, plus an earlier eviction from six years prior, her rental applications were rejected again and again.
"It was really devastating," she said of the 2010 eviction experience. "I couldn't get in anywhere. Nobody wanted to accept me."
Muñoz will be one of the panelists in a Thursday public discussion on evictions, starting at 6 p.m. at the Joel D. Valdez Main Library at 101 N. Stone Ave. The event is free and open to the public.
The panel will also feature Stacy Butler, director of the Innovation for Justice program at the University of Arizona James E. Rogers College of Law. Butler is also one of the founders of Step Up to Justice, a free civil legal center for low-income Pima County residents. (Southern Arizona Legal Aid is another local source of pro-bono legal counsel.)
Other panelists are Pamela Moseley of the Pima County Sullivan Jackson Employment Center; Manira Cervantes of Pima County Community Action Agency; Kim Fitch of Nicolosi & Fitch property management company; Marcos Ysmael of the Pima County Housing Center; and Ken Briggs of the United Way of Tucson and Southern Arizona.
The discussion will include topics such as homelessness, emergency resources to help avoid eviction and eviction's impact on children and education.
Butler said it's crucial to involve all stakeholders in the discussion about finding ways to prevent evictions. That includes policymakers, who are in a position to address landlord-tenant law issues, and property owners, who have a stake in avoiding time- and resource-consuming eviction proceedings.
"The more people that know and care about eviction prevention, the more likely it is to happen," she said. "My personal feeling is that if we really want to have fewer people being evicted, we really need to be working at a policy level to make some significant structural changes."
Last year more than 13,000 eviction actions were filed in the Pima County Consolidated Justice Court. The vast majority of tenants facing eviction don't have a lawyer, while landlords almost always have the help of an attorney specializing in housing law, advocates say.
An ongoing affordable housing crisis is at the root of most evictions, advocates say. In Tucson, vacancy rates for rental units are falling, and housing costs are rising.
"It's a combination of the rental market is shrinking, and it's driving up rents," said Bonnie Bazata, program manager for the Pima County Ending Poverty Now program, one of the sponsors of Thursday's event. "Even if you can find a place, whether you can afford it is a whole 'nother conversation."
Eviction is a problem that affects the entire community, both because of its devastating effect on neighborhood cohesion and its connection to rising homelessness rates, Butler said.
"Your odds of homelessness are so much higher once you start into this eviction cycle," Butler said. "That's now a community problem, because now we're paying to re-house people instead of making efforts to keep people in their homes to begin with."
For Muñoz, now 36, the worst part of that eviction was how it affected her kids, who found themselves in a new school district. Their toys were all in storage, their friends were far away and they had to adjust to sharing a room with their mom, she said.
"They were really sad. We didn't have privacy. We were all on top of each other in one room. They didn't have their friends," she said. "Everything just became extremely unstable."
It took six months before Muñoz finally found another apartment and could move out of her cousin's home, but her new place was a "slum," she said, where management wouldn't make needed repairs.
Muñoz said she learned that education is crucial for low-income renters. Those who find themselves in a desperate situation, due to past evictions, criminal records or poor credit, are more vulnerable to unscrupulous landlords who know their tenants have no other option for shelter.
Put verbal agreements into writing and keep your own copy, in case the property manager or owner loses their copy, she said. And even if you're desperate, don't sign anything you haven't read fully, she said.
"You have to know what your rights are," she said.