After retiring from teaching science to eighth graders, Vicky Konecky started searching for something to do.
Whatever she decided, she knew she wanted to have time to spin fiber. She also wanted to learn more about knitting and crocheting.
In 2007, Grandma's Spinning Wheel was born. The shop is one of many locally owned businesses in La Plaza Shoppes, on East Tanque Verde Road near North Kolb Road.
With nearly two dozen small local businesses, the plaza is an ideal spot for shoppers searching for the perfect holiday gift.
For the crafter
Grandma's Spinning Wheel is packed with yarn, wool, silk, looms and needles.
"For many years, I didn't have a good source for fiber, so I thought I'd open a shop where I can have fiber, as well as yarn," says Konecky, who was 8 years old when her mom taught her to knit and crochet.
Grandma's Spinning Wheel is run by Konecky with help from her husband Michael — who initially had no plans of being involved in the shop until Konecky left for a trip overseas in 2008.
"He offered to watch the shop for me for 10 days and then he was going to go away, but now he has a desk over there," Konecky says, laughing. Their youngest daughter also works at the shop.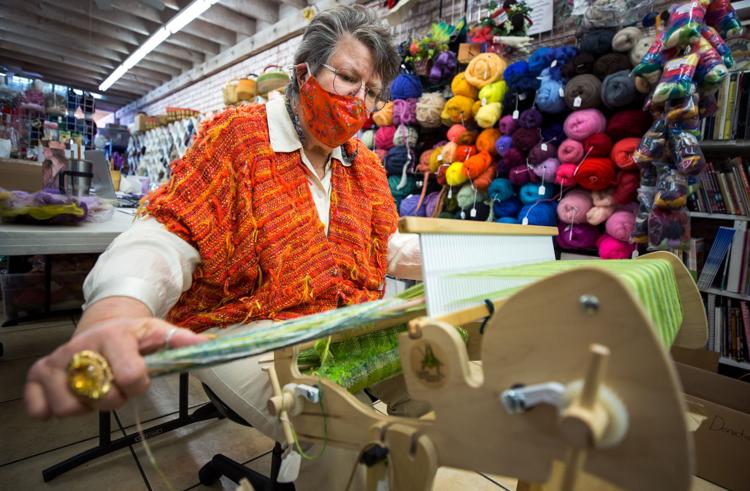 For Konecky, one of the most rewarding things that has come out of the business is the community of fiber artists who visit the shop. Before the COVID-19 pandemic, Grandma's Spinning Wheel was home to meetings of dozens of artists dabbling in their craft alongside one another.
"It's Grandma's community that has been so important to us," she says. "Many of our people who belong to these groups are older ladies — some widows — all looking for a place they literally can meet their new best friend."
Also in La Plaza Shoppes is the Sewing Room — a dealership that sells and fixes Bernina sewing machines — and the Quilt Basket, which is packed with all of the fabric of your dreams.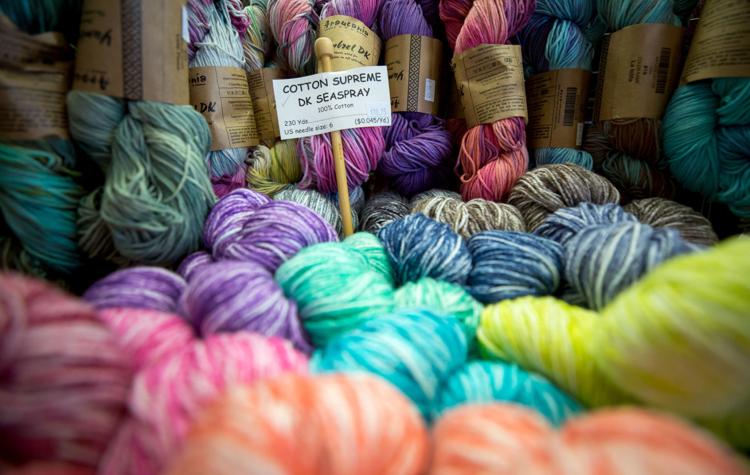 At the age of 9 or 10, Lena Tsuruda's mom taught her to sew. She went on to work at the Quilt Basket for 10 years before purchasing the store and later opening the Sewing Room next door.
"Up until COVID, we did a lot of classes," she says. "I love teaching. You see a spark — something in their eyes — once they catch on. And they become hooked just like I did."
Although the shop has hosted a few Zoom classes, Tsuruda hopes to restart small, traditional classes in 2021.
For the art enthusiast
Founded in 1987, Desert Artisans' Gallery is home to about 60 local artists showing off their talents in the form of paintings, photography, sculptures, jewelry, gourd art and glasswork.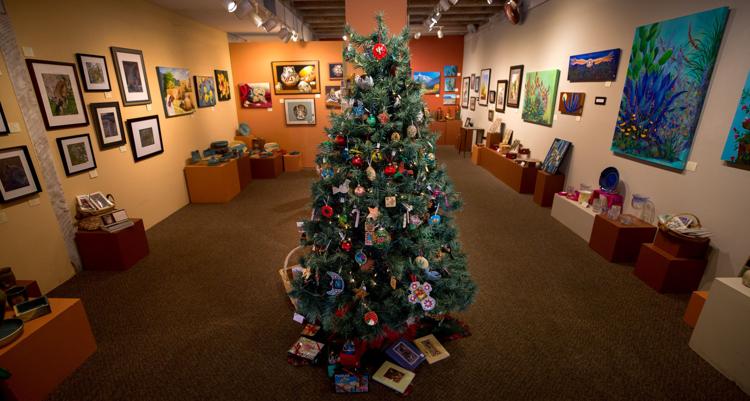 Desert Artisans, which features four new shows each year, originally opened in midtown, but moved to La Plaza Shoppes in 1992. The gallery is a co-op, making more than 20 of the featured artists both members and owners, in addition to about 30 consignment artists.
"We're kind of one big family with all the different personalities," says painter Susan Libby, who has been with the gallery for 19 years. "I think working in the business with this supportive group of people with the same goal is very nice and inspirational."
Steps to the east is the Chris Bubany and Friends Gallery, which will be celebrating its third year in business this spring.
Started by tableware artist Chris Bubany, the gallery features 10 local artists offering a mix of mediums.
"We didn't want a gallery that was heavy on jewelry or heavy on paintings," Bubany says, adding that the gallery features metalwork, mosaics, paintings and fiber art. "We think it's more interesting for the shopper to come in and find a variety of things."
"I want (customers) to be able to picture the art that's in this gallery, in their own homes and apartments," Bubany says.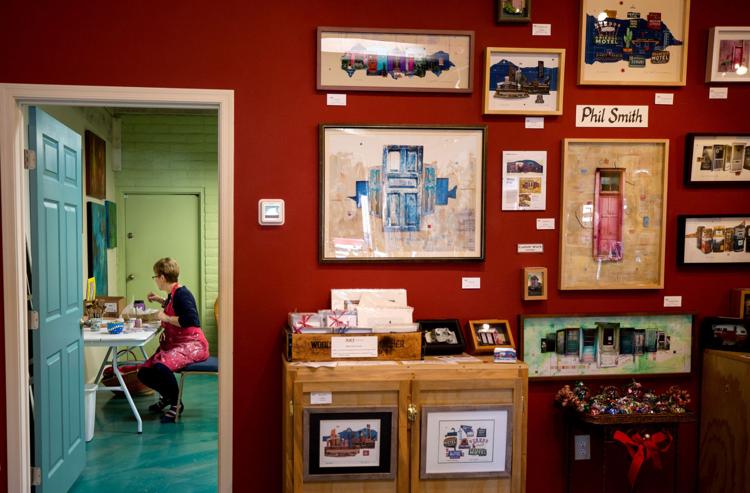 Farther west is Leaping Lizard, which has been at La Plaza Shoppes for about five years and shares a space with Covington Gallery and Appraisals.
The Leaping Lizard art gallery features six local artists with unique backgrounds from a retired sheriff's deputy to a former nurse. The gallery ranges from pottery and jewelry to wood- and leatherwork.
"It feeds our pockets and our egos," says managing partner and artist Chip Travers.
Travers says the artists eventually hope to dedicate a section of the gallery to art created by local youth.
For the fashion guru
Haley Ochoa originally started Posh Boutique in 2003, selling brand-new clothing items. But in 2008, she closed the shop to stay home with her newborn daughter.
For four years, that space at La Plaza Shoppes sat empty.
"I wanted to resell my own clothing and when I went around town, I couldn't find any place that took really high-end designer brands like I had," Ochoa says. "So I was driving up to Scottsdale to My Sister's Closet and consigning it there."
Realizing that a lot of the money she made was being spent on gas for the drive north, she decided to put together a pop-up store, in the same spot at La Plaza Shoppes, to resell her designer items.
"My one-month pop-up is now going on nine years," she says.
Posh Boutique is a consignment store selling high-end clothing, shoes and handbags. Ochoa uses authenticators to ensure the high-end brands — from Chanel to Louis Vuitton to Gucci — are real.
And farther east is the Bra Spa, which opened in 2017. Owner Margo Hall says she hopes people who visit the Bra Spa will be able to learn how a proper-fitting bra looks and feels.
"Bra shopping is hard, and it's kind of a mystery," she says. "I wanted it to be easy, and I wanted it to be educational. And I wanted to have size ranges available that you couldn't find at the traditional mall store or department store."
At the Bra Spa, it's all about helping the customer.
"We make bra shopping really easy and we have very open honest conversations about bodies," she says.
Hall says the Bra Spa carries among the largest size range of bras in Southern Arizona, in addition to bras for different skin tones, and the shop is LGBTQ-friendly. Beyond bras, the shop carries men's underwear and will start selling pajamas and slippers for the holidays.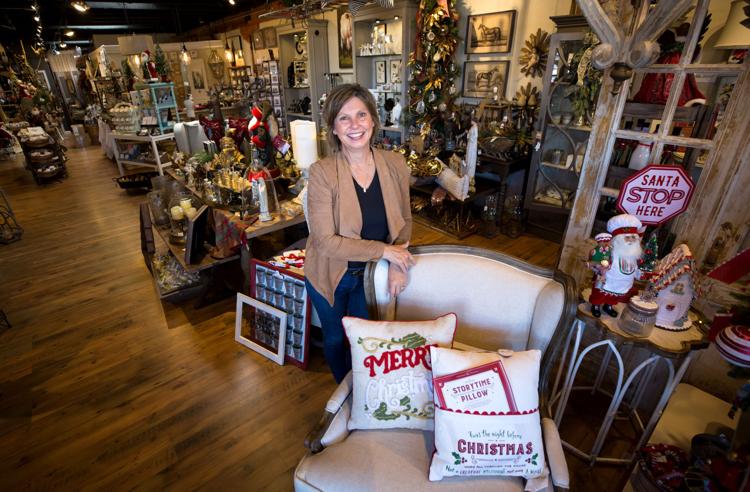 Random finds
More than a decade ago, retired nurse Dawn Scully and former business partner Kim Samuels started redecorating people's homes. By 2008, the two decided to open Embellish Home, which sells home decor and other finds such as jewelry, baby gifts, journals and candles.
Scully and her staff aim to provide a personalized shopping experience for their customers, which Scully says is something that separates Embellish Home from a store like Target or Home Goods.
"We have the best customers here," Scully says. "They want to shop small and they do. And they've been very loyal."
A couple steps east is Villa Feliz Flowers. The shop was founded in 1970 by Guy Fimbres, who died in 1993, and his wife, Georgeanne Fimbres.
For many years, Guy worked for the now-closed Hal Burns Florist.
"My dad loved what he did," says his daughter Gabrielle Fimbres. "He had a huge following when he worked for Hal Burns Florist and people were encouraging him to open his own shop."
Gabrielle Fimbres says Villa Feliz sells top-quality flowers and specializes in roses. The shop also works with farmers to supply locally grown flowers.
"We really love when we can incorporate local flowers, local ideas and local feelings into what we do," she says.
And just next door is Artemesia Soaps, Salts, & Scrubs, owned by Tracy Conklin, who handcrafts skin-care products from soap to lotion to face masks.
Conklin began making soap in the early 2000s. The majority of her products are all-natural, with the exception of items that have an added fragrance oil. Some items are also inspired by the desert, with ingredients such as creosote and desert sage.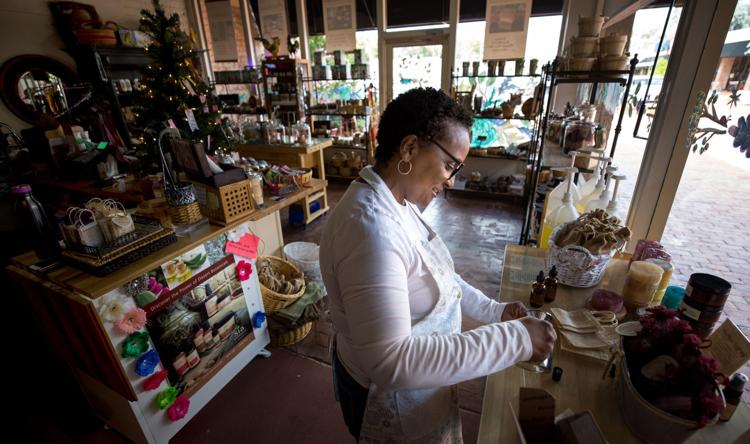 "It's like my little zen place or meditation," Conklin said in a previous interview with the Star. "When I get into the zone, it's nice. I like to think I'm infusing (my products) with positive energy because I never soap when I'm mad or something's going on."
Contact reporter Gloria Knott at gknott@tucson.com or 573-4235. On Twitter: @gloriaeknott