From tailgating to Wildcat swag, here's what you need to know before UA's first home football game
Ready or not, it's time for football at the U of A.
It's college football season and even though our Wildcats got off to a rough start against Hawaii on Aug. 24, we're ready to rock their home opener this weekend and show them some red and blue love.
And to do that requires some tools in your toolbox to pull off the perfect pregame tailgate or find the best post-game bite while the stadium traffic dies down.
We've compiled something of an instruction manual to get you in the mood and groove for the 2019 University of Arizona Wildcat football season.
When are the home games?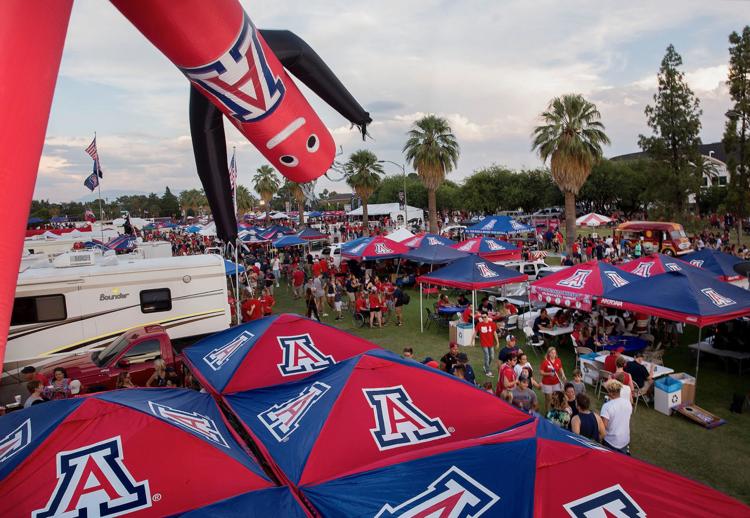 Arizona Wildcats play the NAU Lumberjacks in their home opener Saturday, Sept. 7, at Arizona Stadium. Other home games:
• Texas Tech Red Raiders, Sept. 14.
• Pac-12 opener against the UCLA Bruins, Sept. 28.
• Washington Huskies, Oct. 12.
• Oregon State Beavers, Nov. 2.
• Utah Utes, Nov. 23 
Rules if you're going to the game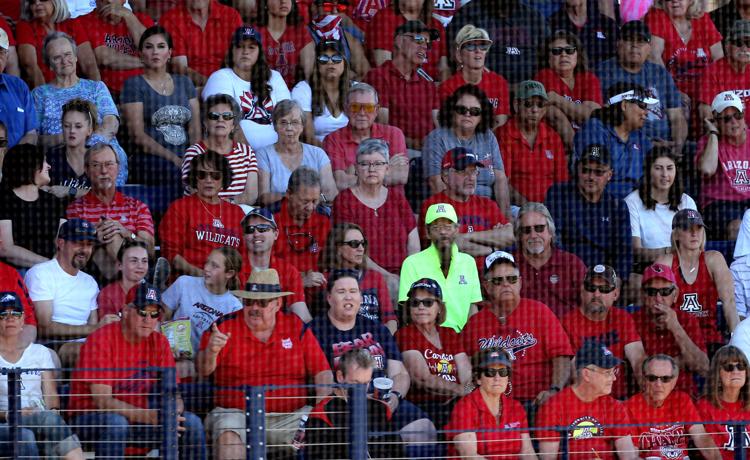 In addition to the obvious — the clear bag policy (no purses, backpacks etc.), no outside food or beverages, no weapons — you'll want to know about the new rules or emphasis on enforcing existing rules at Arizona Stadium this season:
• No artificial noisemakers; keep you spirit sticks, clackers, horns, cowbells, whistles and megaphones at home.
• No smoking in the stadium, including no e-cigarettes and vaping.
• No outside alcohol. 
• No laser devices of any kind.
Bear Down Fridays are a thing
Main Gate Square hosts the ultimate University of Arizona pep rally every Friday night before a Saturday home game.
It's a chance to show your team spirit with hundreds of other fans beginning Friday, Sept. 6.
Folks dressed in red and blue gather from 4 to 7 p.m. Fridays on University Boulevard, between North Euclid and Park avenues. Parking in the nearby Tyndall Garage is free after 4 p.m. if you get a merchant validation, and special guests on Sept. 6 including Wilbur and Wilma Wildcat kick things off at 6 with the Arizona Marching Band, UA Poms, Twilers and Guard and the cheer team on hand to root on the team.
At this Friday's event, UA head coach Kevin Sumlin will be the guest speaker and KLPX 96.1 DJ Larry Mac will emcee. On Sept. 7, the Wildcats face the Northern Arizona University Lumberjacks in a game that will welcome back several Tucson natives on the Lumberjacks roster.
Get there early Friday for the Spirit Party at 3 p.m. and join EPSN Tucson broadcasting live from Gentle Ben's, joined by the Arizona Daily Star's Wildcaster Team.
About that merchant validation: Main Gate's merchants including restaurants and retailers offer deals throughout the evening. Snag a snack and get a validation. Simple.
Bear Down Fridays will be held:
• Sept. 13, in anticipation of a non-conference matchup against Texas Tech Sept. 14.
• Sept. 27, as UA opens PAC-12 play against UCLA on Sept. 28.
• Oct. 11, as UA celebrates Family Weekend and a matchup Oct. 12 against Washington.
• Nov. 1, ahead of Homecoming and a matchup Nov. 2 against Oregon State.
• Nov. 22, as the Wildcats end the home season against Utah.
Details: maingatesquare.com/beardown
Pickup up some unique Wildcat swag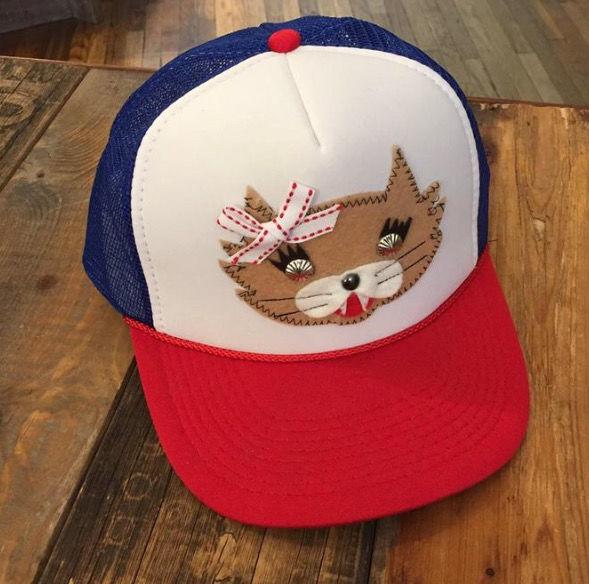 If you're a Wildcat fan, you likely own a UA shirt or two.
If you're a die-hard fan, you might even have a UA tattoo — one fan got the UA logo tattooed on the back of his head a few years ago.
If you love the Wildcats but aren't willing to devote your skin to some ink, there are countless spots around Tucson to pick up UA gear — beyond your nearest Target or Walmart.
The University of Arizona Bookstores carry all the merchandise you could ever need — apparel, accessories, and game day essentials from sunglasses and temporary tattoos to coolers, stadium seats and clear tote bags.
On the Friday before every home game, a "Bear Down" sale takes over every UA Bookstores location, making all Insignia clothing and drinkware 25% off.
The stores also release a new shirt for each game, which debut the Wednesday before the game and are available through game day.
And for even more discounts, pay attention to the big screen during the game. Flash sales are announced for non-apparel items at the UA's souvenir stands.
And if you're looking for handmade items that you won't find anywhere else — drop by local Fourth Avenue favorite Pop Cycle.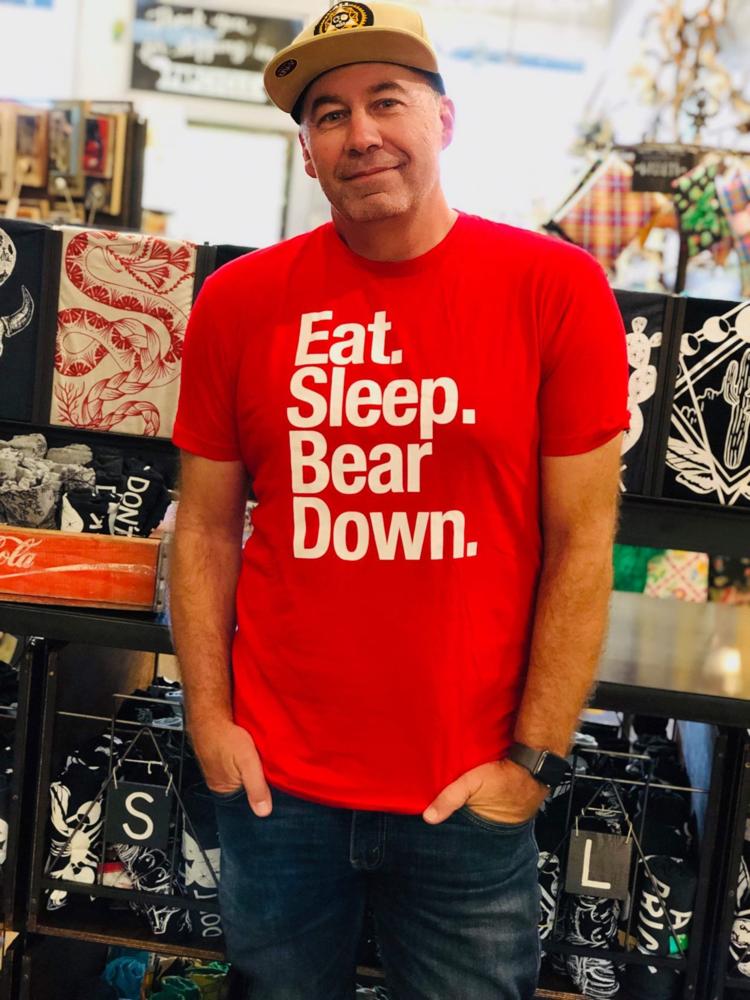 The store, 422 N. 4th Ave., may not be packed with endless shelves of Bear Down merchandise, but it does carry a locally-designed UA shirt —that appropriately says "Eat. Sleep. Bear Down." UA hats with Wilbur, Wilma and "bear down" patches are also in stock, made by local company Monster Booty Threads.
The Wilma hats sell faster than the Wilbur ones.
Jennifer Radler, who owns Monster Booty Threads and co-owns Pop Cycle, creates each patch by hand — a 20-minute-per-hat process of cutting and sewing small felt pieces together. Plus, the felt is made from recycled plastic.
Pop Cycle also sells decorative license plates, which are made by Radler's brother Levi Koenen. Some of the license plates sport UA sayings, including "los gatos," "U of A," and "bear down."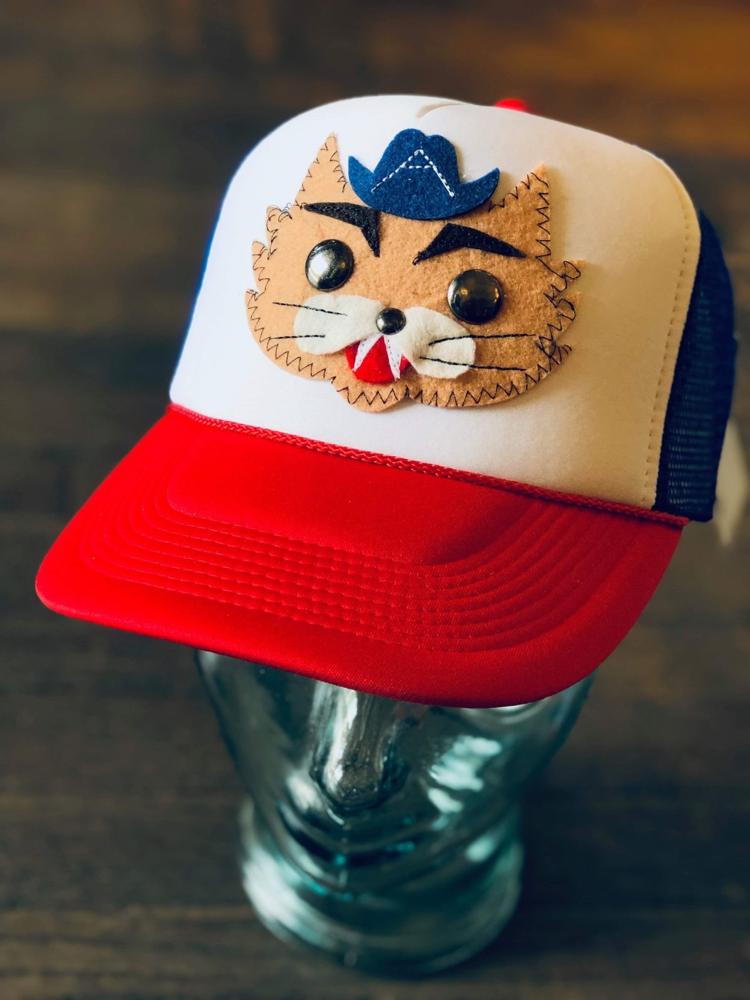 No tickets? You can still watch the game
Couldn't snag tickets to the game? Hoping to skip the bustling UA traffic? Here are a few spots to watch the games.
Sports bars are likely to broadcast the game, but if you're looking for an alternative, check out local breweries. Try both of Sentinel Peak Brewing Company's locations, 4746 E. Grant Rd. and 9155 E. Tanque Verde Rd.; Barrio Brewing Co., 800 E. 16th St.; Dillinger Brewing Company, 3895 N. Oracle Rd.; or Button Brew House, 6800 N. Camino Martin.
The Living Room Wine Café & Lounge, 2905 E. Skyline Dr., also broadcasts every UA game.
And if you want to take things a step further, book a staycation at the JW Marriott Tucson Starr Pass Resort & Spa, 3800 W. Starr Pass Blvd., or the Westin La Paloma Resort & Spa, 3800 E. Sunrise Dr. Reserve a luxury cabana and watch the Wildcats take on the Lumberjacks — all while poolside.
Starr Pass also has a poolside restaurant, open to the public, that plays the games — but you'll only be able to jump in the pool if you're a hotel guest.
Where to eat
Main Gate Square will be hopping Saturday night as the UA Wildcats take on the Northern Arizona University Lumberjacks.
Kick off is at 7:45 p.m., but fans will be showing their team spirit a lot earlier at Main Gate Square at the nearly three dozen bars and restaurants along East University Boulevard.
That's Wildcat country, the place to see and be seen in your Wildcat red and blue. Grab a cold beer at Gentle Ben's or a pizza at No Anchovies, or find a table on the patio of Frog & Firkin, preferably near one of the two big fans with misters that help blow away the blistering hot of a late summer Saturday night.
Once the game starts, the boulevard gets loud with fans who opt to avoid the crowds at Arizona Stadium cheering on the team.
Depending on the final score, University springs back to life after the game as fans from the stadium swing into those restaurants and bars for a late-night bite or a nightcap. Most of the bars stay open until 2 a.m.; some restaurants also have extended hours on game nights.
University is an international culinary hub with restaurants serving Mexican food, sushi, Greek, Indian, Asian and Middle Eastern cuisine.
One of the newest culinary kids on the block marries Cajun and Asian.
The Blind Pig, which opened two weeks ago in the space at 943 E. University Suite 115 that was home for seven years to The Fix mac-and-cheese restaurant, fuses Cajun and Asian flavors in chef/owner Brian Hsu's take on barbecue that calls for slow-braising ribs, chicken, brisket and pork. Hsu, who curated the menu with his son Brandon, features the meats in sandwiches, entrees and street tacos.
This is the Hsu family's first restaurant and Brian Hsu said the idea came when son Brandon first arrived on the UA campus in 2015. The elder Hsu had cooked when he was a teen growing up in Taiwan, but has spent the past 30 years running a used car dealership and a trade company specializing in computer components in California, where his wife and teen daughter still live. His wife runs the family's California businesses and Hsu and his sons run the restaurant — Brandon runs the front of house and his twin Jonathan, also a UA student, handles the finances including payroll.
Brandon Hsu said the restaurant is a dream come true for his father, but it's also a chance for the family to share their adventurous culinary spirit with others.
Growing up, "we would just grab a standard recipe like a hamburger and we would see what we could do to add different flavors and create something unique," Hsu said.
The Blind Pig's meats are dry-rubbed with a blend of Cajun and Chinese spices and slow-braised in a house broth. Hsu said the meat is more flavorful throughout and has rich hickory smoke notes from the seasoning.
Main Gate will add one more new restaurant to its roster next week when Bacio Italiano opens in the 2,800-square-foot space next to The Blind Pig. Ironically, that space had been home to Main Gate's lone barbecue restaurant, Red's Smokehouse & Tap Room, which closed in spring 2018 following an overnight fire in the smoker.
Many of the restaurants and most of the bars on University are open late on Fridays and Saturdays. For a complete list, visit maingatesquare.com/dining.
Tailgating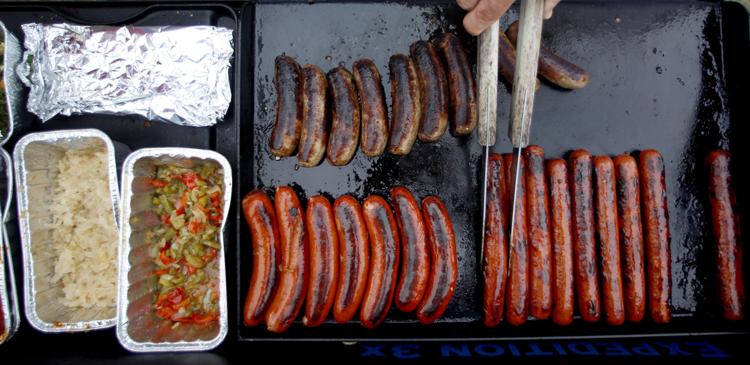 Tucson chef Ryan Clark has a challenge for all you tailgate chefs: 
Beginning with the UA-NAU game on Saturday, Sept. 7, and at every home game through the season, Ryan will be on the hunt for the best tailgate dish of the day. 
Clark will stroll around the designated tailgate area on the UA Mall and will taste one dish from each contestant who preregisters at casinodelsol.com/solbowl as he looks for the weekly Casino del Sol Bowl champion. Winners each week will receive a free apron and $500 in gift cards and earn the title of Sol Bowl Tailgate Champion of the Week.
To enter, you need to be at least 21 year old and have a tailgate ticket and ticket to that week's game.
Clark, executive chef of Casino del Sol Resort and Casino, also will post weekly tailgate recipe videos at casinodelsol.com/solbowl.