Seven Arizonans were among the 1,177 men who died on the USS Arizona in the Japanese attack on Pearl Harbor 77 years ago.
The stories of three of those Arizonans have been told — so far, as research continues — on the Facebook page of the USS Arizona Mall Memorial at the University of Arizona.
They are reprinted here, courtesy of researchers and writers Bobbie Jo Buel, former editor of the Arizona Daily Star, and Mike Anderson, a Bisbee historian.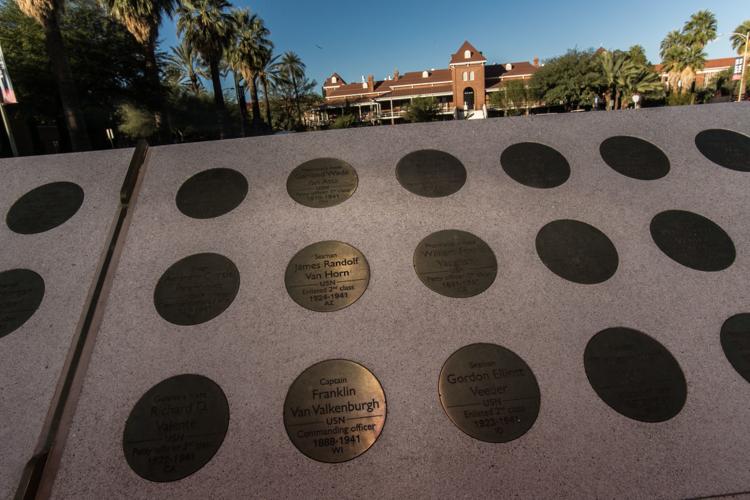 "Nothing Would hold him"
The only Tucsonan on the Arizona was teenager James Randolf Van Horn.
Van Horn quit Tucson High after his sophomore year to join the Navy. Just six months later, at age 17, he died on the Arizona.
His mother, Bonnie Cope, said he never talked about the Navy until the spring of 1941 when Rear Adm. Isaac Kidd gave a recruiting talk at Tucson High.
"Then nothing would hold him. He was inspired. He wanted to go," she told the Tucson Daily Citizen in 1958.
Van Horn could have joined other ships but chose the Arizona because it represented his home state. He enlisted in June and was on the ship by August.
Van Horn's hero, Adm. Kidd, also died on the Arizona. He'd been billeted to the Arizona because it was the flagship of Battleship Division One, which Kidd commanded.
The Navy told Van Horn's mother in December 1941 that he was missing and in February 1942 that he was dead.
But "I never gave up hope as long as the war lasted," she said years later. Only then did she believe he was truly gone.
"The way he was supposed to go"
Harvey Leroy Skeen was 8 when his father, William, a blacksmith, died of chronic myocarditis, leaving his mother with six children in the Central Arizona mining town of Miami.
Lura Agatha Holden Skeen supported the family by cleaning houses, painting, cooking and sewing. She also worked for the Works Progress Administration, a Depression-era federal jobs program.
She and her two oldest sons — Edgar and Harvey Leroy — built their house, which they finished in 1938. "We'd work on the house in the evenings," she told a reporter for the Arizona Silver Belt many years later. "We moved in when the floor was down and the roof on. There were no windows or doors, but we moved in because the lumber was getting stolen." She'd purchased the wood on credit and proudly repaid the debt over time.
Harvey Leroy, born Jan. 26, 1924, graduated from high school in nearby Globe in 1941 and enlisted in the Navy on June 13 of that year.
He was a seaman 2nd class when he was killed on the USS Arizona during the Japanese attack on Pearl Harbor on Dec. 7, 1941.
"It was the way he was supposed to go," his mother recalled 37 years later. "It was the good Lord's will."
A memorial service was held in April 1942 at First Baptist Church in Miami.
Sacrifice for his adopted country
James Joseph Murphy was born in Whitehaven, Cumberland, England, on Aug. 18, 1920, the son of Richard Murphy and Mary Jackson Murphy. He was the fraternal twin of his sister Marie.
The Murphys came to the U.S. aboard the SS Leviathan on Nov. 3, 1923, and found their way to Bisbee, Arizona, on March 1, 1925, where Richard found employment as a watchman with the Copper Queen Branch of the Phelps-Dodge Mining Corp.
Although Richard and Mary were born in England, they were Irish in culture and devout Roman Catholics by faith.
James and his family lived in Old Bisbee at 303 Oak Ave. He and his sister attended the nearby Loreto Catholic School, next to St. Patrick's Church where the family worshipped. James dropped out of Loreto after his first year of high school. He found work as a boilermaker's helper for Phelps-Dodge. James, his parents and sister Marie became naturalized citizens in 1936.
In January 1941 a Navy recruiter visited Bisbee to sign up men to serve on the state's namesake battleship. James joined on Jan. 31, 1941. He was assigned to the USS Arizona (BB-39), a Pennsylvania-class battleship assigned to the U.S. Pacific Fleet and based at Pearl Harbor on the island of Oahu in the Territory of Hawaii.
James was on board the Arizona on Dec. 7, 1941, when units of the imperial Japanese navy flying off six aircraft carriers attacked American air and naval installations. He was a seaman 1st class when he was killed in the attack.
On Sept. 7, 1943, the patrol frigate USS Bisbee (PF-46) was launched at the Consolidated Steel Shipyard at Los Angeles. Christening her that day was Mary Jackson Murphy.
The Bisbee, named after James Joseph Murphy's hometown, received two battle stars for her combat service during World War II and three more during the Korean War. She served in three navies — the U.S., Soviet and Colombian — before being scrapped in 1962.
VFW Post 836 in Bisbee was named in honor of James Joseph Murphy.
In November 2016, the Bisbee Unified School District conferred an honorary high school diploma to Murphy, in recognition of his service to and sacrifice for his adopted country.
The other Arizonans who died at Pearl Harbor on the state's namesake ship were George Allan Bertie of Phoenix, George Sanford Hollowell of Phoenix, Luis Edward Cremeens of Yuma and James William Horrocks of Nogales, according to the USS Arizona Mall Memorial research.