Looking for a science project to get involved in this summer? Tucson hosts many citizen science projects, from looking at the night sky to making plant observations to watching for bats visiting backyard hummingbird feeders.
Most of the projects require varying levels of time commitments and the ability to use online reporting tools to record data.
Here are five projects looking for citizen scientists:
Up to once a day: Hummingbird feeder monitoring study
If you wake up in the morning to an empty hummingbird feeder, you may have been visited by lesser long-nosed bats.
The town of Marana, the Arizona Game and Fish Department and the University of Arizona are trying to monitor the foraging patterns of the bat, which was recently taken off the endangered species list.
Joel Diamond, regional supervisor for Game and Fish, said the bats are a near-tropical migrant species, so they come from central and southern Mexico in June and stay until October. The bats are nectarivores, feeding on the nectar of Saguaro and agave — and hummingbird feeders.
"Hummingbirds will come in small groups and feed in small groups on and off, then defend the feeder. But with bats, they'll just take turns hitting that feeder until it's empty," Diamond said.
If you notice bats are using your feeder, Diamond said you can fill out an online report at www.maranaaz.gov/bats/ to help collect data on the bats.
"They're highly mobile. These bats are traveling 100 kilometers (62 miles) one way per night to forage," Diamond said. "They're built like a little albatross, so their wings are made to fly long distances, and they're also very cute."
The project is also trying to collect pictures of the bats for identification. The most identifiable features of lesser long-nosed bats are their legs, because they don't have a tail membrane between their back legs like other bats.
An hour after sunset is the best time to see the bats, Diamond said.
"These bats are long-lived and very charismatic. Some bat species can live into their 40s and they have a low reproductive rate, one offspring per year, so if there's a disturbance it can really hit their populations," Diamond said. "Be nice to your bats."
Once a day: Rainlog
Monsoon rains are torrential and can cause flash floods in certain areas, while at the same time leaving other areas dry. Rainlog is a rainfall monitoring program that works to get higher resolution of those differences in precipitation patterns.
Rainlog is a very simple backyard rainfall monitoring program, said Michael Crimmins, a University of Arizona professor of climate science and a Rainlog co-creator. All you need is a rain gauge and an account at rainlog.org.
"It's pretty straightforward," Crimmins said. "You simply have a rain gauge that you have access to that you can read, preferably on a daily basis, in the morning. It's going to give us an indication of how much it rained the previous day."
People participate across Arizona, but mostly in the Tucson and Phoenix area. This helps map differences in rainfall from neighborhood to neighborhood, Crimmins said.
"It's a really great effort, I think people enjoy putting their data in, they enjoy seeing what's going on in their neighborhood, what's going on in their town," Crimmins said.
The data can be used for drought monitoring, and a companion service, Rainmapper, can notify residents via email when their neighbors report rainfall.
"It's pretty cool that there are people who winter here and have homes and then go back to Chicago or the Midwest and then they'll get reports or what's going on in Tucson at their rental." Crimmins said.
To get involved, or to just see the data, visit the rainlog.org website.
Once a week:
Nature's Notebook
If you don't feel like going far to participate in citizen science, Nature's Notebook asks you to look at your own backyard.
LoriAnne Barnett, education coordinator for the USA National Phenology Network's Nature's Notebook program, said they ask citizens to pick a plant or animal and record observations.
"If they have one plant in their yard, they can just watch that one plant, or record observations on that one plant, or if they have many plants that are on our list in their yard then they can look at as many plants as they have time for," Barnett said. "We usually ask people to make observations about once a week, and maybe a little bit more frequently during monsoon season."
Observations can be of changes in leaves, the fruits and the flowers, or more detailed. Nature's Notebook provides information on what to look for in specific species on their website, www.usanpn.org/natures_notebook.
"Here in Tucson, a lot of our plants are driven to go through one of their next phases during a rainy season, so when we have the monsoons, a lot of plants will get new leaves or they'll bloom in response to the rain we'll get," Barnett said.
The data is available to anybody and could be used by researchers and land managers to better understand how species are responding to climate change, Barnett said.
"We really like people to observe for more than one year, because then they can record the different phenophases, or the different life cycles events that happen, and that creates kind of a permanent record of what's happening," Barnett said.
Barnett said to get involved, just go to the website, create an observation account and start logging information.
10 days per month: Globe at Night
Astronomy enthusiasts could join Globe at Night, which for the last 12 years has asked citizens to record the brightness of the night sky.
Constance Walker, a scientist at the National Optical Astronomy Observatory, said citizen science can be rewarding, and is an inclusive way to help the public understand what's causing the disappearance of the starry night sky and what some solutions might be.
Participants are asked to match the appearance of a specific constellation with seven star maps of progressively fainter stars on 10 moonless nights a month, and then submit their choice of the best-fitting map on the website.
Walker said there have been over 175,000 observations from 180 countries, as the website supports 28 languages. All data collected is open to the public and researchers, and Globe at Night has worked with the National Park Service and the National Geographic BioBlitz.
"Globe at Night has provided the public with a variety of ways to be better stewards in minimizing the disappearance of our potentially starry night sky," Walker said.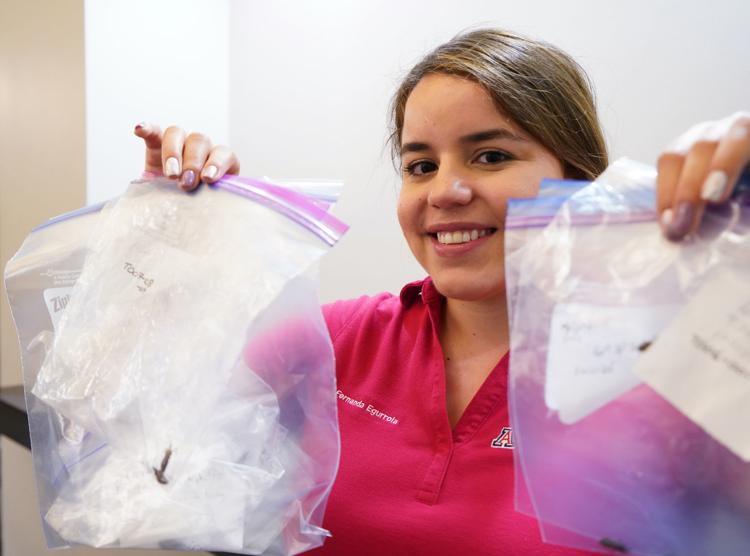 When you see them: Kissing bugs
Kissing bugs, found in the Southwest as well as Latin and Central America, feed at night and they feed on blood.
Researchers in the UA's College of Medicine, departments of medicine and immunobiology, are asking people to take part in a citizen science program to learn more about the insects here in Arizona.
Norman Beatty, principal investigator on the project, said the program is focused on recruiting people who have been exposed to kissing bugs, whether they've been bitten or just have seen the bugs around their home. Those participants are asked to collect bugs they see, using a glove or plastic bag, and fill out surveys.
"That entails having them collect the bug, safely, and we have all the directions on our website, as well as taking some surveys to help us review the bite itself and the characteristics of the bite, as well as some environmental factors to do with their exposure," Beatty said. "Lastly, we would be testing people for Chagas disease."
Chagas disease is a parasitic disease some kissing bugs carry that can be transmitted to humans when bitten or by touching, which is why it's vital to not touch kissing bugs when collecting them. Chagas disease can become a chronic disease and it takes decades to manifest the chronic phases, which primarily attack the heart, Beatty said.
"There's a lot of new research out there suggesting that if we detect Chagas disease earlier in life, we may be able to prevent the chronic changes that you would have," Beatty said.
Nicole Bradley, a co-investigator, said all the bugs they receive are dissected and then tested for the parasite trypanosoma.
"We use molecular detection to be able to determine whether or not a bug was positive for carrying the parasite or not," Bradley said. "This will help us determine a prevalence rate within Tucson and in other surrounding areas."
As summer is "kissing bug season," Beatty said the project is actively enrolling participants.
"We're trying to better understand why these kissing bugs are found in close proximity to human dwellings," Beatty said. "In other parts of the country, in Latin America and South America, there are certain species of the kissing bug that infest human dwellings, and we're suspicious that this might be happening here in Tucson."
"We're trying to better understand why these kissing bugs are found in close proximity to human dwellings. In other parts of the country, in Latin America and South America, there are certain species of the kissing bug that infest human dwellings, and we're suspicious that this might be happening here in Tucson." Norman Beatty, principal investigator in the UA College of Medicine's kissing bug project