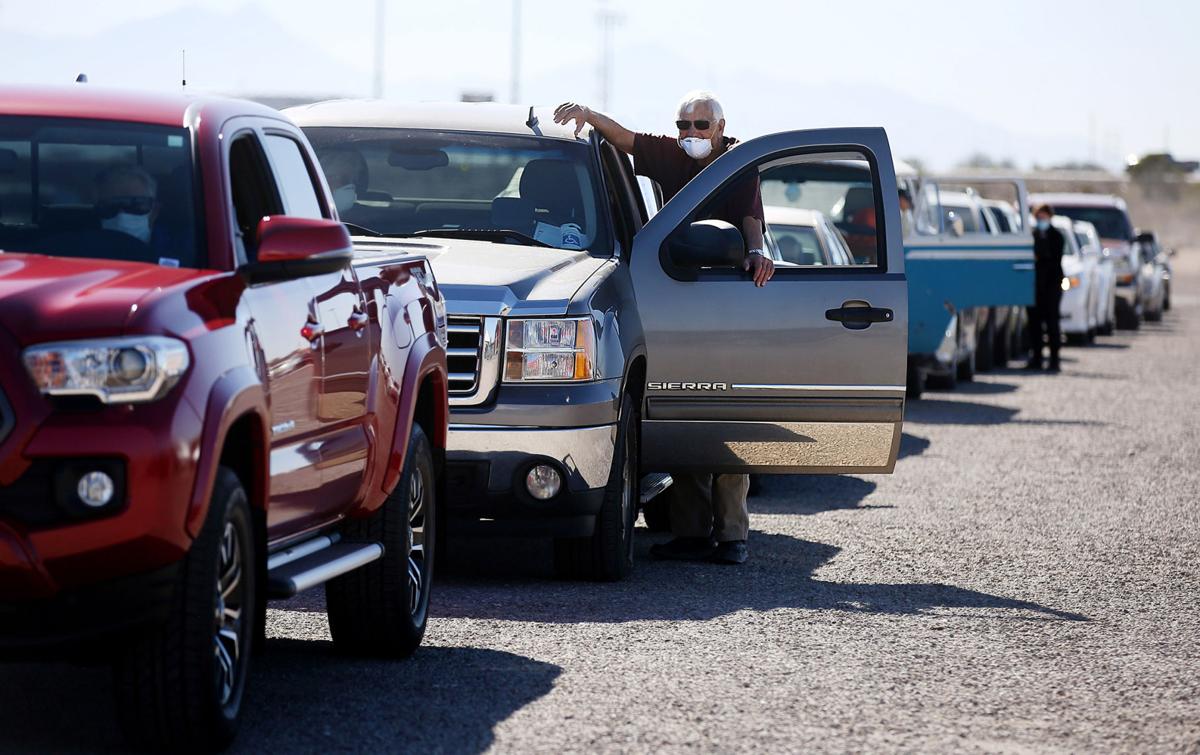 Pima County is planning to use the Rillito Racetrack as its largest site for dispensing COVID-19 vaccination shots but there's not a starting date as the county waits to hear how much help it can expect from the state.
A second state-operated site is scheduled to open Monday, Feb. 1 at Phoenix Municipal Stadium, although it will not be open 24 hours per day.
Some residents from Pima and other Southern Arizona counties have traveled to the state site rather than wait for an appointment where they live. And several people have emailed the Arizona Daily Star asking why Pima County, with the second-largest population in the state, doesn't have a 24-hour site here.
It's something the county hopes to do now, if it can get enough vaccine allocated for it, and enough volunteers and workers to staff it.
"This location is ideally suited for a six-lane, drive-thru vaccination facility with ample parking and long approach and departure driveways," County Administrator Chuck Huckelberry wrote in a recent letter to Arizona's Department of Health Services director, Cara Christ. "We estimate this site could provide as many as 5,000 vaccinations per day if operated 24/7."
Christ said during a news conference Jan. 22, that the state offered Pima County help with setting up a state point of distribution, or POD, and the county declined, but Huckelberry wrote in his letter that that's not true.
"I checked with both Deputy County Administrator and Chief Medical Officer Dr. Francisco Garcia and Health Department Director Dr. Theresa Cullen on this matter," Huckleberry wrote to Christ on Jan. 26. "They, as well as I, do not recall any conversation with a state official declining assistance in setting up a future state-operated POD."
Pima County will hit 100,000 vaccinations in the next few days, Cullen said, and, if there is enough vaccine, is on target to deliver up to 450,000 vaccines during these first three months of its immunization plan.
"We are prepping Rillito with the expectation the state will accept our offer to have it operate a vaccination center there," said Mark Evans, communications director for the county. "We will have a ready-to-go site plan and the infrastructure to operate a center there, including the IT infrastructure, such as robust Wi-Fi."
Huckleberry said as the county works through the current phase, which includes those 75 years of age and older, teachers, childcare workers and protective service workers, "we will need additional vaccination capacity to quickly accommodate those 65 years of age and older as well as those remaining qualified persons."
He told Christ that Pima County would "appreciate assistance in setting up a sixth center at Rillito Park at the current time."
In an email exchange provided through a public records request to the Arizona Daily Star, Jessica Rigler, assistant director for the state's public health preparedness through ADHS, wrote to Cullen that if the state did decide to put a POD in Pima County, they'd let the county know: "I let (Cullen) know this sounds great and that if we were to initiate POD planning in Pima, we would let her know."
When the state opened its first drive-thru site Jan. 11, Cullen had asked if the state was going to do the same thing here.
"Dr. Cullen, in her inquiry, was alerting the state to the fact that we were in the process of standing up our own vaccine distribution system here and she wanted to find out whether the state was planning to do something similar to the stadium POD in Pima County because (the state) thought the county didn't have a plan to vaccinate enough people quickly," Evans said.
Cullen, he said, let her know Pima County's plan.
"Dr. Cullen's email appears to have been misinterpreted by the state that we didn't want the state setting up a POD here," he said. "That's not correct. We are happy to have all the assistance the state wants to offer."
Steve Elliott, spokesman for the state's DHS, said when more vaccine becomes available, this will be a consideration.
"We value our excellent working relationship with Pima County and applaud the county's vaccination efforts to date," he said.
"We look forward to furthering this collaboration when available vaccine enables the state to expand its nationally recognized model for mass vaccination beyond the Phoenix area to include Pima County and other places around the state where such operations can step up the pace of administering these life-saving vaccines."