Funeral services have been set for a Nogales, Arizona, police officer who was shot and killed by a carjacking suspect Friday afternoon.
The Nogales Police Department said a public viewing for Officer Jesus Cordova will be held from 6:30 p.m. to 8:30 p.m. Friday, May 4, at Nogales High School, 1905 N. Apache Blvd.
A funeral Mass will be celebrated at 10 a.m. Saturday, May 5, at Nogales High.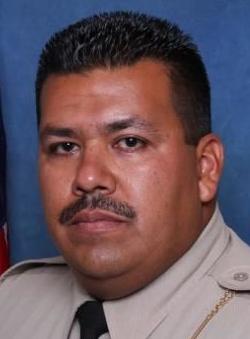 On Monday, hundreds of law enforcement officers escorted the hearse carrying Cordova's body from the Pima County Office of Medical Examiner back to Nogales.
Cordova was the first Nogales police officer to be shot and killed in 130 years, since Special Officer Hank Frost was killed in 1888.
The police department said Cordova responded at 2:41 p.m. Friday to a carjacking report in the 2900 block of North Grand Avenue. The officer located a vehicle driving away from the scene and initiated a traffic stop.
The driver got out of his vehicle and shot Cordova at Grand and West Mesa Verde Drive, said Officer Oscar Mesta, a department spokesman.
The man then carjacked another vehicle from the scene and left. Moments later, the man carjacked a third vehicle in the area of North Frank Reed Road.
The suspect was located in the area of West Mariposa Road and Frank Reed Road. He fled from law enforcement officers again and then got out of the vehicle and ran away. He was located in a trailer park, where he was eventually taken into custody.
The arrested suspect is David Ernesto Murillo, 28, of Tempe, the police department said.
Gov. Doug Ducey has ordered flags at all state buildings be lowered to half-staff on Monday, April 30, in honor of the fallen officer.
"My prayers and condolences go out to Officer Cordova's family and loved ones and the entire Nogales community," Ducey said in a written statement.
"This tragedy is a solemn reminder of the sacrifices that police officers make daily to keep our communities safe."