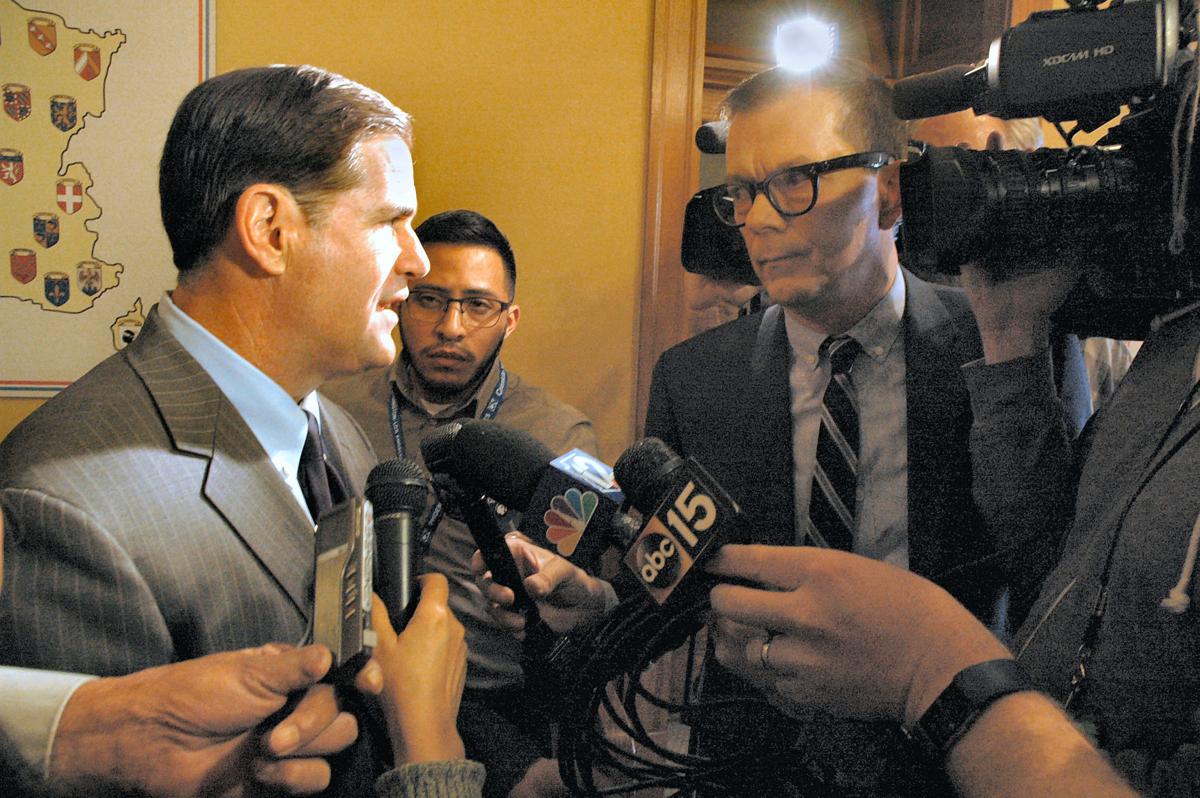 PHOENIX — A gun safety group formed by former U.S. Rep. Gabrielle Giffords is criticizing a school safety plan proposed by Gov. Doug Ducey as insufficient to protect the public against mass shootings.
Peter Ambler, the organization's executive director, said the proposal to allow courts to issue Severe Threat Orders of Protection "creates an unreasonably long, cumbersome and loophole-ridden process" for suspending the access that dangerous people have to guns.
"This plan does not do enough to ensure that courts and concerned family and community members can act — and act quickly — to avert shootings, suicides and other tragedies," Ambler said. He said there would still need to be two full-blown court hearings before a judge could suspend someone's access to guns.
The objections come as Ducey is trying to cobble together sufficient votes for his school safety plan.
That effort, however, is proving difficult. In fact a scheduled Senate hearing Monday on SB 1519 was canceled Friday as efforts are underway to make changes to find sufficient votes for approval.
The plan includes things like additional school resource officers and money for counseling.
But the heart of the plan is the STOP orders. And what is becoming apparent is that while groups like Giffords find it too lax, others want to make sure there are sufficient protections for individuals before they can be ordered detained by a judge, made to submit to a mental evaluation and, potentially, lose their ability to possess firearms, at least temporarily.
But Rep. Eddie Farnsworth, R-Gilbert, who chairs the House Judiciary Committee, derided the opposition of the group formed by Giffords, who was severely wounded in a 2011 mass shooting in Tucson that left six people dead.
"I understand that they want to take guns," he said.
"They can choose to advocate for taking guns without due process," he said. "I don't think that's realistic."
What's causing all the debate are questions about the process that would allow family members, significant others and school administrators to petition a court seeking to have someone evaluated. Getting that initial evaluation requires evidence of things like "a pattern of threats to cause death or serious physical injury," a recent credible threat to kill or injure someone, cruel mistreatment of animals, and a conviction of a violent crime.
Based on that, a judge can order police to pick up the person for an evaluation and take any guns in plain sight. Then, after that evaluation, there's another court hearing to determine if that denial of access to weapons should be extended.
Farnsworth said there should be significant hurdles before all that can happen.
"We're not talking about just taking people's guns," he said.
"We're talking about incarcerating them for the purpose of a psychological evaluation against their will, potentially infringing upon their First Amendment rights, and infringing heavily upon their Second Amendment rights."
Ambler, however, sees the procedures differently.
"To reach just the first stage in the STOP process, a mandatory mental or behavioral health evaluation, the court would have to rule twice that there was 'clear and convincing evidence' of the person's dangerousness," he said. That standard, Ambler said, is the same that's needed to lock someone up in a mental hospital.
And Ambler said the STOP process applies only if a person is dangerous because of mental or behavioral health issues, or because of substance abuse.
"It is not clear that this would allow Arizona courts to act, for instance, to temporarily disarm a person who has made credible threats of violence motivated by hate or bigotry," he said.
What's behind the STOP orders is the belief that many of the mass shootings, including those at school, were committed by people who were known to have behavioral or mental health issues.
That includes not only Nikolas Cruz who gunned down 17 at a Florida high school but also Jared Loughner who killed six and seriously wounded Giffords.
As crafted, a court would have to conclude a person is a danger to self or others before being detained and losing access to guns.
Dave Kopp, lobbyist for the Arizona Citizens Defense League, said he worries that gives courts too much wiggle room. A more appropriate standard, he said, would be a requirement that a court find the person is "at significant risk of causing death or serious physical injury."