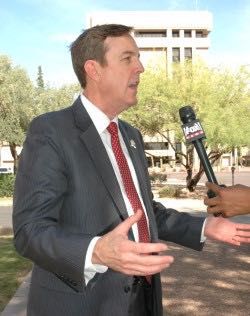 PHOENIX — Former Secretary of State Ken Bennett says he will challenge Gov. Doug Ducey in the Republican primary, focusing on his handling of education funding issues.
Bennett announced Saturday he wants to make another bid for the job he failed to get four years ago when he came in a distant fourth in the six-way GOP primary. Ducey won that race, gathering 37 percent of the vote.
But Bennett thinks that Ducey is vulnerable this year, noting that 63 percent of Republicans who voted wanted someone else in 2014.
Ducey did not return a message seeking comment on his new primary foe. But J.P. Twist, the governor's political adviser, made light of questions about whether Bennett is a potential threat to his client.
"It wouldn't be an election year without Ken running for something," he said, a reference to the fact that Bennett, after losing the 2014 gubernatorial primary, made an unsuccessful run for Congress in 2016. He lost that primary race to Pinal County Sheriff Paul Babeu who, in turn, was defeated by Democrat Tom O'Halleran in the general election.
Bennett is basing much of his campaign on his contention that Ducey has mishandled the issue of state aid to education and teacher pay. The state is spending less now on a per-student basis than it was in 2009, even before inflation is factored in.
Ducey, after initially proposing a 1 percent raise for teacher salaries in January, more recently offered to boost that to 9 percent this year with an additional 5 percent the next year and 5 percent more the year after that.
Bennett, whose political history includes having been president of the state Board of Education, said he believes teachers deserve the kind of money the governor is proposing.
But he doubts Ducey's claim that the approximately $670 million needed by the 2020-2021 school year can be found simply by counting on strong economic growth.
The more realistic alternative, said Bennett, is to generate the money by broadening the state sales tax, imposing the levy on goods and services that are now exempt.
The way Bennett sees it, Arizona is far too dependent on income taxes. Moreover, he said those levies are paid entirely by state residents.
But sales taxes, he said, are paid by anyone who buys something in Arizona. And he thinks a third or more of sales taxes are paid by winter visitors and other tourists.
The most recent report from the Arizona Department of Revenue said transactions that are now exempt from the state sales tax would generate more than $12 billion — or more than twice as much as the state now collects from the levy.
Bennett conceded that taxing some of those would likely prove to be politically unpalatable.
For example, the state reports it would collect more than $810 million if it were to tax care offered at hospitals, with another $454 million if patients paid a tax when they visit a doctor and more than $641 million lost because taxes are not paid on prescription drugs and medical oxygen.
The state also foregoes nearly $360 million by not taxing groceries for home consumption.
But Bennett said there are services that could be taxed with minimal financial impact.
Consider the cost of having a windshield replaced — a business his family is in — which he said runs about $200. But the state tax is levied only on the half that is the cost of the glass; the services are tax-exempt. Making the service half-taxable, Bennett said, would mean a minimal impact on a customer but could generate needed revenues.
More significant, he said, is his belief that a broader tax base would prove less volatile to hiccups in the economy.
"We had about a 10 percent recession," he said of what happened beginning in 2007, with a similar drop in personal income and gross domestic product. "But the revenue coming into the state went from $9.5 billion to $6.2 billion over about a three-year period."
And then there's that question of making visitors pay their fair share.
He pointed out that Ducey last year signed legislation that says tourists who buy fine art in Arizona and pay to have it shipped home don't pay the 5.6 percent sales tax on their purchases.
"So if you're an Arizona resident and you go to a gallery in Sedona or Scottsdale or Tucson or wherever and you buy a piece of art, you pay full sales tax," he said. But an Ohio resident does not.
Bennett also parts ways with the governor on the issue of pay for educators, beyond how to pay for the increase.
He opposes an across-the-board pay increase, saying that simply freezes in inequities where some districts already can afford to pay teachers more than others. Bennett said a big chunk of the dollars should go toward improving the salaries of starting teachers, whose paychecks can be in the $30,000 range.
As in 2014, Bennett intends to run with public financing, something he said will provide him with about $1 million if he gets the required number of $5 donations to prove a base of public support. That is likely to leave him with far less than Ducey can raise as an incumbent, plus whatever outside groups spend on the governor's behalf.
But he said the campaign dollars should go farther this time, at least in part because he has only one primary foe and because, with just a few months until the primary, he does not need to spread it out.
Former Gov. Jan Brewer, a Republican who named Bennett secretary of state in 2009 when she was elevated to governor, told Capitol Media Services Saturday she will not get into the political fray.
But Brewer also has made no secret that she questions some of the decisions Ducey has made since taking office, including the claim of being able to finance teacher pay raises based on projections of strong revenue growth.
"It's going to be very, very difficult without new revenues," she said.
Bennett began his political career in 1985 on the Prescott City Council. He later was named to the state Board of Education until elected to the Arizona Senate in 1998, eventually serving as president of that chamber.
In 2009, Democratic Gov. Janet Napolitano quit to take a job in the Obama administration. That elevated Brewer, then secretary of state, to the top spot; she, in turn, selected Bennett as her successor.
He won a full four-year term of his own in 2010.
Two years later, using his position as the state's chief elections officer, Bennett interjected himself into the presidential race, demanding proof that President Obama was, in fact, born in this country as a precondition of putting his name on the ballot in Arizona. Bennett said he was simply following up on constituent demands and later backed off after getting what he said was sufficient documentation from Hawaii.