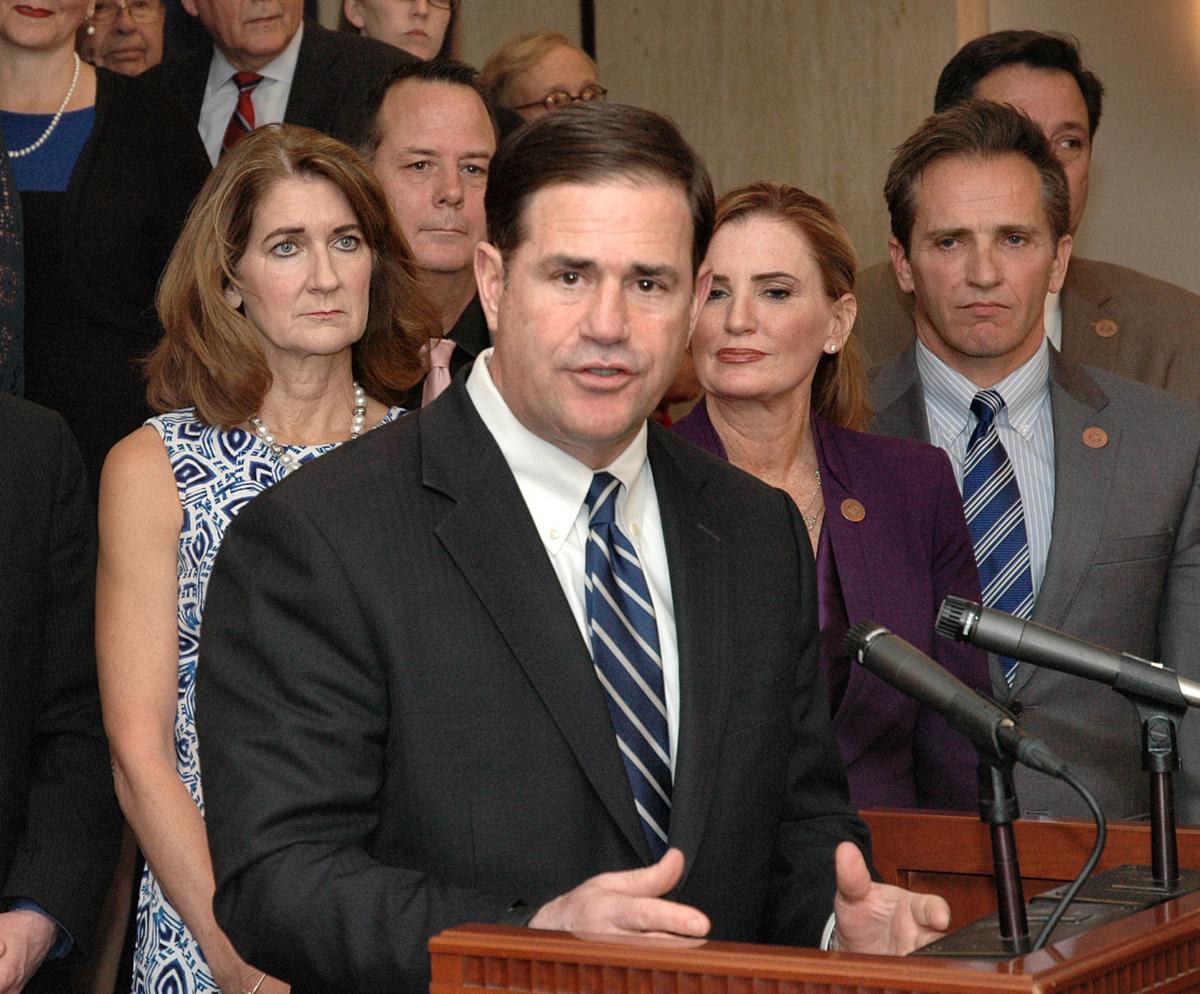 Already fighting with educators over his pay-hike plan, Gov. Doug Ducey opened a second front Friday, this time attacking members of his own Republican Party.
In a surprise move, the governor vetoed legislation crafted and advanced by House Republicans. Subjects range from the regulation of electric bicycles and public meetings to warning parents about the dangers of interscholastic sports.
But Ducey made it clear that the merits of each measure were irrelevant.
"Please send me a budget that gives teachers a 20 percent pay raise by 2020 and restores additional (school district) assistance," he wrote in identical veto messages.
"Our teachers have earned this raise," the governor said. "It's time to get it done."
The move caught GOP leaders by surprise.
"We try real hard to send up good policy bills," House Majority Leader John Allen told Capitol Media Services. "These were vetoed because of politics, not policy."
Ducey's surprise move comes less than 24 hours after leaders of Arizona Educators United and the Arizona Education Association said their members will strike on Thursday unless their demands are met.
That includes a 20 percent pay hike. But they contend the governor's week-old offer to do just that falls short, and not just because it actually is only 19 percent over three years.
A system of future raises.
No new tax cuts until state funding per student reaches the national average.
Overall funding restored to 2008 levels.
Competitive pay for all education professionals, meaning support staff like counselors, reading specialists, lunchroom aides and custodians who are not included in Ducey's plan.
And they say the governor's plan to finance just the teacher-pay plan largely with future revenues is not financially realistic, based on disputed assumptions of economic growth.
The educators are not alone in that belief. Legislative budget staffers say they believe Ducey's proposal, if enacted, would leave the state about $260 million in the red by 2020.
Allen said many GOP lawmakers are in accord with Ducey's goal of a sharp increase in teacher salaries. And he said they do not necessarily disagree with his 20 percent proposal, a figure that still would leave teacher pay in Arizona below the national average.
But armed with the figures by their own budget analysts, they are weighing their own funding alternatives.
And that, Allen said, will take time — time that Ducey is unwilling to provide, especially with the prospect of tens of thousands of teachers walking off the job Thursday morning and the national media coverage that would come with a strike in the largest state to date.
One option being considered is diverting money that Ducey wants restored to the "district additional assistance" fund to instead cover teacher salaries.
Lawmakers and even Ducey himself drained that fund years ago in their effort to balance the budget. That sent schools scurrying to find other sources of revenue for the things that account is supposed to provide, like textbooks, computers, buses and even some repairs.
Ducey has proposed restoring $100 million in funding this year, eventually bringing the aid back to the full $371 million a year. And he considers tapping those dollars for teacher pay a nonstarter.
In a salvo fired off earlier Friday, gubernatorial press aide Daniel Scarpinato called any such plan a "raid" on the funds that his boss finds "very troubling." And he termed any move to use those dollars a "shell game."
Hours later came Ducey's vetoes.
The governor has now sent the message that the only plan he is willing to adopt is his own. He not only is unwilling to consider alternative funding proposals being considered by GOP lawmakers but has decided he's also not willing to negotiate with the leaders of the two education groups who have called for the strike.
"He's willing to meet with anyone who's interested in solutions," Scarpinato said.
But that list of "anyone" does not include the leaders of the AEA and AEU, the organizations that announced Thursday they have a "clear mandate" for a walkout after 78 percent of the 57,000 teachers and support staff who voted cast ballots in favor of a strike.
"He's willing to sit down with people who want to actually solve problems and get a raise to teachers," Scarpinato said.
"That's who he's met with, and that's who he'll continue to meet with."
Scarpinato said educators "have had a seat at the table."
"The governor has met with superintendents from districts all over the state," he said. "They told him teachers need to see a plan."
Ducey also has met with the Arizona School Boards Association and other groups that support his teacher-pay proposal and his method of financing it. And the governor has met with individual groups of teachers, some of whom are active in the #RedForEd movement.
"The governor has been listening," Scarpinato said.
Why, then, not meet with the groups that actually organized the vote for a walkout?
"We're focused on getting this passed," he said.
But there's also a political component to Ducey's snub of the AEA in particular: It has endorsed Democrat David Garcia for governor in this year's election.
AEA President Joe Thomas acknowledged the political slap at the incumbent governor. But he said that's no reason for Ducey to refuse to sit down and talk.
"I think he's governor until the election," Thomas said, noting that the budget for the coming fiscal year that begins July 1 is being negotiated now.
"Let's see if he can do the job he was voted in to do," Thomas said. "Or I know what will happen in November."
The fact this is an election year has not been lost on those involved.
Even before Ducey released his teacher-pay proposal, a group financed by business allies ran TV commercials touting all that the governor has done for education since being elected.
And Thursday, the Republican Governors Association put up a commercial of its own, with video from the governor's press conference last week announcing the pay plan and praising Ducey for "strengthening our public schools without raising taxes."
Association spokesman Jon Thompson said the 30-second ad will be running statewide on broadcast TV and cable outlets.
He declined to say how much the organization is spending other than calling the media buy "significant."
By law, the group's spending cannot be coordinated with Ducey's own reelection campaign.
Get local news delivered to your inbox!
Subscribe to our Daily Headlines newsletter.