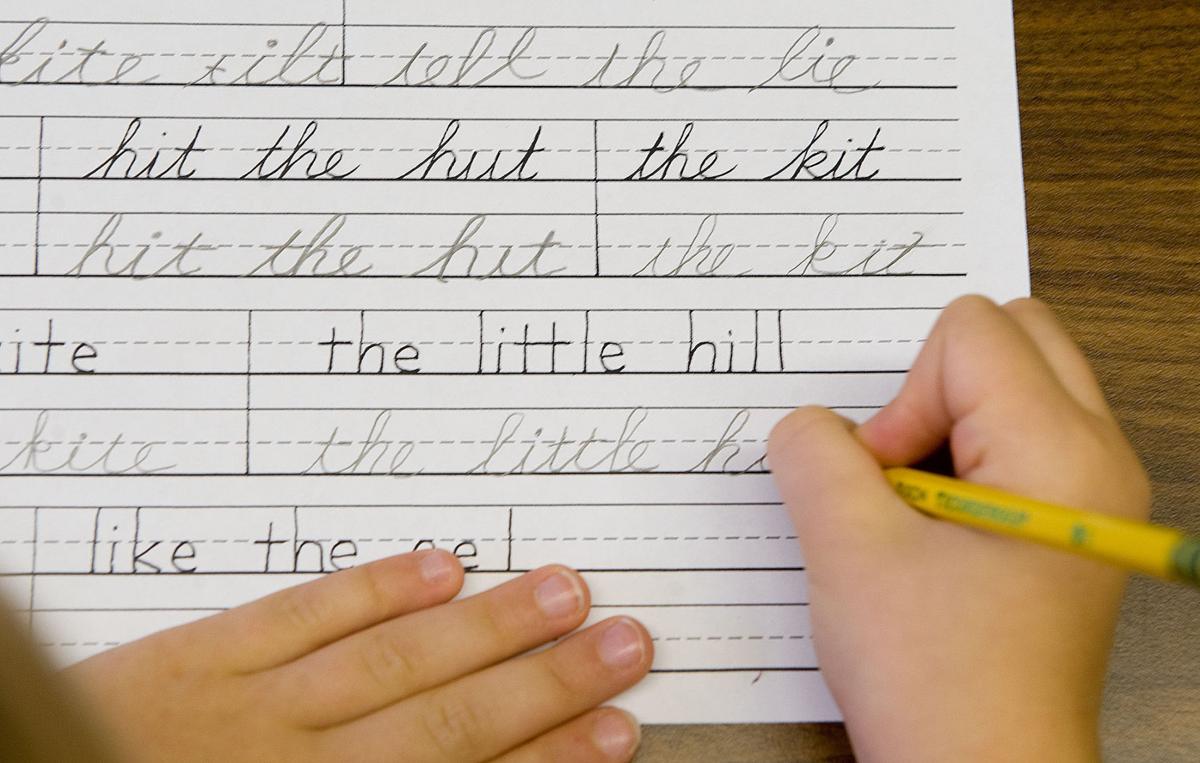 PHOENIX — Insisting it's good for everything from civics to brain development, state lawmakers want to require students to know how to read and write in cursive.
Legislation on the desk of Gov. Doug Ducey would mandate that schools include cursive reading and writing in their curriculum. Specifically, students would have to show by the end of fifth grade they are "able to create readable documents through legible cursive handwriting."
But, unlike a requirement that students know how to read by the end of the third grade, there is nothing in the law that says students who can't display that skill don't get to go on to sixth grade.
The vote by the House to send the bill to Ducey followed extensive debate over the merits of cursive writing. And proponents cited what they said is research by Steve Graham, a professor at Arizona State University who has developed a national reputation in not only teaching writing but how it can be used to support reading and learning.
Graham told Capitol Media Services he found the fact that lawmakers took the time to debate the mandate "a little silly."
"I don't mean to sound snarky, but it seems like they should have more pressing and important things to be focusing in on," he said.
More to the point, Graham said many of the claims being made — some in his name — have no merit.
And there were plenty of such claims during the House debate.
"This is a job skill that our young people will need when they get out of school to be able to hold down a job," said Rep. Karen Fann, R-Prescott.
"The quality of handwriting and the quality of the written text can be detected and seen on MRI imaging," said Rep. Brenda Barton, R-Payson.
"What happens when the computers aren't in front of you?" asked House Speaker David Gowan, R-Sierra Vista.
"Are we really wanting to dumb down our students to the point where they can't even read a card in the mail from grandma written in cursive?" asked Rep. Kelly Townsend, R-Mesa.
Graham dismissed that last one as weak.
"Just because you don't write in cursive doesn't mean you can't read it," he said.
"It may be a little harder to do," Graham continued. "But it's not like the letters are completely different."
As to brain development, Graham said both traditional manuscript and cursive writing are both motor skills. And he said both would show up identically in a brain scan.
Now if the difference is between writing by hand and using a keyboard, Graham said they will light up different areas of the brain. That's because they're different motor patterns.
"That doesn't mean that one creates a better brain as a result of this," he said. "That's really junk science."
Graham said there is a benefit to knowing how to write, in whatever form.
"People prefer to take notes by hand when they're working on stuff," he said.
Graham said if lawmakers are interested in helping students to think better, they would do more to ensure they know how to use a keyboard. He said there is evidence showing a difference in writing skills by those who use computers versus doing it longhand.
"Word processing offers so many advantages over writing by hand," Graham said, not only because people generally can write faster at a keyboard, but there's also immediate help with spelling, grammar and even finding synonyms for words. And there's also the ability to share the composition with others at a distance to get feedback.
"This just doesn't make a lot of sense to me to be putting all this energy into 19th century tools," he said.
Lawmakers who voted against the legislation had their own reasons.
Rep. Lisa Otondo, D-Yuma, said she is "sad" that cursive is not taught in many schools.
"What I do not support is mandating the schools' curriculum," she said. Otondo said that power should be left to the state Board of Education.
Rep. Reginald Bolding, D-Laveen, worried about the verbiage requiring students to show they can create readable documents.
"Who determines what's a readable document?" he asked.
And Rep. Juan Mendez, D-Tempe, confessed he cannot write cursive and told colleagues it hasn't affected his ability to get a job — or even be elected to the Legislature.
Graham said that, in the long run, it probably doesn't matter whether the mandate becomes law or not.
"Handwriting's not going to disappear," he said. "It's too cheap."