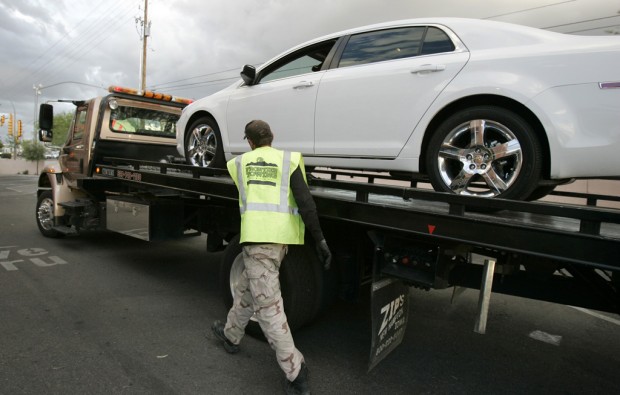 Pima County has impounded more than 20,000 cars in the past four years, after their drivers were cited for such serious infractions as driving on suspended licenses or with extreme amounts of alcohol in their bloodstreams.
As many as 30 percent of those people never re-claimed their vehicles.
After years of just letting the towing companies keep them, the current budget crunch has county officials preparing to turn those cars into cash.
They believe taking title and auctioning them off could boost the general fund by $900,000 annually.
Credit Frank Gonzales, who oversees the impound program for the Sheriff's Department, who got to thinking those vehicles could be an important revenue stream for the county.
In a program Gonzales says is the first of its kind in the state, Pima County could take title every year to 900 or more vehicles that go unclaimed.
The county will share auction and impound revenues with the successful bidder who wins the contract to house and dispose of the vehicles. The county, which operates a separate impound program from the city of Tucson, has already received bids, and should select a contractor by early summer.
"This whole program is designed to look out for the citizens," Gonzales said. "We're getting rid of property nobody wants while putting some money back into the county."
With hard economic times, he said, managers are always being asked, "How can we do more with less, save money, make our budgets go farther?" This was one of the answers, he said.
It's often not cheap for owners to reclaim cars. Before they even get into court to clear their driving records of past fines and penalties, the impound fee is $150. Since the law says vehicles can be impounded for 30 days, at about $15 a day for storage, that's another $450.
After 45 days, the county can seek title of unclaimed vehicles.
Gonzales said vehicles left behind typically are in working condition and at least 4 years old. They run the gamut from motorcycles to vans and Jeeps and sport utility vehicles.
And while it may seem shocking that nearly 1,000 people walk away from perfectly driveable vehicles every year, he said, it becomes more clear when their driving records are considered. The average person shrugging off his car isn't the guy who forgot to mail in a check, he said, but is often facing as many as 10 speeding tickets or multiple other traffic citations.
"You'd be surprised at how much they owe in traffic fines and penalties. They get themselves into situations they can't get out of," he said. "In a lot of these cases, they are a hazard. They should not be driving and they have a total disregard for following the law."
Not everyone is enthusiastic about the program.
Dan Pochoda, legal director of the Arizona branch of the American Civil Liberties Union, said while he hasn't looked at the program to be able to say whether any legal challenges would be successful, he has some policy concerns.
Since many of those people who don't come back for their vehicles let them go because they can't afford the fines and fees, he said, "It's an exaggerated sanction that's disproportionate to the offense."
Pochoda said it also impacts the poor disproportionately, since people with more means but identical traffic histories would not be prevented from picking up their cars.
Jim Mooney, owner of Frontier Towing for 20 years, contracts with the county to impound vehicles. He wasn't one of the bidders who made the cut, so losing the revenue stream from the unclaimed vehicles likely will mean he'll have to lay off some employees, he said.
But beyond that, he said the program introduces a concern, since right now the county has no profit motive in impounding cars.
"When a sheriff's deputy pulls up behind you, you now have to wonder about the motivation to take your vehicle," he said. And while he lauds the work deputies do, he said they could face more pressure with shrinking budgets.
Mooney also speculated the county won't see as much revenue as it anticipates because staff will have to do more paperwork, such as filing for titles.
Lindy Funkhouser, an assistant county administrator, said cars can't be taken unless they meet criteria spelled out in state law, and noted there is a clear process for owners to get their cars back.
And with the revenues going to the county's general fund, as opposed to the sheriff's budget directly, he said, "No deputies are going to get extra revenue for pulling over a car."
Get local news delivered to your inbox!
Subscribe to our Daily Headlines newsletter.