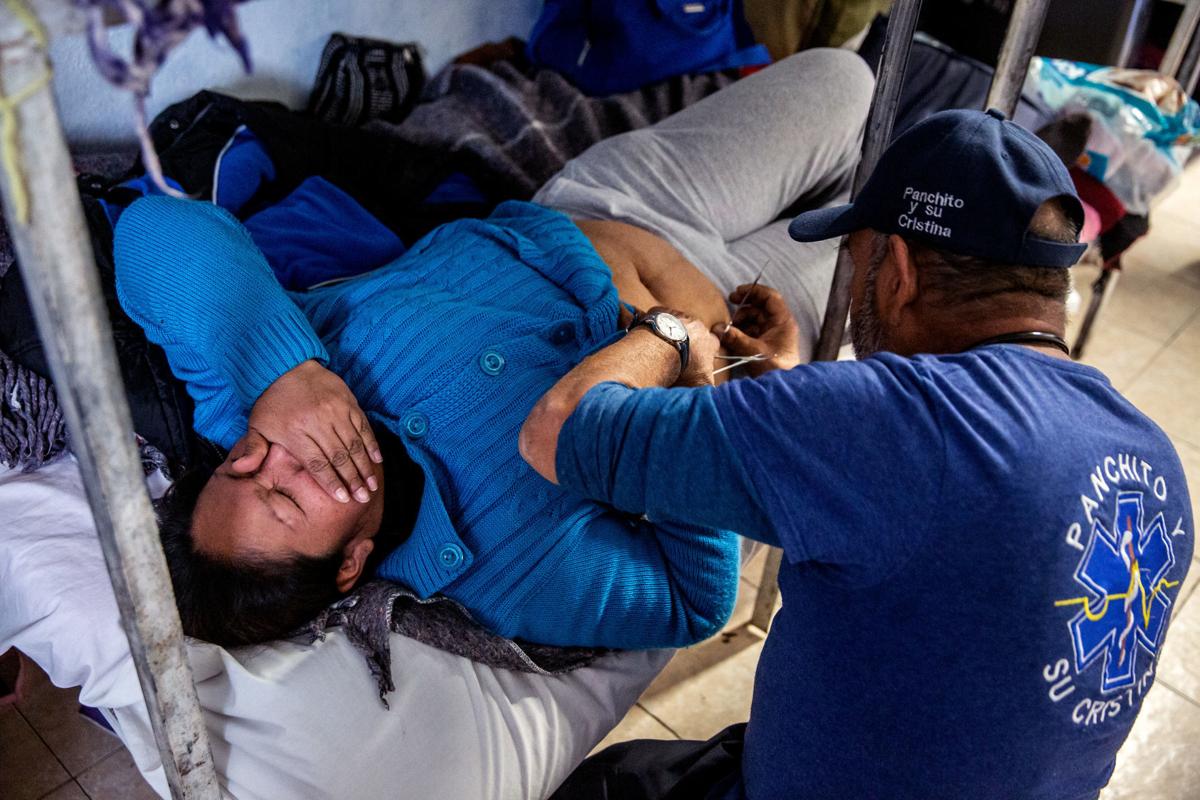 The row of chairs outside the medical exam room at the Casa Alitas shelter in Tucson used to fill up several times a day with asylum seekers in need of care.
Those chairs were empty on Thursday morning, an ever more common sight since the start of January when federal agencies started sending 30 asylum seekers each weekday to Nogales, Sonora, instead of Casa Alitas or other Tucson shelters.
Now, Dr. Timothy Domer says he often waits in the well-stocked exam room twiddling his thumbs.
"A month ago, we were still getting 40, 50, 60 a day," Domer said. But the number of asylum seekers released to the shelter "dropped like off a cliff" when the Trump administration's Migrant Protection Protocols, also known as Remain in Mexico, started in earnest the first week of January.
Last year, Domer and a team of volunteer medical professionals cared for about 20,000 asylum seekers at Casa Alitas and other Tucson shelters. In recent months, the number of asylum seekers who are waiting three or four months in Nogales for their turn to speak with U.S. officials has grown to more than 2,000.
They must grapple with issues many of their predecessors who were sent quickly to Casa Alitas last year did not have to face.
That means gathering around a makeshift ambulance in Nogales or scrounging up already scarce money to pay for medicine and treatment at hospitals and clinics.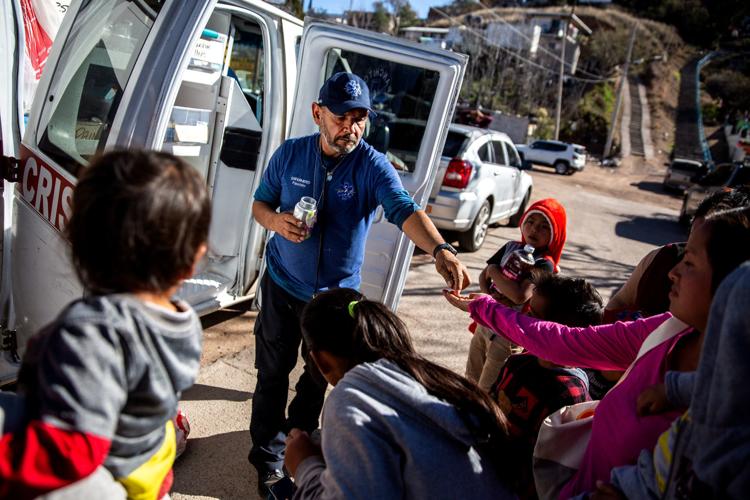 A lifeline for migrants
At the La Roca migrant shelter in Nogales, Maria Diaz Verdugo was stretched out on one of the dozen bunk beds at the shelter on Tuesday afternoon. The time had come to remove the stitches from an appendectomy, which was performed at a Nogales hospital.
Diaz, a 37-year-old asylum seeker who says she is fleeing violence in the Mexican state of Chiapas, put her hand over her face as Francisco "Pancho" or "Panchito" Olachea Martin, a well-known volunteer medic in Nogales, carefully snipped the stitches on her stomach. While Olachea cut the stitches, Diaz's young son playfully hid under one of the bunk beds, spinning a tire on a bicycle that was stashed there. A woman with diabetes, whose blood sugar Olachea had checked earlier, watched.
The shelter is a lifeline for migrants, but dim lighting and the cardboard covering a patch of broken plaster on a wall stood in stark contrast to the bright, sanitary conditions in the exam room at Tucson's Casa Alitas.
Olachea does the best he can on the streets of Nogales with the van he converted into an ambulance. He worked as a caregiver in Phoenix for years before he was deported in 2008 at the age of 48. Since then, he said he studied as hard as he could and is now a certified first responder and nurse assistant. His efforts are funded by Voices from the Border, a nonprofit organization based in Patagonia.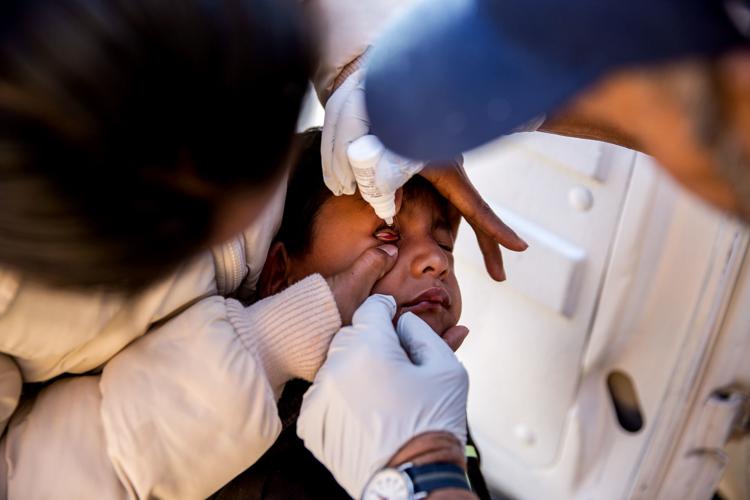 "We wait for Panchito to come"
Earlier on Tuesday, Olachea parked his makeshift ambulance next to a basketball court outside the Grupo Beta shelter run by the Mexican government. As their parents spoke with Olachea, kids played basketball, a boy showed off how long he could stand on one leg and a girl scooped dirt with a white plastic spoon.
Anayeli Angelito, 26, from the Mexican state of Guerrero, pulled up her pant leg to show Olachea where a van had run over her years ago while she took her daughter to school. The wound healed, but cold conditions bring back the pain, she said.
Josefa Saldaña Rauda, 32, said she had flu-like symptoms for the second time in recent weeks.
Saldaña and her family "decided to leave everything" in Guerrero after she says her father was killed. In the three months they have stayed at the shelter in Nogales, she has never gone to a hospital or clinic.
"They're expensive. I don't have the resources for that," Saldaña said. Instead, "we wait for Panchito to come and we ask him for some medicine, or to attend to us."
Holding a plastic bag with pills Olachea had given her, Saldaña said she was headed up the street for lunch at the comedor, the dining hall run by the Kino Border Initiative. After a recent meal at the comedor, several asylum seekers checked in with Diane Brooks, a retired nurse practitioner from Green Valley. So far, illnesses have not spun out of control, Brooks said.
"Most of the kids, they have a cough, a runny nose, those kinds of things," she said.
The worst cases she saw recently were a 6-month-old baby who needed antibiotics for a respiratory illness and a man with chest pains they sent to the hospital.
At the San Juan Bosco migrant shelter, which has taken in hundreds of thousands of migrants since it was founded 38 years ago, the staff said a volunteer doctor comes by regularly. Most of the time, basic care is enough. When it's not, they send them to the local hospital.
Around this time last year, the shelter had an outbreak of chickenpox, said Gilda Loureiro, who founded the shelter with her husband. "We're hoping that this year it doesn't happen again," she said.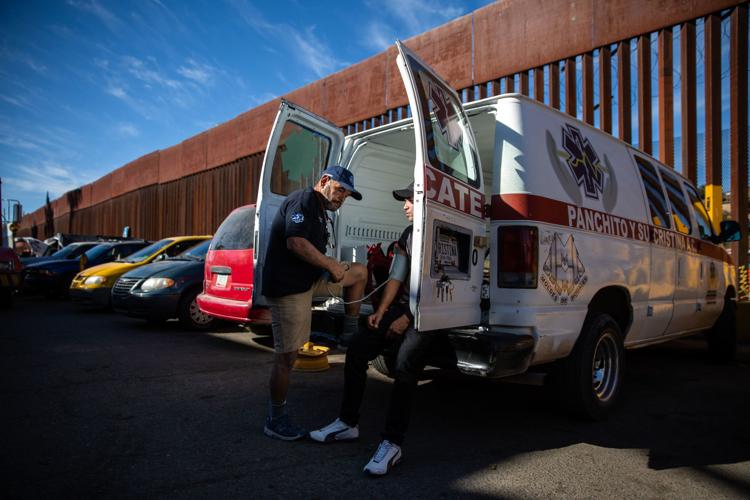 Improving care for asylum seekers
While Domer waited in the empty medical room at Casa Alitas, he said he was aware of conversations about potentially helping out with medical care in Nogales. He stressed that those efforts must "maintain standards" as they are at Casa Alitas.
"We're not just going to go down there and fly by the seat of our pants," Domer said.
Pima County spent nearly $30,000 on health care, including vaccines and medical supplies, for asylum seekers at Tucson shelters in 2019, according to a Jan. 27 memo from County Administrator Chuck Huckelberry.
Federal officials denied a request from the Pima County Board of Supervisors to use $200,000 in Operation Stonegarden grant money for humanitarian aid at Casa Alitas and other Tucson shelters.
The board is scheduled to vote Feb. 4 on whether to accept Stonegarden funds without the humanitarian aid provision.
Alternatively, Domer said the Casa Alitas medical staff could "get people squared away" before they are sent back to Nogales.
Southern Arizona advocacy groups are showing "great interest" in finding a way to improve health care for asylum seekers in Nogales, but there are no firm plans yet, said Teresa Cavendish, director of the Casa Alitas program at Catholic Community Services.
"No one is quite sure how to put it together in a way which would lead to meaningful outcomes," Cavendish said. "But we will figure it out, because the need is great."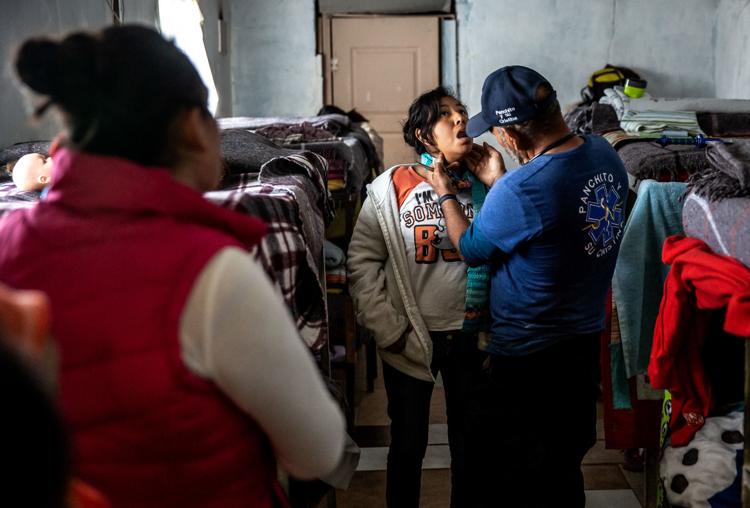 Star apprentice Vianney Cardenas contributed to this story. Contact reporter Curt Prendergast at 573-4224 or cprendergast@tucson.com or on Twitter @CurtTucsonStar
Get Election 2020 & Politics updates in your inbox!
Keep up on the latest in national and local politics as Election 2020 comes into focus.