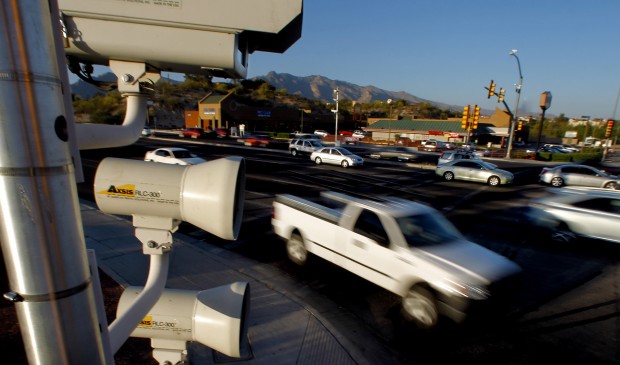 PHOENIX - Tucson motorists are going to have to put up with those photo radar and red light cameras for at least a while longer.
On a 15-14 vote, the state Senate on Tuesday killed a proposal to ask voters whether they think photo enforcement of traffic laws should be legal in Arizona. The defeat was bipartisan, with six Republicans aligning with the nine Democrats.
The vote occurred despite what some foes of photo enforcement said is the inherent unfairness of a system that allows people to be cited by machines rather than an officer who can make a value judgment.
Sen. Rick Murphy, R-Glendale, said claims the cameras promote public safety are a lie.
He said only a small percentage of those who ignore red lights are reckless drivers. And even if their photos are snapped and they get a citation in the mail, none of that stops the immediate bad behavior.
Red-light cameras mainly catch "technical violators" of the law, he said. "They're three inches behind the line and they're a thousandth of a second late getting across the line" that triggers the cameras to record a violation.
"There's a two- or a three-second lag where both lights are red," he continued. "There was never any danger."
Murphy contends communities design the sensors to keep catching those technical violators to make sure the system pays for itself.
But Sen. Paula Aboud, D-Tucson, said those who run red lights are a danger, especially to other innocent motorists. She said lawmakers should not take away a tool local officials, dealing with local traffic problems, conclude is necessary.
"I believe it's our job here to provide public safety and to allow communities to make their own decisions," she said.
Sen. Jerry Lewis, R-Mesa, said police chiefs in the communities he represents want to keep photo enforcement as an option.
"I have a hard time as a state imposing on them something that is contrary to their wishes," he said.
Tuesday's vote came despite a last-minute bid by Sen. Frank Antenori, R-Tucson, to save the bill. He promised that if senators went along, he would alter the bill in the House so that even if voters statewide were to ban photo enforcement in November, each city and county could have a subsequent election to decide whether to keep the cameras in their own community.