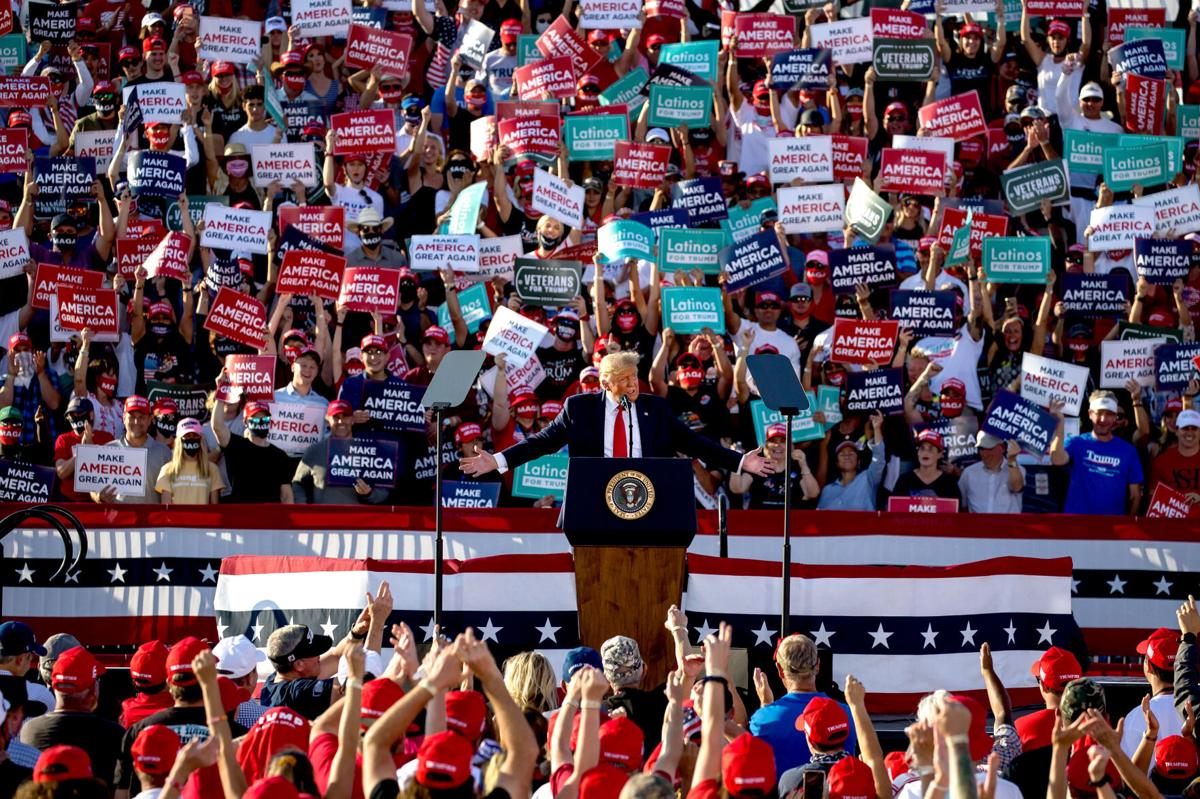 President Donald J. Trump wasted little time in attacking his political rival during a re-election campaign stop in Tucson on Monday afternoon.
"Joe Biden has and always will be a corrupt politician. As far as I'm concerned, the Biden family is a criminal enterprise," Trump told a crowd of several thousand supporters gathered at a hangar near the Tucson airport.
The crowd chanted "USA, USA" as Trump took the stage moments earlier. A sea of red, white and blue clothing, "Make America Great Again" signs and American flags filled the Tucson Jet Center.
Trump's visit to Arizona could prove crucial to his campaign. The state has a long history of voting Republican in presidential elections, allowing Trump to win Arizona by 3.5 percentage points in 2016. However, after losing by about 57,000 local votes in last election, Pima County continues to be a challenge for him.
Riding through the crowd on a motorized elephant sequenced in red, white and blue, Shane Dahlen, a Tucson entrepreneur, said earlier in the day that he hopes his fellow Pima County residents will support Trump for another term.
"We have to keep America, America and not lose who we are as a country and nation," he said. "Do not listen to the media. Do your research, find the facts and verify your information."
For local college student and immigrant Haley Navarette, Trump is the best presidential candidate when it comes to "opportunity and freedom." Navarette, who wore a "Latinos for Trump" shirt, said she immigrated to the U.S. with her family when she was 2 years old.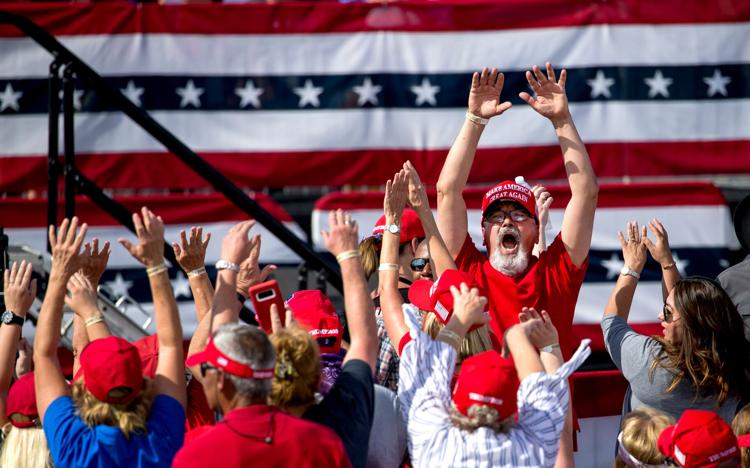 "We are here to support our president. I came here from Honduras and we did it legally. We did it the right way," she said. "I got myself an education in public policy. I'm working on my master's now in emergency management. There's definitely opportunity in this country, you just have to do it the right way. This is why we're here to show support for our president, who believes in that."
Trump's rally at the Tucson Jet Center at the Tucson International Airport, 6720 S. Plumer Ave., is part of a two-city Arizona stop just weeks before the Nov. 3 general election. His other stop was noon Monday at the Prescott Regional Airport in Prescott.
During the rally, Trump will be looking for a final push to boost his support in a state where some polls show him trailing Democratic nominee Joe Biden despite winning Arizona in 2016. He edged Democratic nominee Hillary Clinton by 3.5 percentage points in Arizona in 2016. Polling compiled by FiveThirtyEight suggests that Biden is leading Trump by nearly 4 percentage points, as of Thursday.
Trump was originally scheduled to visit the airport Oct. 5, but canceled campaign events after he hospitalized during a bout with the coronavirus. The rescheduled visit will be his first stop in Tucson this cycle, although he held a rally at the Tucson Convention Center back in 2016.
Pima County has been particularly hard hit by the coronavirus pandemic, with more than 26,700 cases and 630 deaths since March.
While the rally will exceed the 50-person limit on gatherings set forth by Gov. Doug Ducey's executive order, it does include exceptions for "constitutionally protected activities such as speech," according to the order.
In a statement after the first scheduled rally, Pima County Health Director Dr. Theresa Cullen encouraged anyone attending "any gathering of any kind" to practice physical distancing and wear a mask when they otherwise can't, as is required by the county's resolution regarding the pandemic.
Attendees will be given a temperature check, masks and access to hand sanitizer, a news release says.
"Trump has had four long years to deliver on his promises to Arizona families, and he's come up empty-handed at every turn," said a segment from Geoff Burgan, the communications director for Biden for President Arizona.
"Now, Trump's failure to contain the COVID-19 pandemic is only made worse by his push to rip away health care coverage from working families across Arizona, including 2.8 million Arizonans with pre-existing conditions. Joe Biden's going to create more than 18 million new jobs when he's President — all without raising taxes on anyone making less than $400,000 a year. That's the leadership Arizona needs,"  Burgan continues in the statement.
Photos: President Donald Trump campaign rally in Tucson
President Trump in Tucson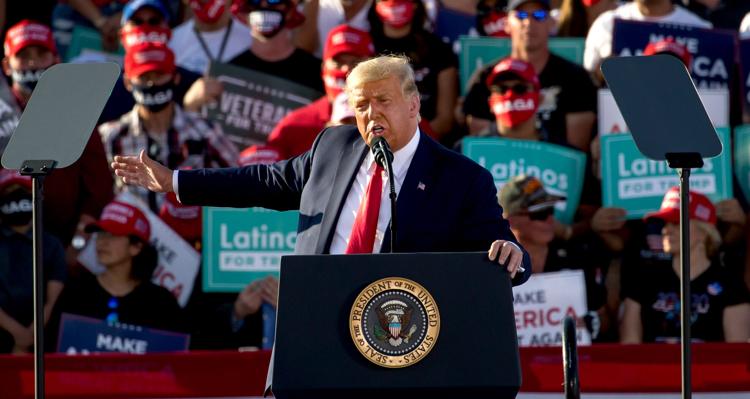 President Trump in Tucson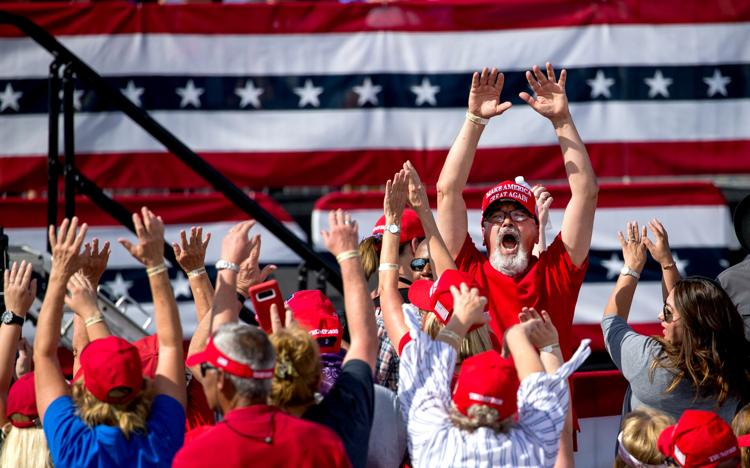 President Trump in Tucson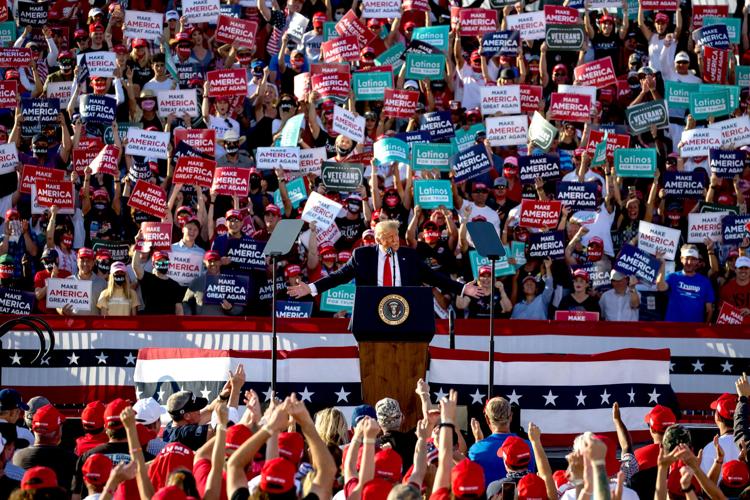 President Trump in Tucson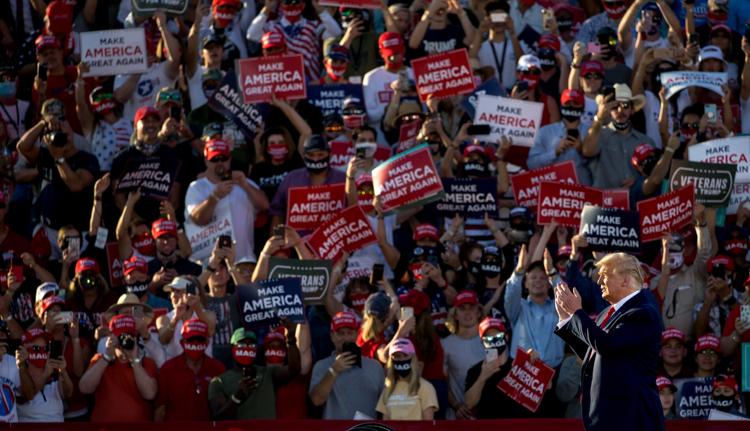 President Trump in Tucson

President Trump in Tucson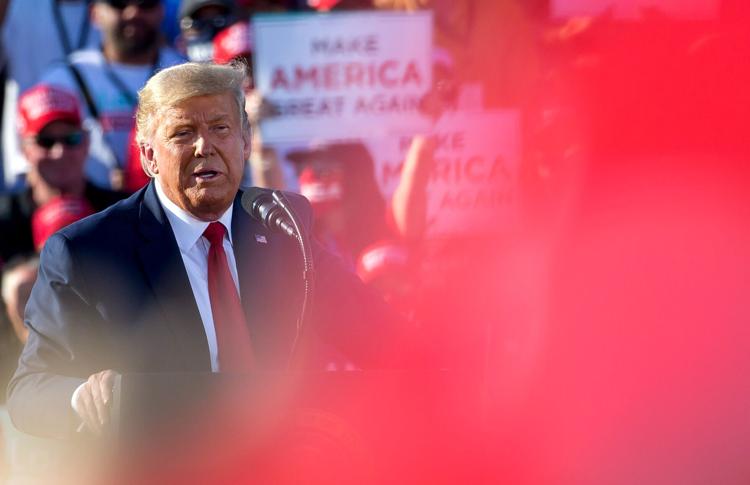 President Trump in Tucson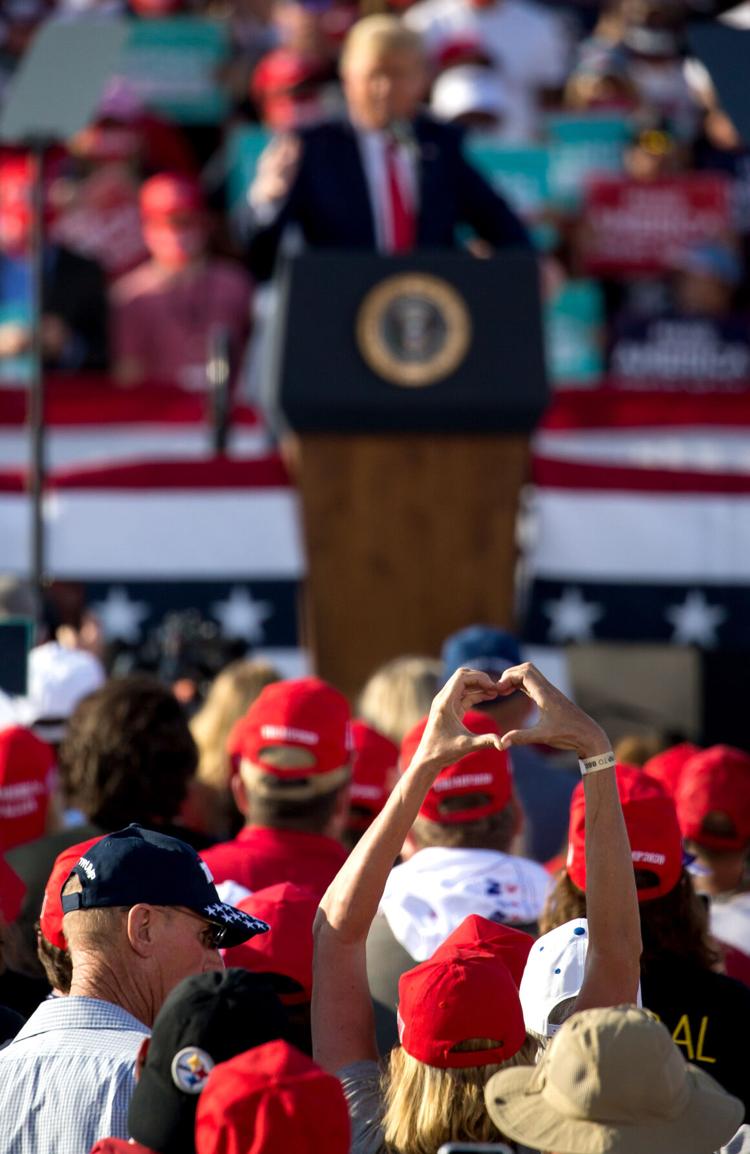 President Trump in Tucson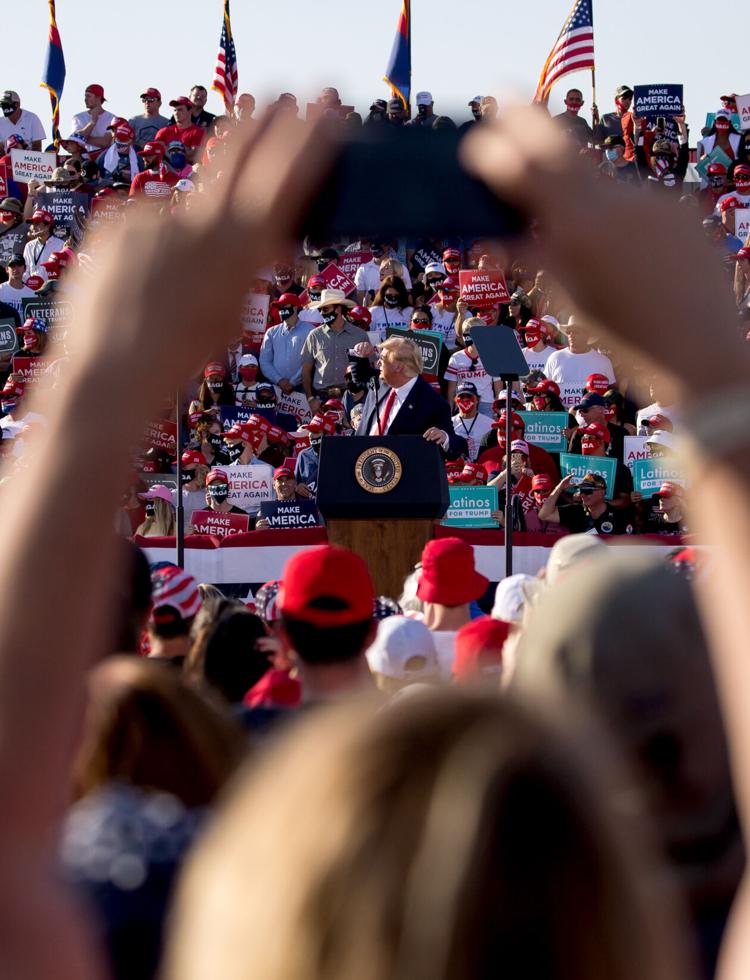 President Trump in Tucson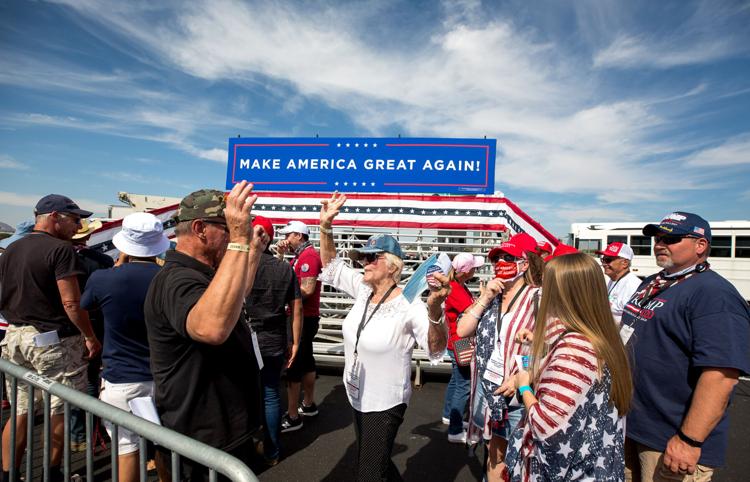 President Trump in Tucson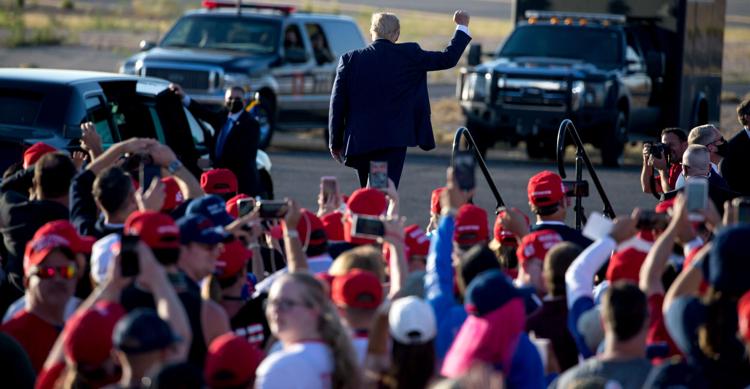 Contact reporter Justin Sayers atjsayers1@tucson.comor 573-4192. Twitter: @_JustinSayers. Facebook: JustinSSayers.