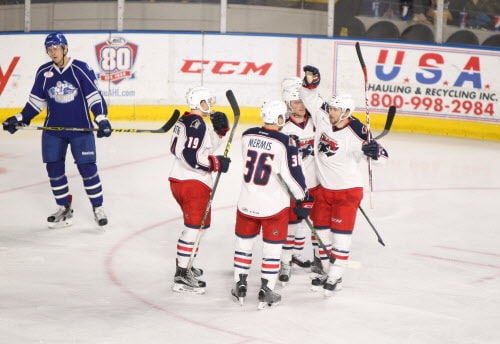 The Tucson City Council unanimously approved an agreement making the downtown Convention Center arena the new home ice of the Arizona Coyotes minor league hockey team.
The 10-year agreement protects the city's interests, protects taxpayers and spurs sports tourism, city officials said.
Coyotes CEO Anthony LeBlanc said there will be a contest to name the American Hockey League franchise soon, season tickets will go on sale later this week and the team will be hiring for some jobs in Tucson.
Councilman Paul Cunningham said the deal brings an anchor tenant to the Tucson Convention Center, which is an important "cog in the wheel of Tucson's downtown renaissance."
Tuesday's City Council vote was one of three approvals needed by the team to bring the AHL team to Tucson. The others were an OK from the AHL governing board and an agreement from Rio Nuevo, Tucson's downtown revitalization authority, to upgrade the TCC arena to professional standards.
The agreement approved by the City Council includes a way for Rio Nuevo to get back some of its money if the team leaves after five years because of low attendance.
"We as the team are backstopping the investment that is being made, in this case by the Rio Nuevo board, to put more improvements into the TCC to make it AHL-ready," LeBlanc said. "But that should show the commitment we have to making this work and the fact that we feel as strongly as we do about the viability of the franchise."
Surcharges paid on each ticket bought by hockey fans will also help fund arena improvements.
A capital reserve fund will be created, and if repairs above $50,000 become necessary to continue hockey play the funds could be spent. If there isn't enough in the reserve fund for emergency repairs, Rio Nuevo could pay for the repairs and then surcharge money could be used to repay Rio Nuevo.
The tight turnaround on the deal was a problem for Tucson Mayor Jonathan Rothschild — who said he was only satisfied with the terms of the deal at noon before a 1:30 council meeting — and for Councilman Steve Kozachik.
Kozachik met with attorneys between two council meetings Tuesday to get his questions answered, but he said he came away with an understanding that appropriate safety nets are in place.
The council discussed worst-case scenarios of low attendance or low income from beer sales, but Tucson City Manager Michael Ortega demonstrated the city would still break even if the team sold only 1,000 tickets per game.
AHL regular-season games attract an average of 5,982 fans per game. The downtown Tucson arena can seat around 7,000 hockey fans.
LeBlanc said the Coyotes chose Tucson because it's a quick drive to the team's home in Glendale, and because the team realized thousands of people in Tucson are buying tickets and making the drive to Coyotes games in Glendale.