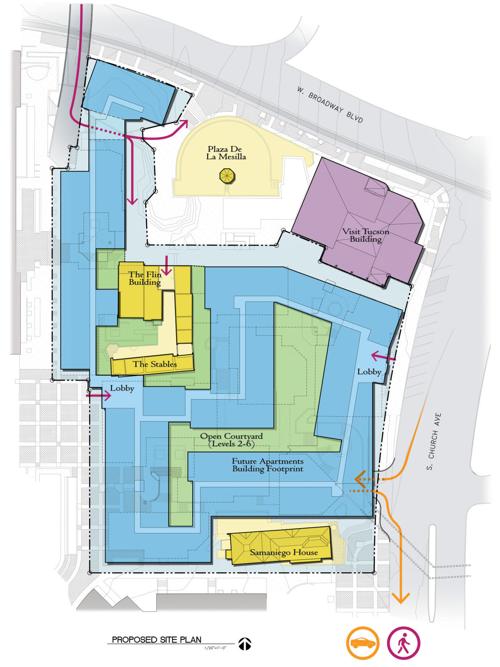 The Tucson City Council has signed off on a $4.2 million property tax deal to help HSL Properties redevelop the La Placita property downtown.
The council directed staff on Tuesday night to draw up a formal agreement with the local developer to be brought back for a final vote at a future meeting, but there is majority support for the large tax break in exchange for an estimated $38.5 million investment in the now-vacant downtown property.
The proposed Government Property Lease Excise Tax agreement allows for the abatement of all real property taxes and lease excise taxes on the property during the first eight years following construction.
The direct and indirect benefits of the proposed apartment complex with ground floor retail would generate about $5.2 million in revenue for the city and other taxing entities, according to an economic analysis performed for the city by the Phoenix-based firm, Applied Economics.
The revenue, according to the analysis, is about $1 million more than the $4.2 million property tax savings to HSL Properties over the course of the eight-year tax break.
Regarding jobs, the proposed project will create an estimated 240 construction jobs during the two years it will take to build the complex.
Once fully leased, the project will create about 50 new jobs at the restaurant, coffee shop and property management office. Plans call for incorporating two historic buildings on the property into the new project.
Noting that the developer has already paid for demolition permits to tear down the brightly colored office complex at 110 S. Church Ave., Councilman Steve Kozachik addressed what he saw as "the elephant in the room" — asking HSL President Omar Mireles whether the tax break was necessary for the project to move forward.
Citing a weakening economic climate, Mireles told the council that without the tax incentive — the project to demolish the 40-year-old structures and build market-rate housing might fall apart.
A few minutes later, Councilman Paul Cunningham sought to address his concerns about Hotel Arizona, the neighboring property HSL also owns that has been vacant for years.
Cunningham hoped the redevelopment of La Placita would lead to some action related to the former Holiday Inn.
Last week, the Rio Nuevo District Board approved preliminary plans for two new hotels to be built in the downtown.
Mireles has previously said that while HSL Properties owns both La Placita and Hotel Arizona, they have different development paths and are controlled by different sets of investors.