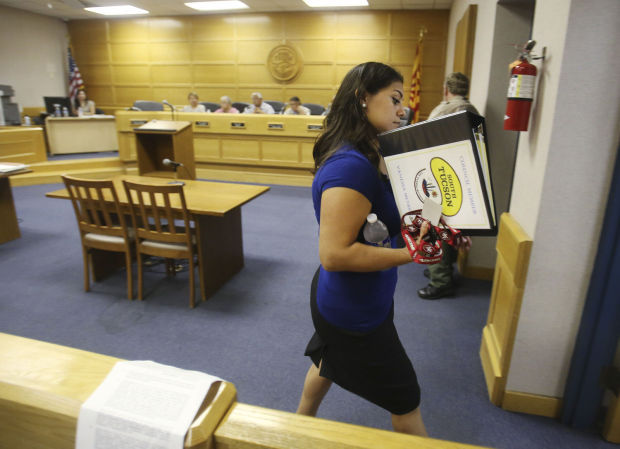 Two competing camps of signature gatherers have been roaming the streets of South Tucson.
Some have been collecting signatures to oust Mayor Paul Diaz, and others seek to oust Councilman Ildefonso Green.
The petition to recall Diaz is now at the Pima County Recorder's Office awaiting signature verification while the Green recall petition continues to circulate.
The conflict between the two men — once friends campaigning on similar transparency platforms — stems from a dispute about how city officials handled an inquiry from Pasadera Behavioral Health Network about opening a residential drug-treatment facility across the street from Mission View Elementary School, 2600 S. Eighth Avenue.
The two have traded barbs about transparency and corruption since, and the acrimony has occasionally erupted at recent council meetings.
In August, Green tried to force a public discussion about a letter Diaz had distributed titled "The Real Green Family."
Diaz used a technicality to quash the discussion, then declared Green out of order. Councilwoman Vanessa Mendoza, who was also named in Diaz's letter, walked out of the meeting, leaving the council without a quorum.
The episode cost the city an estimated $80,000 by delaying a key vote on tax and fee increases crucial for balancing the budget.
Although that budget gap was created two months ago, no memos or correspondence about it have since been sent among city staff and the council, City Clerk Veronica Moreno wrote in an email Thursday.
The language in both petitions highlights concerns about transparency and public safety.
The Diaz recall petition said, "He failed to uphold his campaign promises of transparency and public safety and is taking actions that are detrimental to South Tucson." It accuses Diaz of "giving the green light" to Pasadera and backing a new court system that would funnel people into substance-abuse treatment at the new facility.
The Green recall petition accuses him of "undermining the efforts of the elected South Tucson Council and City Manager in moving forward to make positive changes for this community," especially changes that relate to reforming the court system. It also said, "He accuses Mayor Paul Diaz of non-transparency when, in fact, Council Member Green lacks transparency and is manipulative."
Eddie Fass Badilla has spearheaded the effort to recall Green and submitted letters challenging the signatures in support of Diaz's recall.
He said he compared the names on the petition to the voters' registration list and found several people who were not registered, listed the wrong address or signed the petition more than once.
The recorder, F. Ann Rodriguez, said Friday that she plans to begin scrutinizing the signatures after Election Day.