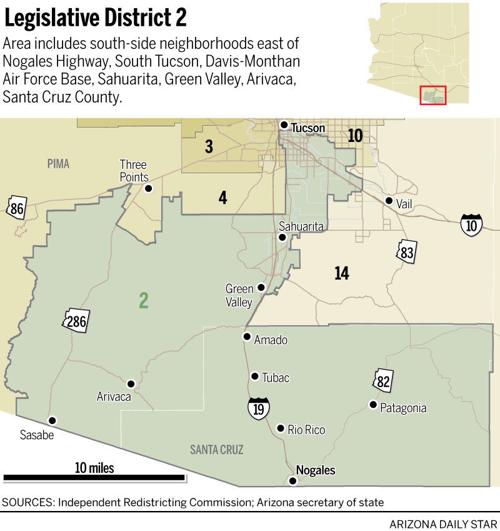 The contest for the two seats to represent Legislative District 2 in the state House has come down to a three-way race between incumbent representatives Chris Ackerley and Rosanna Gabaldón against challenger Daniel Hernandez Jr.
Ackerley, a Republican, is seeking a second term in the predominately Democratic district, and Gabaldón, a Democrat, is seeking to secure a third term. Hernandez, a Democrat, serves on the Sunnyside Unified School District's Governing Board.
Ackerley and Gabaldón are both running as clean election candidates, which means they will not accept campaign contributions from special interest groups. As of Sept. 7, Ackerley had raised $17,992 and Gabaldón had raised $18,049.
Hernandez had raised $76,178, including large donations from Arizona Cardinals President Michael Bidwill and venture capitalist Arthur Rock.
The three candidates agree the biggest issues facing the district are the lack of public education funding and resources, in addition to a crumbling infrastructure and stifled economic development throughout the area.
EDUCATION FUNDING
Proposition 123 was a hotly debated education funding ballot proposal that Arizonans passed by a narrow margin of 2 percent during a special election in May.
The proposition will increase education funding by $3.5 billion over the course of the next 10 years by allocating more money from the state's general fund and increasing the annual contribution from the state land trust permanent funds from 2.5 percent to 6.9 percent.
Ackerley and Gabaldón both voted for Prop. 123 in the Legislature, and Hernandez supported the initiative at the ballot box.
"I had some issues with it, primarily the rate at which we were going to withdraw from the state's trust fund was too high. I thought it should be more in line with about 5 percent," said Ackerley, who is a math teacher at Amphitheater High School.
As a school board member, Hernandez said he felt he had no choice but to support the measure so the Sunnyside district could recoup some of its financial losses.
"We had $17.5 million in cuts over the last few years," Hernandez said. "It was a bad deal — but when we had to look at the options, we as a district had nothing we could do but support it. We had staff that hadn't had raises in over seven years, we had programs that were on the verge of being cut. So I supported it, but I said, 'This is not a good deal, this is not something that is the be-all, end-all, it's just a first step.'"
Gabaldón similarly voted for the funding, as she too thought it would be something of the beginning of a recovery for education in the state, but she says she has been disappointed by the lack of follow up in the legislature.
INFRASTRUCTURE needs
Candidates on both side of the aisle believe their district is in need of infrastructure improvements.
"We have to look at our aging infrastructure — our packed roads, our utilities, our bridges," Gabaldón said.
Ackerley said the roadways in the district, which are often congested, are in need of repair and expansion in order to better facilitate trade in the state and across the border.
"Time is money when you're talking about the movement of goods and services," Ackerley said. "We're in a very competitive environment, and when someone who is either exporting or importing is looking at the port in Nogales or the port in Douglas, as compared to ports in Texas, they're going to take that into consideration."
Hernandez said the lack of resources and funding dedicated to infrastructure in the district has had an impact on the region's economic growth.
"Nogales is often rated as the poorest city in the state of Arizona, and I really think there is no reason for that given how much trade is going through the city of Nogales, how much international money is being brought into the United States," he said.
BORDER ENFORCEMENT
When Gov. Doug Ducey introduced the polarizing Arizona Border Strike Force last year, both incumbents had mixed feelings about it.
"I had some serious questions to ask when the proposal was first put forward," Ackerley said. But, "it's basically about trafficking, whether it's human trafficking or drug trafficking, along the border. So yes, I support the state in having a role in combating trafficking along the border."
After speaking with law enforcement officials in the district, Gabaldón came to a different conclusion.
"They don't support it," Gabaldón said. "And so, I really have to look at law enforcement, I have to look at public safety, and when you have people who are boots on the ground that are there, I don't support it."
Hernandez said any productive discussions on border-related issues in the legislature have been side-tracked by partisanship.
"When we're looking at border enforcement, and people like Donald Trump talking about building a wall, that's not the big problem," Hernandez said. "The problem that we have is that there is 11 million people here that are in the country that do not have the ability to come out of the shadows. We have 11 million folks who are paying taxes, but are not receiving any of the benefits. Kids are graduating from our high schools, and are unable to go to college."
Julianne Stanford is a University of Arizona journalism and political science student who is an apprentice at the Star. Contact her at starapprentice@tucson.com
Get Government & Politics updates in your inbox!
Stay up-to-date on the latest in local and national government and political topics with our newsletter.